The OxygenOS 5.0.7 update will also bring the November Android security patch (version 2018.11) and support for OnePlus Type-C Bullets Earphones.
OnePlus has announced that it has started to roll out the OxygenOS 5.0.7 update for the OnePlus 3 and OnePlus 3T smartphones. The update will bring general bug fixes, as well as the updated Android security patch to 2018.11. The update will also bring audio codec support that is needed to run OnePlus Type-C Bullets Earphones seamlessly with the OnePlus smartphones other than the OnePlus 6 and the OnePlus 6T.
"For those who were on previous versions for OnePlus 3 and 3T, we appreciate your active feedback and attempts to reach out to us. With your help, we have been able to better optimize and improve several key areas. Thank you for your patience and as always, we look forward to hearing your continued feedback in the bug reporting forum," the company announced on the official forum. As always, this Over-the-Air (OTA) update will be incremental and it will reach a small percentage of users before it begins to roll out for a broader audience.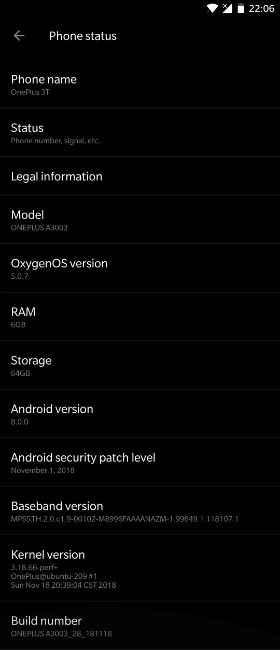 OnePlus is among very few companies to roll out regular security updates to phones which are two year old. Noteworthy is that the OnePlus smartphones do not come under the Android One programme which promises at least two years major updates and regular security patches. OnePlus launched the OnePlus 3 in June 2016 and almost six months later, the OnePlus 3T was launched. OnePlus was among the first companies that rolled out the November security update to its devices. The OnePlus 6T was the first phone from the company to get this Android security patch and later it was rolled out to other OnePlus devices
As noted by Google, there are no reports of customers being affected by the security vulnerabilities that it found. The company cited in its 2017 year in review of Android security that 30 percent more devices are getting patches compared to the prior year. Meanwhile, the dedicated bulletin for Google's phones and tablets lists three security fixes and four functional updates. The patch addressed the picture-in-picture performance as well as "improved stability for notifications" on the Google's Pixel 2 and Pixel 3 devices.