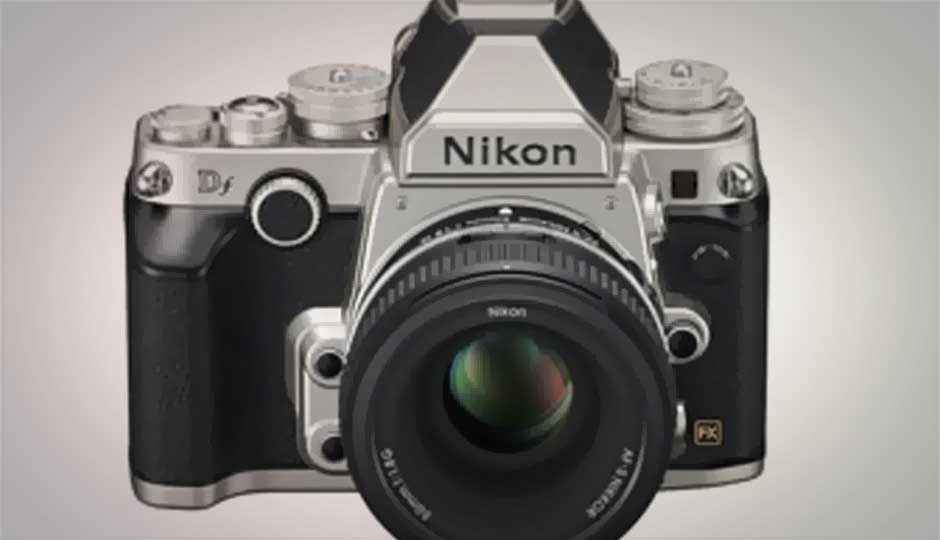 HIGHLIGHTS
The Nikon DF camera was long rumoured and much leaked, but nothing comes close to the excitement of an official announcement.
Not really sure what took Nikon so long, but it has finally pulled the wraps off the Nikon Df, its latest full frame camera. The Nikon Df is Nikon's way of paying homage to the retro days, but comes with fully digital guts.
The Nikon Df boasts of the same sensor as the one found in the Nikon D4, the company's flagship beast. Along with a 16 megapixel full frame sensor, the Nikon Df also has a 39 point AF system (9 cross type) which is more reminiscent of the D610 than the D4. The frame rate has also dropped to 5.5 fps instead of the 11 fps on the D4. However, this isn't the D4.
The Nikon Df is a wholly retro camera, designed for those who have a penchant for living in the past and relishing it. The Nikon Df has dials for pretty much anything and everything. The Shutterspeed, exposure compensation and ISO all get their individual dials. They also have their own locks so that the dials don't go spinning out of control. The back is identical to any modern day DSLR, but if you look at the camera from the front, you realize that it looks just like the Nikon FM3.
During the last few days, the Nikon Df has been leaked several times, and when paired with the announcement of the Sony A7, many expected that the announcement from Nikon would be that of a full frame mirrorless camera, but as it turns out, the Nikon Df is not an MILC. Sorry to disappoint people. Nikon has chosen to stick to its classical days in as much an accurate fashion as possible, by not only retaining the mirror box assembly that is the hallmark of SLRs, but they have also eliminated the possibility of recording any kind of video.
The retro mix-bag that is the Nikon Df is slated to be launched late November for a starting price of $2749 for the body only option and $3000 for a body Nikkor 50mm f/1.8 kit.