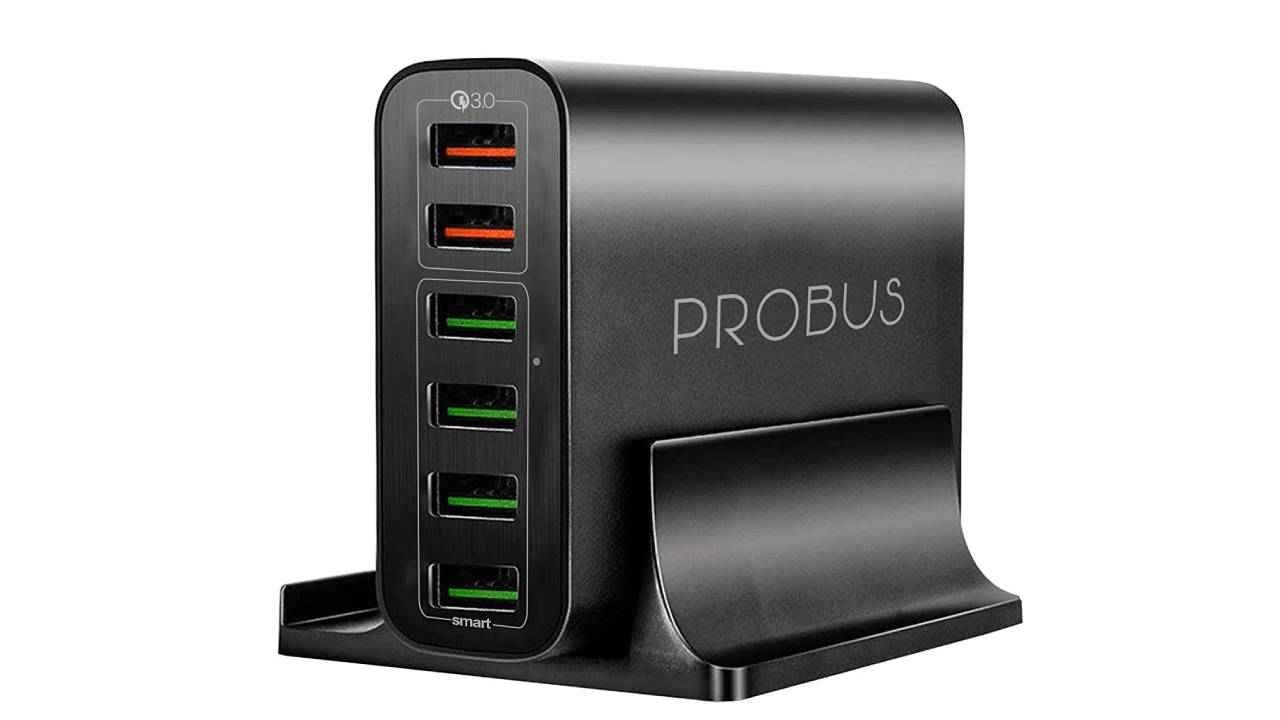 We are surrounded by electronic gadgets all around us, and they need to be charged every now and then. With the number of devices that require charging, your house might look like a power station. You can solve this problem by simply buying a good quality charging hub. However, finding one won't be easy as there are plenty in the market. So, to help you out in your search, here's a list of some of the best multi-port USB charging hubs that you can get your hands on. Note that these have been curated based on their availability on Amazon, as well as listed features.
Anker AK-848061074772 6-Port USB Wall Charger (Black)
Anker has a reputation for good quality and reliable smartphone and laptop accessories, and this one walks along the same line. This 6-port USB wall charger can deliver 2.4 Amps per port thanks to the combined effort of PowerIQ and Voltage Boost technology. All the ports combined, it can pump out 60 watts of power for multi-device charging without any issue. Anker has used quality materials for a sturdy build and more safety. It can charge a variety of devices ranging from true wireless earphones to iPads – and that too six at a time! To protect you and your device from electrical problems, this multi-port wall charger uses Anker's Multi Protect safety system and is UL certified. You can use it with voltages varying from 100 to 240 volts which would make you discard your old travel adapter for your trips and tours.
Probus Qualcomm Quick Charge 3.0 Charging Hub– Black
If you're looking for a charging hub with Qualcomm Quick Charge 3.0, ports then you should check this one out. This Probus charging hub has six USB ports out of which two are Qualcomm Quick Charge 3.0 ports for supported devices, and four are fast charging ports for others. You can charge a variety of devices like wireless headphones, smartphones, tablets, smartwatches and much more and even manage to do so without taking much of your time. It can deliver a total current of 12A and power output of 60W to make sure that every device gets enough power to be charged simultaneously. Probus has equipped it with a good-quality microchip which offers features like smart charge, temperature control, a smart current detector, voltage stabiliser and short-circuits protection for safe and fast charging.
Tessco BC-205 USB Charger Plug (4U), 4 Ports Multi Wall USB Charger
The Tessco BC-205 is a multi USB wall charger with support for charging multiple devices quickly. It has eight intelligent protection features like voltage protection, temperature protection, overload protection, overcharge protection and short circuit protection to ensure a safe charging experience. The 4.4A multi Auto-ID multi charge makes sure that all your devices get charged without a long wait. While manufacturing this quad-port wall charger, Tessco used the best quality materials they could get their hands on to make sure that it can handle little bumps and falls without suffering any significant damage. So, don't forget to pack it in your bag before your next big trip.
Portronics POR 343 UFO 6 Ports 8A Home Charging Station
If you're planning on investing in a good quality charging station with multiple ports, then you might like this one from Portronics. The Portronics POR 343 UFO has six USB ports that can deliver a total current of eight Amperes. The built-in smart IC intelligently identifies connected devices and helps in charging them efficiently and quickly. The UFO-shaped charger has multiple protection features installed on it like incorrect insertion protection, overvoltage protection, overcurrent protection and temperature resistance to make sure you and your devices are safe and sound. The quality of materials Portronics used has resulted in a sturdy device weighing 281g with a thickness of 3.2cm, which is relatively light and easily portable, thus earning it a permanent place in your travel bag.