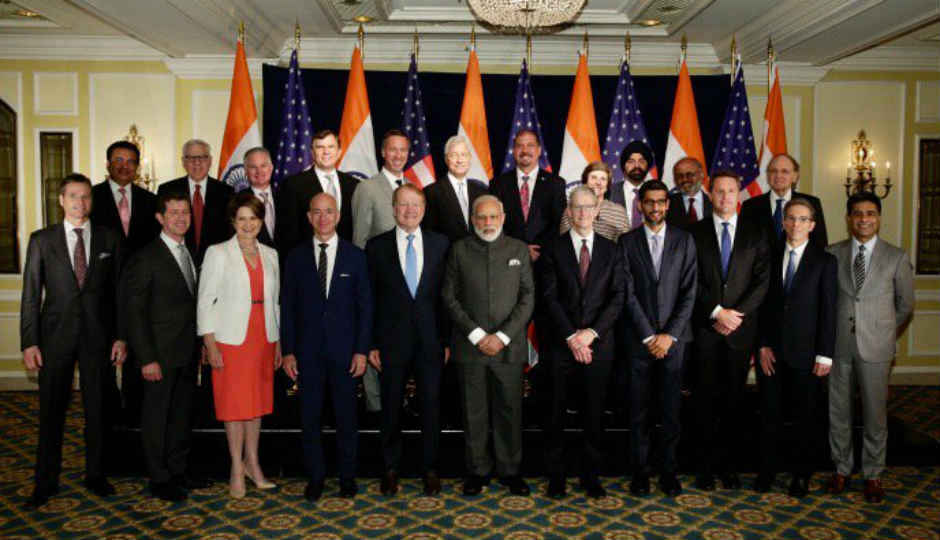 HIGHLIGHTS
During the roundtable meeting, the Prime Minister talked about some of the achievements of his government, while the CEOs applauded the steps taken by the government to ease the process of doing business
The Indian Prime Minister, Narendra Modi held a roundtable meeting with the top 20 American CEOs in Washington. The meeting included Apple CEO, Tim Cook, Google CEO, Sundar Pichai and Amazon CEO, Jeff Bezos. During the meeting, the Prime Minister talked about some of the achievements of his government as well as the rise of India's economy. "Interacted with top CEOs. We held extensive discussions on opportunities in India," tweeted Prime Minister Modi.
He said that that a young population and a rising middle class some of the few factors that generate a global interest in the Indian economy. This includes areas like manufacturing, trade and commerce. He noted that the Union Government has initiated 7,000 reforms, and its emphasis on efficiency, transparency and growth. He also spoke on Goods and Services Tax (GST) a how it was "becoming a reality after years of effort." Prime Minister Modi added that the implementation of GST is a complex task.
Interacted with top CEOs. We held extensive discussions on opportunities in India. pic.twitter.com/BwjdFM1DaZ

— Narendra Modi (@narendramodi) June 25, 2017
Gopal Baglay, official spokesperson for the Ministry of External Affairs tweeted that the Prime Minister has pointed out "opportunities for tourism through developing hotels in PPP model at 500 railway stations." He also said that the CEOs had applauded the reformative measures and steps taken by the government to improve the ease of doing business, and reaffirmed their "commitment to growing with India and attest to its attractiveness as FDI destination."
This isn't the first time Prime Minister Modi has met with the heads of major tech giants in the US. Back in 2015, he had met with the heads of Apple, Qualcomm, Google, Adobe, Cisco and Microsoft. Recently, it was reported that Apple had finally started assembling the iPhone SE in India and the first batch of the devices are available with retailers in Bengaluru. With the latest meetings, it's possible that even more companies from the US may become a part of the Make in India initiative.
At The Roundtable, CEOs laud PM @narendramodi 's initiatives of demonetisation and digitisation of economy, GST. pic.twitter.com/5sgaG5UqhG

— Gopal Baglay (@MEAIndia) June 25, 2017
CEOs express support Make in India and Digital India, Start Up India and other Flagship initiatives of the government.

— Gopal Baglay (@MEAIndia) June 25, 2017
CEOs applaud reform measures and steps taken by the government to improve ease of doing business.

— Gopal Baglay (@MEAIndia) June 25, 2017
CEOs reaffirm their commitment to growing with India and attest to its attractiveness as FDI destination.

— Gopal Baglay (@MEAIndia) June 25, 2017