Microsoft Cortana is laggard when it comes to skills available on Amazon's Alexa and Google Assistant. With the support for new skills and launch of Invoke, Microsoft would be hoping to bring developers to its Cortana platform.
Microsoft is fixing the skills gap between Cortana, its digital assistant and competitors like Google Assistant and Amazon's Alexa. The move comes just days after the launch of Invoke, a Cortana powered speaker made by Harman Kardon.
According to Voicebot.ai, Microsoft has approved over 100 third-party skills for Cortana, increasing the count from 67 to 174. In comparison, Amazon Alexa has 17,650 skills while Google Assistant has 468. Cortana definitely trails behind Alexa and Google Assistant but the launch of voice-controlled speaker seems to bring new enthusiasm among developers. Over the past 12 weeks, Microsoft has seen a growth of 160 percent in numbers of skills supported by Cortana.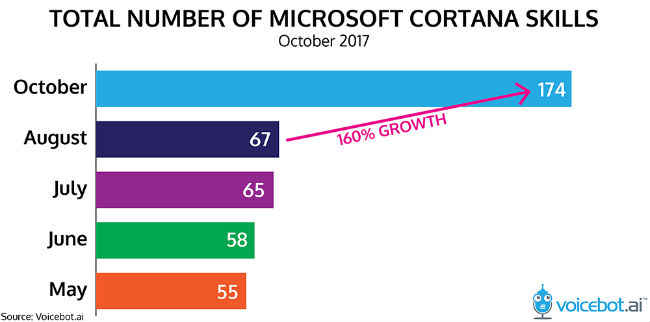 Cortana now supports skills from leading brands like Fitbit, Dominos, Food Network, Progressive and Motley Fool. The speaker already supports some of the commonly used voice commands and the launch of these new skills will bring utility to the platform. In order to simplify the process of building skills for Cortana, Microsoft made it easy for developers to port their Alexa skills to Cortana. The move was widely seen as a way to bring the large set of skills on Amazon's platform to Microsoft's own platform. Microsoft claims Cortana is being used by over 150 million users on PC and Xbox.
The skills from third-party developers are a critical aspect for the success of digital assistants on voice-controlled speakers. With PC maker HP also planning to launch a Cortana-enabled connected speaker, Microsoft will be hoping to tap into this growing segment and likely to turn its digital assistant into the control hub for home automation.