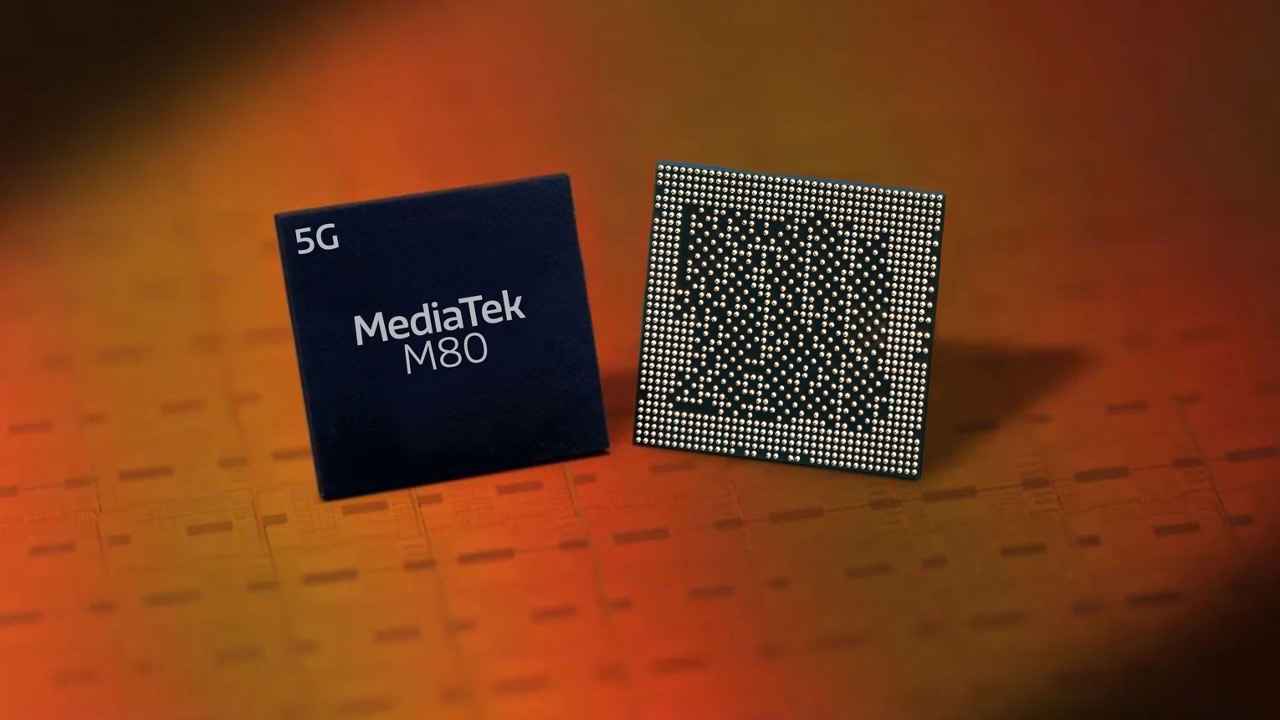 HIGHLIGHTS
MediaTek M80 supports both mmWave and sub-6GHz networks

MediaTek M80 succeeds Helio M70 modem

MediaTek M80 supports downlink speeds of upto 7.67Gbps
The MediaTek M80 5G modem has officially launched with mmWave and sub-6GHz bands. Notably, the M80 is the first MediaTek modem to offer mmWave band support and sub-6GHz band with the same chip. In 2020, MediaTek launched the Helio M70 modem but only with sub-6GHz network support. The new M80 modem is compatible with both mmWave and sub-6GHz networks and makes it future-proof for countries yet to deploy 5G networks.
"As 5G rollouts accelerate, mmWave is becoming increasingly important, especially in the U.S. MediaTek's new 5G modem integrates support for both sub-6 GHz and mmWave networks to address this opportunity and give device makers more flexibility. To advance users' 5G experiences, the new modem supports the latest global cellular standards and specifications and it packs MediaTek's signature power savings technologies along with ultra-fast speeds," said JC Hsu, Corporate Vice President and General Manager of MediaTek's Wireless Communications Business Unit.
MediaTek M80 5G modem features
The MediaTek M80 5G is compatible with both mmWave and sub-6GHz networks and offers peak downlink speeds of 7.67Gbps and 3.76 Gbps uplink speeds. The M80 modem also supports dual 5G SIM and dual Voice over New Radio (VoNR) on both non-standalone (NSA) and standalone (SA) architectures.
MediaTek expects the M80 to be used by various devices including PCs, Mi-Fi hotspots, FTTH equipment, IoT devices and more. The modem supports a wide range of radio access technologies including 3GPP Release 16 standard, Sub-6 GHz and mmWave dual connectivity and carrier aggregation, 5G NR (FR1) with more than two carrier aggregation, 5G mmWave (FR2) up to 8CC, 5G carrier aggregation with Mixed Duplex (TDD + FDD) and Dynamic spectrum sharing (DSS).
The M80 also adds Dynamic Bandwidth Part (BWP) technology for optimizing bandwidth and the 5G technology has been validated in over 100 markets. MediaTek has revealed that the M80 modem will be available to sample with customers later in 2021.