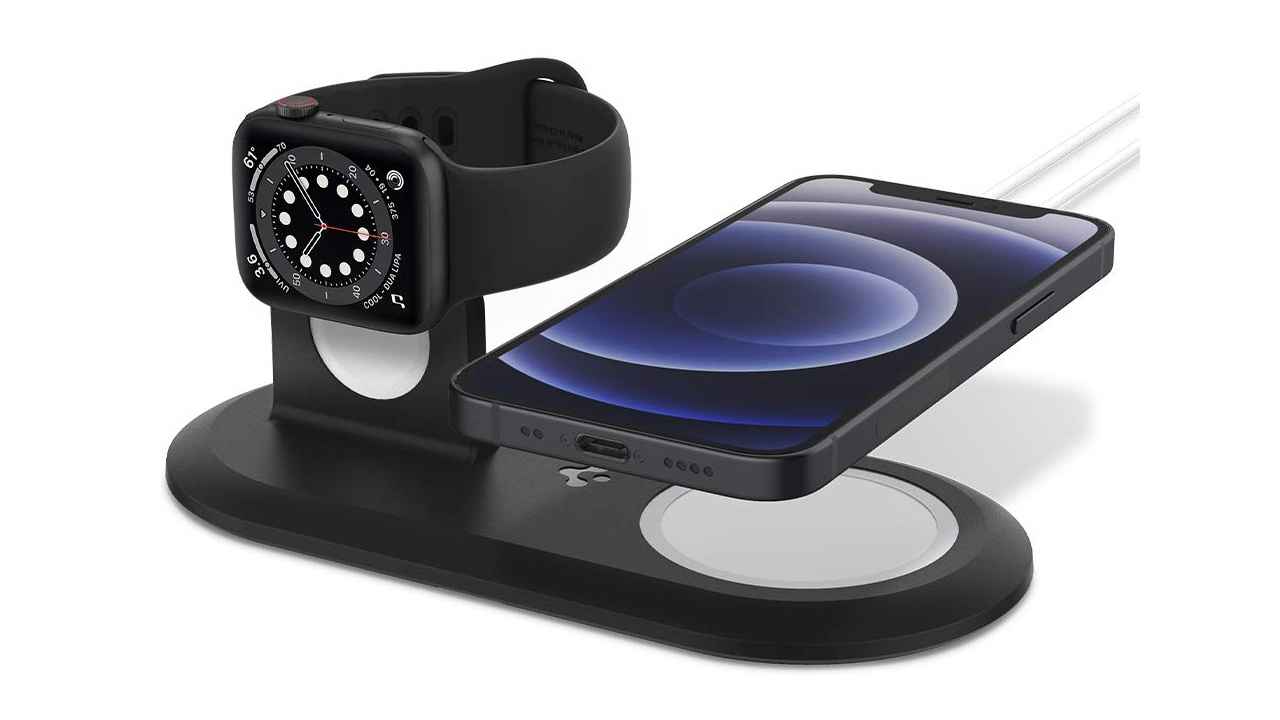 MagSafe charging was introduced for the iPhone 12 series, and ever since its launch, it has created a buzz in the tech industry. The reason behind its popularity is that it makes way for better alignment, improved internal components, and faster charging, something which conventional wired charging lacked. In case you are planning to shift to MagSafe charging, make sure that the wireless chargers you shortlist offer built-in safety features that protect your iPhone from overcharging, over-current, and short circuits. Moreover, only go for those variants that can charge through mobile covers without causing any trouble. Here are a few good options of MagSafe wireless chargers on Amazon that are ideal for iPhones:
Spazy Case 2-in-1 Wireless Charger
The Spazy Case 2-in-1 Wireless Charger features a built-in magnetic circle that gives way for better magnetic absorption and faster induction, leading to quicker and efficient charging. You won't need to remove your mobile cover while charging on this wireless charger, ensuring a seamless charging experience. Moreover, the Spazy Case 2-in-1 Wireless Charger has a multi-functional intelligent chip that protects your phone from overcharging, over-current, and short circuits. Its dual magnetic pads can easily fold together, enabling you to carry it with you anywhere. The wireless charger is made of high-quality fire-resistant material that gives the device a long and durable service life.
Spigen MagSafe Charger Pad
The Spigen MagSafe Charger Pad comes with a soft finish that helps ensure your devices remain scratch and blemish-free. Fitted with a stable base, which is supplemented with a non-stick coating, the charger pad prevents your iPhone from slipping off the surface and falling. Plus, since the Spigen MagSafe Charger Pad has a sleek and ergonomic design, it can also be used on a tabletop and nightstand. It can be used to charge Apple Watches as well, which makes this charging pad a versatile device. Apart from these, some of its other prominent features are a sturdy build, fast charging, and a low-profile design.
Spigen MagSafe Charger Stand
The Spigen MagSafe Charger Stand features firm grip pads powered by Nanotac to provide a strong hold on even surfaces. It has been specifically designed to give a seamless fit to MagSafe chargers, ensuring your iPhones get charged without any hassle. It also works with AirPods, making the Spigen MagSafe Charger Stand an all-in-one solution for most of your charging needs. Equipped with an adjustable angle for comfortable viewing, the stand enables you to get a perfect view of the phone while it is charging.
Combo Wireless Charger
The Combo Wireless Charger can hold your phone together without letting it slip or slide, making sure your iPhone gets charged safely and efficiently. The wireless charger offers multiple built-in safety features that protect your smartphone from over-current, short-circuits, and high temperatures. It is also widely compatible, offering seamless connectivity with multiple models of iPhones, the Samsung Galaxy line of smartphones, iPads, and even AirPods!