Kerala's flood situation is worsening by the day as heavy rains continue to pummel the state. Death toll from the flooding has now risen to 168 since August 8, according to Kerala Chief Minister Pinarayi Vijayan. Four districts — Pathanamthitta, Ernakulam, Alappuzha and Thrissur are the worst affected with all 14 districts under red alert. Water levels in many rivers have risen inundating several towns and villages. The Indian Meteorological Department has forecast heavy to very heavy rainfall in isolated places till Saturday.
The situation is certainly grim and there is a pressing need to relocated people and families stranded in flooded areas along with medical attention and provide rescue and relief materials. The Central Government, State Governments, Volunteers and NGOs are working to mitigate the impact of the disaster, but they need your help. Google Search now has a separate tab to track the events of the flood. Google also has a list of emergency and helpline numbers to contact for those affected by the deluge. Google's People Tracker is also active in the area to help locate citizens in Kerala. 16 teams of Army, 42 teams of Navy and 28 teams of NDRF are currently invovled in rescue and aid operations.
But there's a lot more that needs to be done. Hospitals are facing oxygen shortage, and there's widespread shortage of fuel.
Collector of Kannur has asked people to donate these essential items other than financial help:

1. Cooking utensils and dining utensils like plates, tumblers, etc.
2. Basic household furniture (chairs, tables, etc.)
3. Containers for storing rice and other food items at home
4. Footwear
5. Mugs, buckets.
You can send them to: Control Room, Collectorate, Kannur - 670002, Phone no. 9446682300, 04972700645
Furthermore, the District Collector of Idduki has asked for the following items.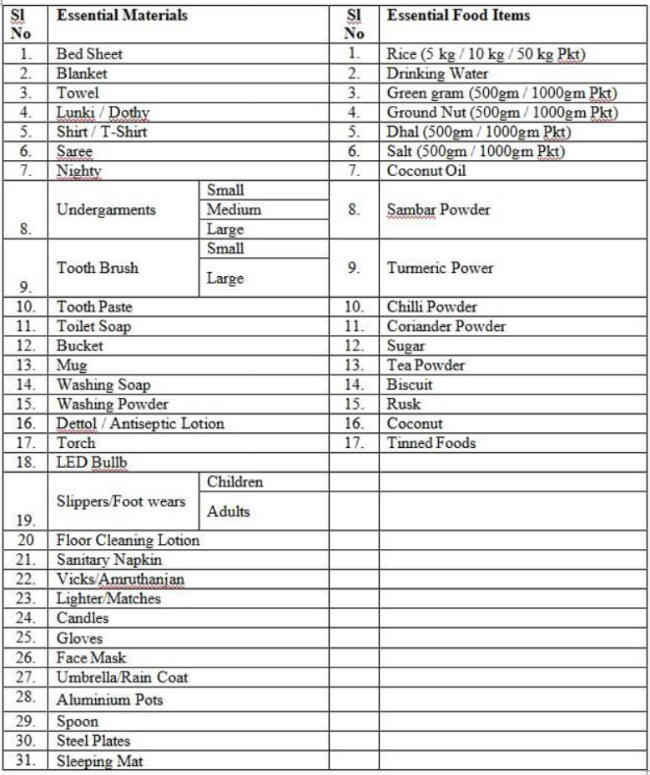 You can send items at: District Collector Idukki, Idukki Collectorate, Painavu P O, Kuyilimala, Idukki, PIN - 685603.
The Kerala chapter of Institute of Electrical and Electronics Engineers with the support of IT Mission has launched a website to collaborate with government departments, volunteers and the public effectively. The website is being monitored by points of contacts in each districts to deliver the requested materials from the public.
The website is called keralarescue.in. People affected by the floods can provide their locations and detail their specific requirements. District specific needs can also be seen along with collection points and point of contacts. You can also volunteer individually to help out with rescue operations.
Chief Minister of Kerala, Pinarayi Vijayan has opened his own disaster relief fund where you can send your contributions. You can send a mail with your cheque/DD to:
The Principal Secretary (Finance) Treasurer,
Chief Minister's Distress Relief Fund,
Secretariat,
Thiruvananthapuram – 695001
To donate online:
Account number: 67319948232
Bank: State Bank of India
Branch: City branch, Thiruvananthapuram
IFS Code: SBIN0070028
PAN: AAAGD0584M
Name of Donee: CMDRF
You can also donate via UPI or QR codes available at South Indian Bank, Federal Bank and SBI.
This is being called the worst deluge of the century with over 168 lives lost already. Many are stranded and need immediate help with essential supplies and relocation. Let's come together and help out our fellow citizens.