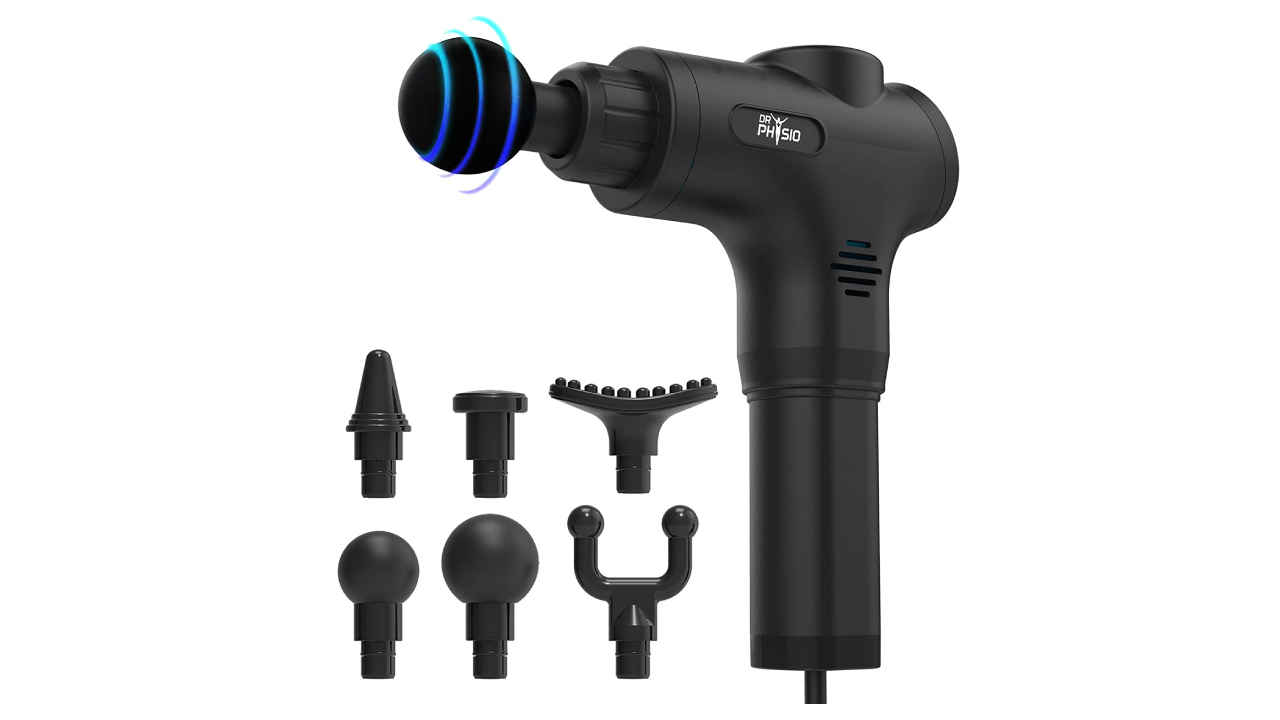 Muscle soreness and pain is a widespread ailment due to modern lifestyle. The cause could be that you pushed yourself a little too hard during workouts or something as simple as an over-exerting day. A deep tissue massage gun that you can comfortably carry around can bring immense relief. So here's a list of some of the Handheld deep tissue massage guns you can find on Amazon right now!
Dr. Physio Supervolt Gun Massager
Are you looking for an easy, simple, and powerful self-massage tool that allows you to customise your massages as per your needs? Well, Dr Physio's Supervolt massage gun might just be the thing you are looking for! It treats tired muscles accurately and fastens the post-workout muscle recovery with a professional massage. It comes with 6 massage heads – a ball head for massaging big muscles, a small flat head for all parts of the body, a U-shape head for the spine and neck, a cone head for the deep muscle group, a big ball head for the big or small group and an arc-shape head for the thighs and arms. So, you can enjoy a relaxing massage every single time! Moreover, this handheld portable gun massager has a comfortable grip and can operate at 6 different speeds so that you can adjust the pressure and speed at your convenience.
Coinfinitive Massage Gun
The Coinfinitive Massage Gun has 6-speed adjustments, so you can choose different speeds according to the muscle group you want to massage. It can help improve your daily activity, ability, and flexibility by relieving the tension in your muscles by massaging them without making any noise. It is equipped with a powerful brushless motor that can achieve rotation speeds up to 2100-3600 RPM. The massage gun provides 4 customised massage heads and has a 2,000 mAh lithium-ion battery which can last up to 3 hours once fully charged. The ergonomic grip, lightweight build and vibration principle make it highly portable and easy to use, no matter where you are. Last but not least, it has an auto-shutdown feature that turns off the massager after 15 minutes of activity, making it safe to use and handle.
Nexqua Massager Gun
This hand-held massager has several useful features like silent operation, ergonomic build made of safe material, auto-time protection, and much more, giving it an edge over its competitors. This high-performance and energy-saving massager comes with 4 replaceable massage heads and can massage your stiff muscles for up to 4 hours on a single charge, making it a great choice. Nexqua has even equipped it with the Quiet Glide technology, so the noise levels are in the range of 35db-50db, so you won't be bothered while the massager does its job. Moreover, its sweat-proof and non-slip grip, 24V high-torque brushless motor, and LED indicators showing the level on which the massager is operating make it easy to use at the home, office, gym or even while travelling!
Caresmith Massage Gun
If you are looking for a full-body massager that is reliable and has advanced features, then this one by Caresmith might do the job for you! This calibrated hand-held body massager weighs 800 grams and comes with 6 interchangeable heads, which help target different muscle groups so you can relax to the fullest. It has a powerful 12.6 V, 24W high-torque motor under its hood to achieve up to 3,300 strokes per minute. It uses advanced percussion therapy to relieve pain, soreness and muscle stiffness in the back, neck, abdominal area, palms, etc. Last but not least, it has a lightweight body and sleek design so that you can hold it for longer durations without any trouble.