The $600 million crypto hack is one of the largest in Defi history. Poly Network pleaded to have their money back and the hacker complied. In return, the firm offered them $500,000 and immunity, FBI objected to the latter.
An unknown hacker returned $600 million worth of cryptocurrency which he stole from Poly Network Exchange, a company that claims to be building the "next generation internet infrastructure," when they posted a letter on Twitter urging him to do so.
In a fatherly way, Poly Network reminded the hacker that the money they stole is large enough to attract major consequences from law enforcement. They firmly stated their disappointment with the hacker by saying "it is fairly unwise for you to do any further transactions." Additionally, the firm echoed the statement "think of the children" by reminding the hacker that the money belongs to thousands of community members, which I am guessing have families and mouths to feed as well.
Surprisingly, the pleading and veiled scolding worked, giving Poly Network their money back and all of us a lesson in parenting, if your child stole hundreds of millions of dollars online that is.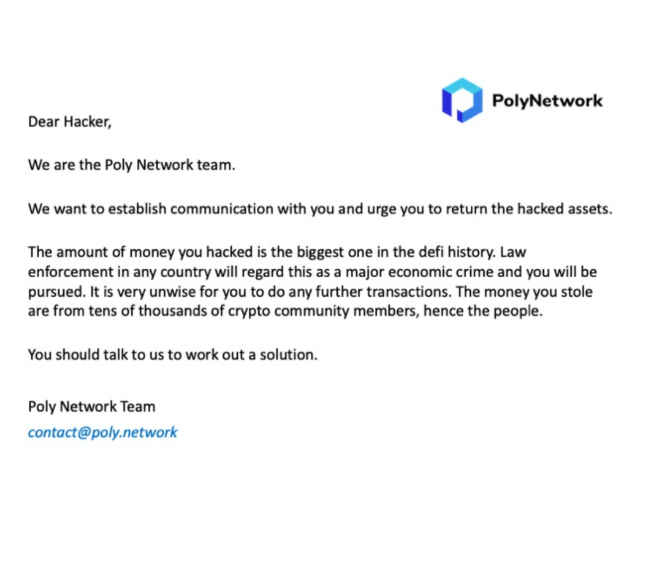 Poly Network Hack: Hacker Returns Crypto Millions Worth Millions
Soon after the cyber attack, the hacker themselves alerted the Poly Network by posting notes on the public blockchain and asking for different ways to launder their stolen crypto. Following which the Poly Network alerted its user base of the illicit transaction. After that, the firm posted the now-famous "Dear Hacker" letter on Twitter and soon got their money back.
The anonymous hacker said in an online Q&A that they aren't interested in money and only stole the money for fun and also to bring to light the vulnerability in the Poly Network's system.
In exchange for, I guess we can call it a "good job," the Poly Network promised the hacker a sum of $500,000 and immunity. To this, an FBI official said, "private companies have no authority to promise immunity from criminal prosecution."
As of now, most of the stolen money is back with the Poly Network and they are continuously working with the hacker to get the rest of their crypto back. The hacker still has $33.4 worth of Tether, a stable cryptocurrency, with them.
The main reason for attacking the Poly Network was to protect it, said the hacker in an online Q&A. When he spotted the vulnerability he could've politely asked the network to fix it but given the $1 billion at stake, anyone could become a traitor, the hacker further said. So they took it upon themselves to solve the issue, read the Q&A.