Highlights:
Google has rolled out Gmail's Smart Compose feature to all Android devices.
The feature was previously exclusive to Pixel 3 devices.

Google has started to roll out the Gmail's Smart Compose feature to all the Android-powered devices. The feature was previously exclusive to the Pixel 3 and the Pixel 3 XL smartphones. Google had already released the feature for the web version of Gmail and now, it seems to have rolled out a server-side change because the last update to Gmail was released on February 22 which painted the UI white in harmony with its Material Design.
We verified the update with a couple of Android-powered devices including the Pixel 2 XL and the OnePlus 6T. The screenshots of the feature in Gmail can be seen below. Reportedly, Essential Phone, and Samsung Galaxy S9+ also got the update. The reports in the US-based media houses are confirming the roll out, and since we checked it here in India, this suggests that this is a global roll out. The feature is not available on iOS yet.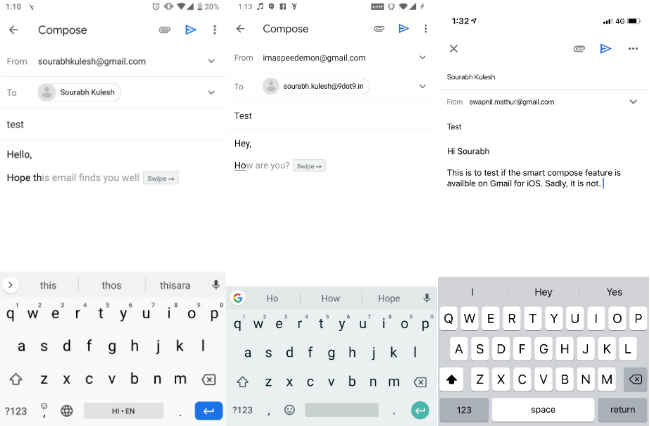 (From Left) Smart Compose feature in Pixel 2 XL, OnePlus 6T and iPhone XS
On Gmail for web, you need to hit the "Tab" or the right arrow key to write the suggested sentence. On phones, you just need to swipe right to complete the sentence. If you don't want to use it, you have an option to opt out. Just need to go to the Settings and disable the Smart Compose from the account. The feature leverages Artificial Intelligence (AI) to analyse what the user is writing and suggests auto-completion of sentences depending on what the context is.
The feature was demoed at last year's Google I/O annual event and even at that time, it was seen capable of understanding what the user is trying to state and then auto-suggesting sentences to make it easier and faster for the user to draft the email. Google had also warned that the "Smart Compose is not designed to provide answers and may not always predict factually correct information."
Recently, Google brought some changes to the Smart Compose feature and blocked gender-based pronouns. Google said that the technology will not suggest gender-based pronouns because the risk is too high that it might predict someone's sex or gender identity incorrectly and offend users. Gmail product manager Paul Lambert said that a company research scientist discovered the problem in January when he typed "I am meeting an investor next week," and Smart Compose suggested a possible follow-up question: "Do you want to meet him?" instead of "her."
Related Read: