Google Maps is rolling out a new update that adds a COVID-19 layer to help you track Coronavirus developments around your region. This will enable the common person to make informed decisions about when to step out of the house and avoid visiting places that have the most COVID-19 concentration. Google has added a host of new features since the beginning of the year in the eye of the Coronavirus pandemic and this new COVID-19 layer will reach users worldwide by the end of this week, both for Android and iOS devices.
Google will now display information about COVID-19 cases around your region on Maps and this new feature will be available in over 220 countries supporting Google Maps. Google sources this data from multiple authorities such as Johns Hopkins, Wikipedia, New York Times, WHO, health ministries and also local hospitals. Google is expanding its already available Coronavirus resources to the Maps in order to better inform the people about the status of the pandemic in case they plan on venturing out of their houses.
"While getting around is more complicated these days, our hope is that these Google Maps features will help you get where you need to be as safely and efficiently as possible," said Sujoy Banerjee, Product Manager at Google Maps.
Google Maps COVID-19 layer: How to use?
Google has added a new layer in the Maps app on Android and iOS that lets users see a seven-day average of COVID-19 cases around the region selected on the map. Like all the other layers available on the map, the COVID-19 Info layer tracks Coronavirus cases per 100,000 people in the area and gives an overview to the users about the trends going up or down in a particular region.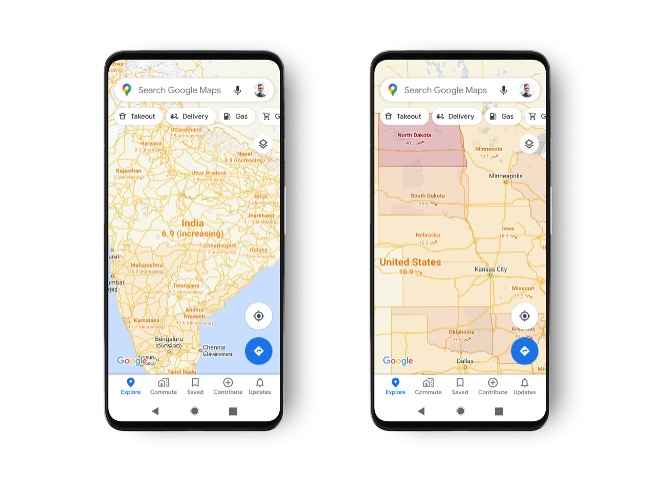 Moreover, Google has also labelled and colour-coded different regions for easier identification in the Maps and information about the cases are also displayed at country, state and city levels wherever it is available.
Once your Android or iOS phone receives the new Google Maps update, you can check out the new feature by following these steps. Opening the Google Maps app, you would see a new banner pop-up on the "Layers" icon saying "See COVID-19 Info". Tap on the layers button and select Covid-19 Info from the Map Details section and you're good to go.
Next, you just need to zoom in and select the region you want to see the Coronavirus data of and the Maps will display city-wise or state-wise data if available.