Qubo Smart Security WiFi Camer with Face Mask Detection
India's most versatile weatherproof outdoor camera that protects your outdoors 24x7 and provides crystal-clear video streaming day and night through the qubo mobile app.
Click here to know more
Advertisements
By now, it's pretty much established that social distancing is one of the primary ways to flatten the rising curve of COVID-19 cases in the world. Governments have across the world have adopted self-isolation a means to curb the menace of the Coronavirus with people being asked to stay home as much as possible.
Now Google has released data that shows how well people have been adhering to the guidelines. The data is collected via Google Maps and works the same way as Maps identifying crowded areas with aggregated, anonymised data. It relies on your smartphone's Location History setting.
Google is releasing the data in the form of Community Mobility Reports. Presently, the data covers 131 countries and regions.
"With reports saying that a third of the world's population is under some kind of social distancing measures, we've heard from public health officials to consider how we could help here, too. Since there is no vaccine or proven treatment, social distancing is the primary way to flatten the curve. However, communities have not had a lot of insight into whether their guidance is working," Google wrote in a blog post.
The data sets show how public places are impacted by social distancing measures. Places like parks, theatres, malls where people tend to gather in large numbers. Google will show the percentage increase or decrease of movement across these places, instead of the absolute numbers.
The data is divided into high-level locations — retail and recreation, groceries, pharmacies, parks, transit stations, workplaces, and residential. The report uses anonymised data that's aggregated to show movement trends over time.
Google isn't sharing data about the individual's location, movement or contacts. It only uses the data of those who have voluntarily turned on Location History setting on their devices, which is off by default. Google has also used a technology called 'differential privacy' that adds artificial noise to the datasets to make identifying an individual near about impossible.
While Google is offering more granular, region-level insights of states and provinces for some countries, only country-level information is available for India so far. Here's the report for India.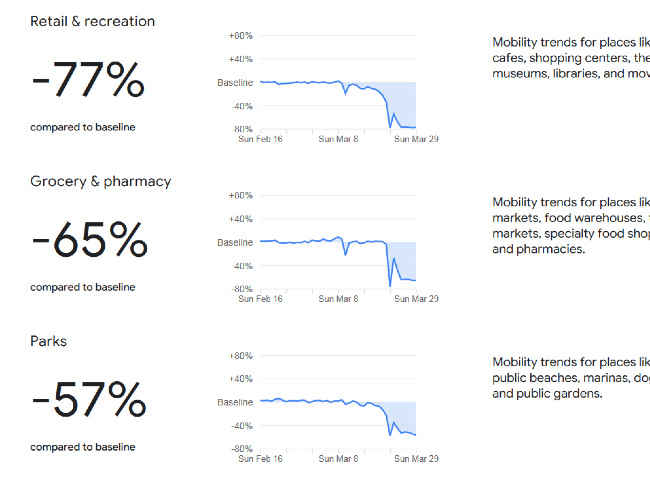 Quite unsurprisingly, the report for India states that from February 16 to March 29, retail and recreational centres have seen a 77 percent decrease in footfall while groceries and pharmacies have seen a 65 percent reduction in people. Parks, transit hubs and workplaces too saw a significant reduction in footfall. Only residences saw a 22 percent increase in people. The sharpest decline in footfall in public places happened from March 21, the day the lockdown was announced.
With the nation-wide lockdown set to be relaxed after April 14, these movement trend reports can be of help to the authorities in determining how to control large crowds from gathering in one place and lead to a second wave of infections.