Highlights:
Google rolls out Material Design update to Google Drive on phones.
The redesign is available on iOS and will be available on Android on March 18

Google has announced that it is bringing the Material Design theme to iOS and Android mobile operating systems. The move, Google says, is a part of an effort to make the appearance and experience of Google's apps across its platforms uniform. The company announced that the update on iOS has started to roll out globally and Android users will start getting the update from March 18.
The first change that the redesign has brought is the new Home tab and bottom navigation. Similar to Drive on the web, the Home tab will surface the files based on things like: the last time the file was accessed or edited, who specific files are frequently shared with and what files are used at specific times of day. The bottom navigation bar features options to switch between Home, Starred, files shared with you (Shared), and all files (Files), allowing for quicker access.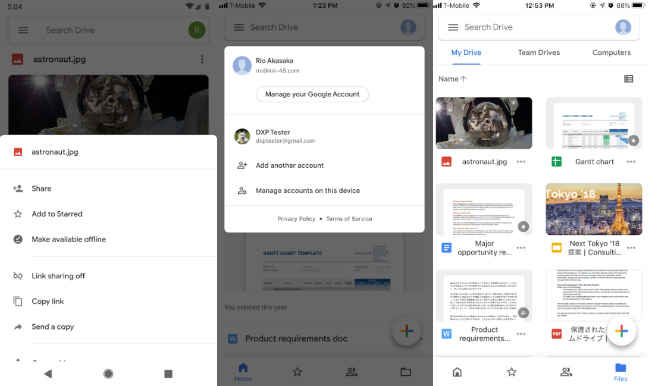 "The search bar is now more accessible across the application, including from the Team Drives page. Team Drives will be now be displayed as a tab next to My Drive in the Files view," Google said in a blog. Users will also see a Computers tab if they have backed up content from a local machine to their account. There is a new account switching experience, under which the feature to switch accounts is moved from the left navigation menu to an icon in the top right.
Once this update is rolled out to all, Google Drive for Android (and iOS) will now join other apps like Gmail, Google Photos, Google Messages and Google Contacts that have already got the white paint job previously. In January, Google had announced that it would release its all Material Design update for Gmail for Android, and last month, the company said that it has been made available to all Android users.
Related Read:
Google Drive redesigned to match Gmail's new material design on web