Google has announced that it is now rolling out an update in Gmail's Smart Compose feature that will automatically suggest the subject line of an email on the basis of the content of the body of the mail. When a user finishes writing the body of an email and then place the cursor in the subject line, he/she may see Smart Compose suggesting a subject for the email that they have typed.
Google says that since the announcement of the Smart Compose in G Suite last year, it has seen the feature cutting down on the effort it takes for a user to write emails and replies. Google has claimed that the Smart Compose feature saves people from typing over 1 billion characters each week on the web. Interestingly, the company had talked about this feature in Gmail's 15th anniversary blog a few day ago.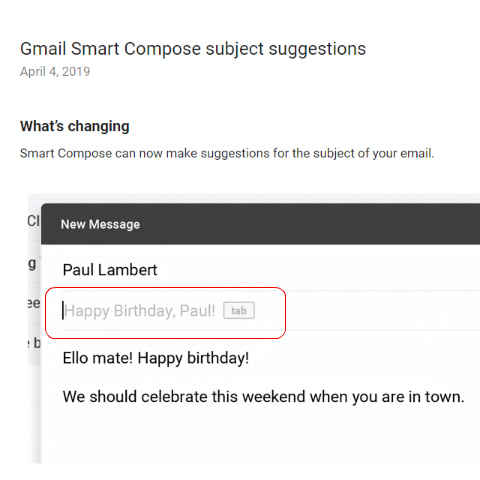 For Rapid Release domains, the gradual rollout already began on April 4 and Google says that the roll out will complete within 15 days. For Scheduled Release domains, the gradual rollout will start on April 23 and will complete in 15 days. The feature will be available to all G Suite editions, and it will be on by default. Users can individually turn it on/off by accessing the Gmail settings.
Recently, Google rolled out an update that lets Smart Compose adapt to the way users write an email. For example, if a user prefers to greet the receivers with "Hello", instead of "Hi, Gmail will learn that. It can even suggest a subject line based on the body of the mail a user has written. The company also released the email scheduling feature that allows the users to choose when an email should be sent. Further, the last update also brought the ability to take an action on email, like respond to a comment thread in Google Docs, schedule a meeting, or fill out a questionnaire from within the message itself.
Related Read:
Google Pixel 3a, Pixel 3a XL names, specs confirmed in new leak