Facebook is reportedly working on four new hardware products, including a consumer drone. The company may showcase these products and a new retail experience next month.
Facebook is expected to showcase its new hardware efforts at the company's flagship developer conference next month. According to Business Insider, Facebook is working on at least four unannounced consumer hardware products and could showcase them at F8.
The social media giant is reportedly working on augmented reality, drone and even brain-scanning technologies. Business Insider notes that Facebook's secret hardware project is called Building 8, and is being headed by former DARPA executive Regina Dugan. The new hardware products could also see Facebook stepping into the retail segment with warehouse operations and global contact center.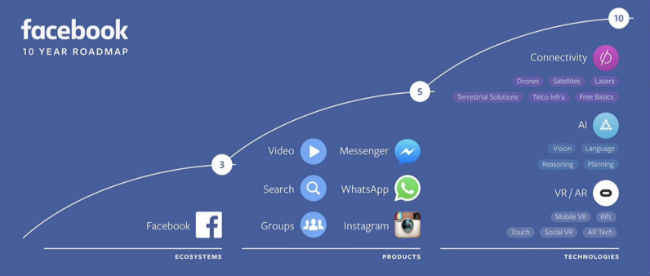 At F8 last year, Facebook CEO Mark Zuckerberg laid out his vision for the company's next 10 years. His vision was centered around the use of lasers, virtual reality, bots and drones for a connected future. Zuckerberg sees Facebook as an ecosystem with supplementary products like WhatsApp, Messenger and Instagram. As per Zuckerberg, the company's future is hinged on connectivity, AI and VR/AR, and the company's hardware products could cater to these segments.
Facebook is already experimenting small-scale retail experiences with its Oculus VR headset and with Building 8's upcoming hardware products, the social media giant is expected to offer a diversified shopping experience. The details on the initiatives and upcoming products is sparse, but Facebook's plans should be clear at F8. Facebook and its products have been adding new users every quarter, but the company has not introduced any new groundbreaking product/feature recently. The company is also under pressure from Snap, which has set its own foothold in the highly competitive space.
Facebook is very clear about its VR ambitions, but the price-to-entry continues to be a big barrier for mass adoption. With the new hardware team, it will be interesting to see whether Facebook makes a compelling mass-market product that also hits the right price points.
Tags:
facebook
facebook f8 developer conference
facebook hardware products