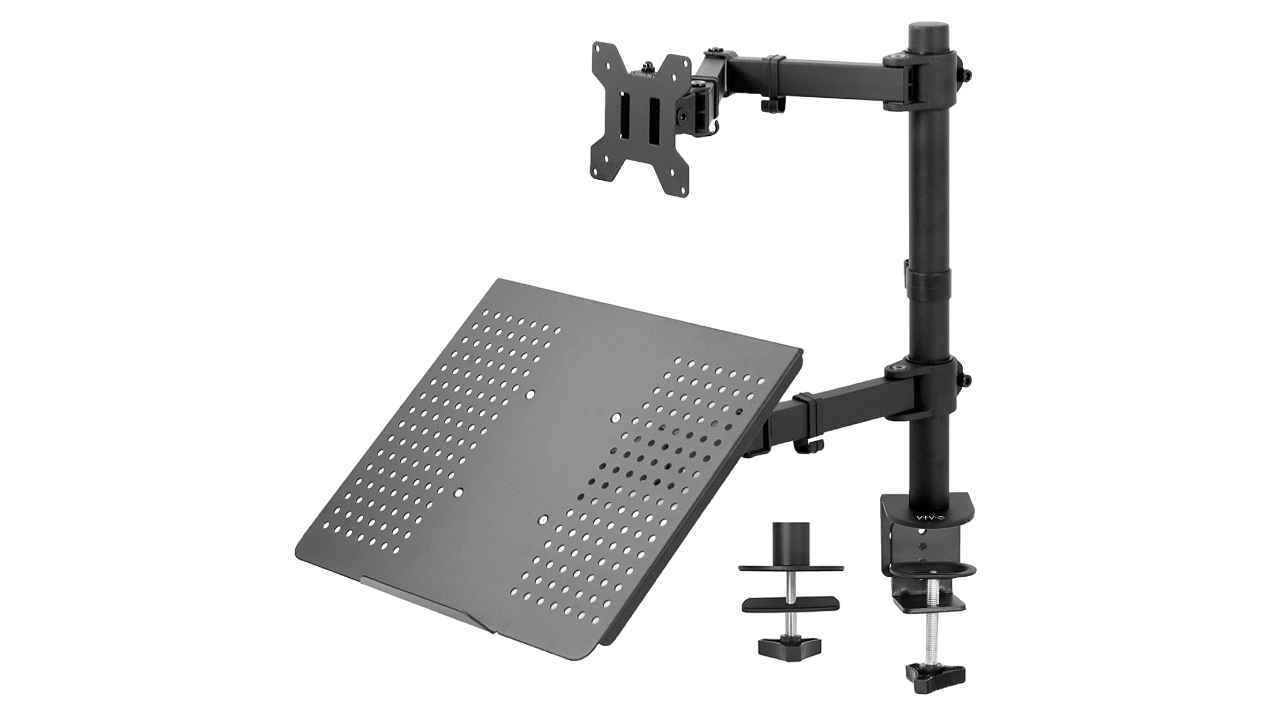 If you spend most of your time on your work desk, switching between your laptop and monitor screens in an uncomfortable position, you must already know how difficult it can become to multitask. Your productivity can take a significant toll with your work desk getting cluttered and your screens adjusted at uncomfortable angles. However, with dual-mount stands, all of these problems can become a thing of the past! These stands allow you to create a dual-monitor setup with your laptop serving as a secondary screen. You could also rotate your monitor to landscape or portrait orientation, making these stands useful for a work environment. If you are looking for dual-mount stands, make sure that they offer a sturdy base and are made of durable materials. Following are a few good options of dual-mount stands on Amazon.
StarTech.com Laptop Monitor Stand
The StarTech.com Laptop Monitor Stand comes along with a flexible arm and stand that enables you to extend, tilt, and swivel the monitor and the laptop with a full range of motion across multiple axes. This is supplemented with spring-assisted height adjustments, allowing you to position the screens according to your preference. The dual-mount stand delivers seamless compatibility with both laptops and monitors. It can support monitors between 15-27 inches with a maximum load of 8 kilograms (only VESA compliant ones). In addition to these features, the StarTech.com Laptop Monitor Stand also offers one-touch height adjustment.
Vivo Dual Mount
The Vivo Dual Mount has been crafted for ergonomic viewing, thanks to its vertical and landscape orientations. Featuring a fully adjustable pole, this dual mount delivers a complete 360° rotation, a tilt of +15° to -15°, and a swivel of 180°, allowing you to pick an angle and height that best suits your eyes. Coming with universal VESA compatibility, the Vivo Dual Mount can fit any monitor screen (flat or curved) between the size of 13-32 inches. Plus, it can withstand a total weight of up to 10 kilograms per arm! In terms of its laptop stand, it has been designed keeping in mind heat dissipation, as it features a vented tray. The holes ensure that the laptop receives a seamless flow of air to assist with proper heat dissipation. Moreover, since it has an elegant design with a refined black finish, it would enhance the look of your workspace!
NBGYS OA-7X Dual Monitor Mount
The NBGYS OA-7X Dual Monitor Mount has an aluminium and ABS-based body. This means the mount should give a long service life without any issues! Plus, the aluminium gives the monitor mount a classy finish that complements your workspace. Since it is compatible with VESA plates, the mount can be installed within a few simple steps, giving you an effortless installation experience. You could also attach the cables of your monitor to its arm to ensure they don't dangle, thanks to its robust cable management system. Each arm of the NBGYS OA-7X Dual Monitor Mount can withstand a maximum load of 7 kilograms, making it ideal for most monitors and laptops available in the market.
Monitor and Laptop Tray Desk Mount
The Monitor and Laptop Tray Desk Mount has a total of two arms that can hold both your monitor and laptop, saving you a lot of desk space. Offering full-motion articulation, the desk mount delivers +90° to -90° tilt, 180° swivel, and 360° rotation. You can also adjust it to a suitable height, ensuring you don't strain your back and neck while working. This dual-mount is also fitted with an integrated cable management mechanism that can keep the power and AV cords organised and away from the line of sight. You can mount your monitor onto the stand with ease, owing to its detachable VESA bracket plate.