Highlights:
US President Donald Trump addressed the Apple CEO as "Tim Apple"
His name is Tim Cook and he was sitting right next to Trump.
It isn't the first time Trump has made such a mistake.
Update: Apple CEO, Tim Cook changed his name to 'Tim Apple' on his official Twitter account. His account now reads Tim, followed by the Apple logo. The funny thing is that only those with an Apple device will be able to see the change. Those on Windows or Android won't be able to see the Apple logo rendered on their device.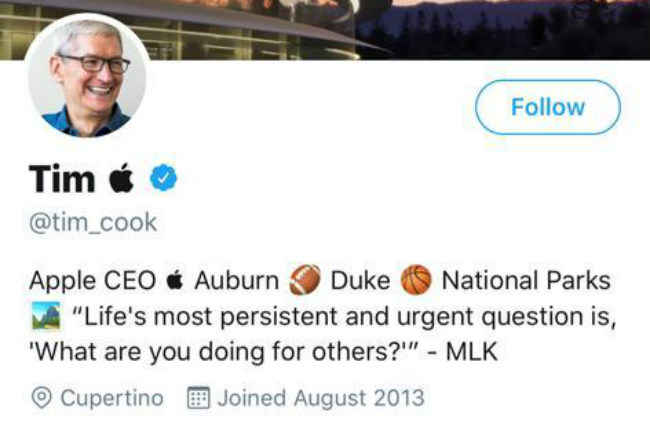 Did you know that the CEO of Apple is named Tim Cook? You did?! Well congratulations as you may know more that the current President of the United States, Donald Trump. When addressing the American Workforce Policy Advisory Board, the US President called Tim Cook, "Tim Apple."
"We appreciate it very much, Tim Apple," Trump said while sitting right next to the Apple CEO. Cook made no comment, but only nodded his head politely. Although, everyone (including us) would love to know what was going on inside his head at that time.
Of course, it could very well be a mistake or a slip of tongue. After all, we all make mistakes. However, this isn't the first time this has happened. Almost exactly a year ago, Trump called Lockheed Martin's CEO Marillyn Hewson, "Marillyn Lockheed". On top of this, the US President has a tendency to flub words. A few weeks ago, it was reported that he mispronounced Nepal and Bhutan as "Nipple" and "Button". Then of course, was the infamous "Covfefe" tweet from a couple of years ago. Most recently, Trump called the Californian town of Paradise - Pleasure. This, while he was standing in the very town of Paradise, next to the Governor of California.
Of course, there are a lot of questions that arise here? Does Donald Trump really think that company names are always derived from the last names of their CEOs? After all, Trump himself is a businessman and tends to use his own name when it comes to naming his businesses like Trump Tower, Trump Plaza, Trump University and so forth. Regardless, it's not yet known if Russia had anything to do with this.