Android OS is expected to capture nearly 85 percent market share in the operating system space by the end of 2018. The volumes of the smartphones with Android OS are expected to grow at a five-year Compound Annual Growth Rate (CAGR) of 2.4 percent, with shipments approaching 1.41 billion in 2022, market research firm International Data Corporation (IDC) said in its latest Worldwide Quarterly Mobile Phone Tracker. Also, the average selling prices (ASPs) of the Android shipments are growing at a double-digit pace and are expected to grow 11.4 percent in 2018 to $262, up from $235 in 2017. For iOS, the firm said that iPhone volumes are expected to grow by 2.1 percent in 2018 to 220.4 million in total. IDC forecasts iPhones to grow at a five-year CAGR of 2.0 percent, reaching volumes of 238.5 million by 2022.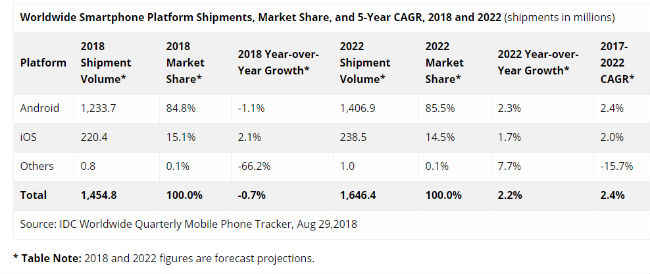 When it comes to the worldwide smartphone market, IDC says that it is expected to decline again in 2018 and will experience low single-digit growth from 2019 through the end of its forecast in 2022. The firm forecasts worldwide smartphone shipments to decline 0.7 percent in 2018 to 1.455 billion units, down from 1.465 billion in 2017. However, the market is believed to return to positive growth in the second half of 2018 with volumes up 1.1 percent compared to the second half of 2017. In the long-term forecast, the overall smartphone market is expected to reach 1.646 billion units shipped in 2022.
When breaking down the growth by device type, the large-screen smartphones (5.5 inch and larger) will lead the charge with volumes of 941.6 million in 2018, accounting for 64.7 percent of all smartphones, up from 623.2 million units in 2017 and 42.5 percent share. By 2022, shipments of these larger screen smartphones will jump to 1.391 billion units, or 84.5 percent of overall shipment volume. Also, the anticipation of the two iPhone models with over 6-inch display and available for shipment in the second half of 2018, will act as another catalyst toward driving these important display trends.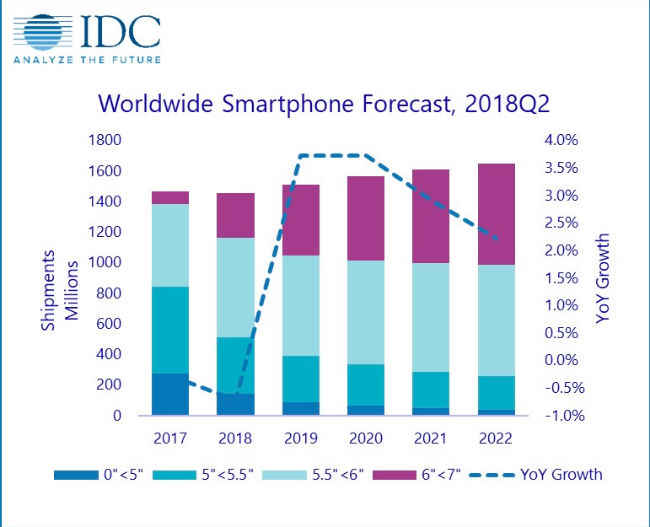 "With two out of three new iPhones expected to be larger than 6 inches, Apple will not be left behind in the 2018 race for increased screen real estate. You could say the term 'phablet' is becoming less relevant now that most smartphones will ship with larger screens, and when folding screens start coming into play in the medium term, this screen trend will evolve in new directions," Melissa Chau, Associate Research Director with IDC's Worldwide Quarterly Mobile Device Trackers, said in a statement.