Google has updated the Android distribution numbers and the data shows that the latest stable version of Android, Android 9 Pie is installed in 10.4 percent devices. According to Google, adoption of Android Pie is ahead of schedule as compared to past releases. Android Pie was announced at Google I/O last year, and was first rolled out to Pixel devices in August. In October, the OS failed to make a cut in the distribution numbers apparently because Google does not include any versions with less than 0.1 percent distribution.
According to the company, these numbers are compiled from Android devices that accessed the Play Store during a seven-day period that ended on May 7. According to these numbers, Oreo is the most installed Android OS with a total of 28.3 percent share. It is followed by Android Nougat with 19.2 percent share and Android Marshmallow is installed on 16.9 percent of all the devices running on Android OS. Lollipop is at 14.5 percent, KitKat at 6.9 percent and Jelly Bean at 3.2 percent. Bothe Ice Cream Sandwich and Gingerbread are installed on 0.3 percent.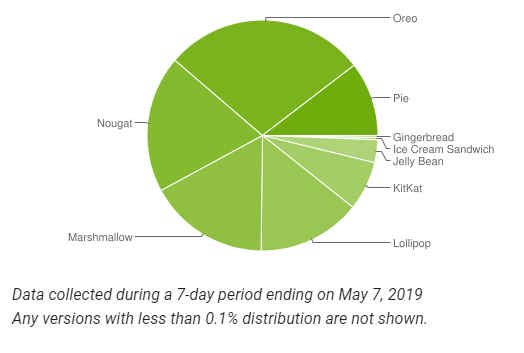 In related news, Google also announced an update on the total number of devices running on Android OS. During the Google I/O keynote, the company confirmed that a total of 2.5 billion devices are currently running on the platform as monthly active devices. Two years ago, 2 billion devices were reported to be running on the Android OS.
Last month, Google released its Android Security and Privacy 2018 Year In Review report, in which it claimed that the overall health of Android ecosystem improved as compared to last year. The company's report claimed that in the fourth quarter of 2018, 84 percent more devices received a security update as compared to the devices in the same quarter last year.