YouTube has been witnessing a staggering growth in viewership as well as online content creators in India recently. Several local YouTubers have achieved the milestone of having 1 million subscribers, 14 creators to be precise. These creators are spread across a wide spectrum of categories including entertainment, tech, music and food. Among those creators, Bhuvan Bam or more popularly known as BB Ki Vines became the fastest creator in India to cross the 2 million subscriber mark in 2016, having produced only 92 videos. Bhuvan had also crossed the 1 million subscriber mark in the same year.
India has over 442 million mobile internet users (including smartphones, tablets, laptops and other mobile devices), and easier access to internet has been a great driving factor for these numbers. Viewership has been coming in from tier-2 cities as more content is being created in more regional languages. Areas with low-internet connectivity will soon be able to enjoy watching YouTube videos with the launch of YouTube Go. Not only is content coming up in different languages, but they are covering almost every genre existing on YouTube. This has also been the case worldwide. YouTube announced earlier this year that their 1 billion global users are watching about 1 billion hours of videos daily.
YouTube is planning to push and invest into growing the base of online content creators from the country. At a pre-YouTube FanFest press conference, David Powell, Director of Online Partnerships and Development, YouTube, APAC said,"In 2016, we saw over 500 creators across India get over 100k subscribers, meaning at least one channel is crossing this threshold every day. This meteoric rise of content creators across the country is at the heart of YouTube's popularity in India, and we are significantly ramping up our efforts to make India one of the most vibrant and successful content creator communities in Asia."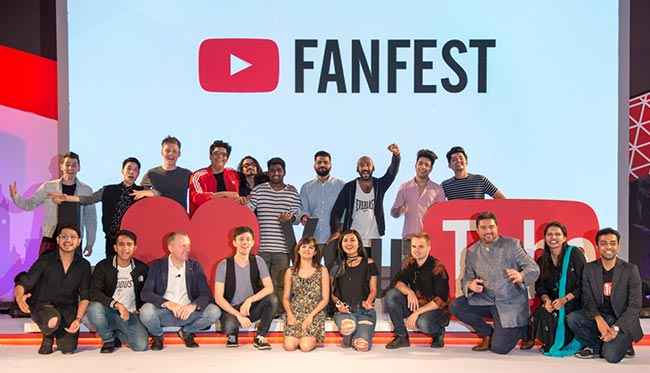 International as well as local content creators at the pre-YouTube FanFest press conference
They've been quite active on helping creators and supporting them with the necessary resources required to create content. The YouTube Spaces initiative allowed content creators to come down to dedicated spaces to record and edit their videos. At these spaces, premium equipment such as video cameras, mics, studio lighting and editing machines were provided for free to creators, if they met a certain criteria of the number of subscribers. YouTube has also been conducting events and workshops to teach how the video broadcasting service works. The NextUp development program includes a 5-day crash course on video production by creators, where winners or graduates of the program receive a voucher of $2000 to spend on production equipment.
Also at the press conference, Technical Guruji and Shirley Setia were awarded the Gold Play Button which is awarded to YouTubers crossing the 1 million subscriber mark. With Bhuvan Ram (BB Ki Vines) on top of holding the title of being the fastest creator in India to reach the 2 million subscriber mark, the following creators are witnessing massive growth in viewership who have also crossed 1 million subscribers – Being Indian, InfoBells Telugu, Kabita's Kitchen, Nisha Madhulika, Sanam, Sandeep Maheshwari, Sanjeev Kapoor and VidyaVox.