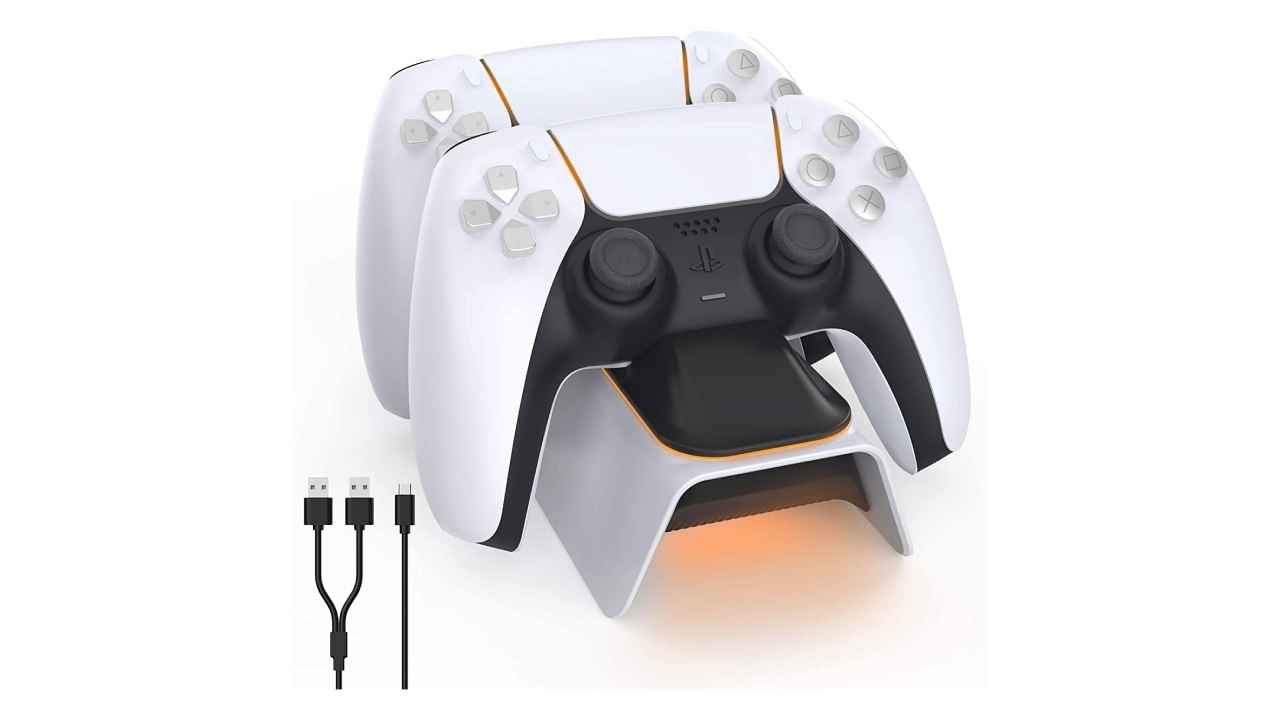 The new PS5 or Playstation 5 console has several state-of-the-art specs, such as the Audio Engine for a realistic 3D sound experience and a custom-built SSD for reduced load times. While the PS5 undoubtedly gives an exceptional gaming experience, its performance can be further enhanced with accessories. For instance, unique PS5 controller chargers can charge up to 2 controllers simultaneously within little to no time. If you are searching for such accessories, make sure to only for those that have optimal utility and durability. To make your search a bit easier, we have shortlisted a total of 4 accessories based on their usefulness and price. Here are the 4 must-have accessories for your PlayStation 5 on Amazon.
MrDeal PS5 Storage Bag
The MrDeal PS5 Storage Bag features an adjustable shoulder strap (from 28 inches to 55 inches) that comes along with widened cushions. This makes long-distance travelling easier and convenient! With an overall size of 45 cm x 45 cm x 14 cm, this storage bag is larger than ordinary PS5 cases. In addition to an inner pocket that can be used to store the main console, it also has a front pocket for keeping controllers, discs, USB cables, and more. As it is made of nylon fabric, the MrDeal PS5 Storage Bag is completely waterproof. Plus, it is also resistant to dust, abrasion, and sudden shocks from accidental drops. Its handle is wrapped in high-quality soft leather, making things easier for those who want to carry the bag in their hands. Apart from these specs, this storage bag also has a large capacity and an ergonomic design.
New World PS5 Controller Charger
The New World PS5 Controller Charger comes equipped with LED indicators that are stationed at multiple positions. When the charging is in process, it radiates an orange light, which switches off automatically once charging is over. Designed with an upgraded copper charging port, this controller charger provides a faster charge in under 3 hours. The New World PS5 Controller Charger comes equipped with a built-in intelligent chip to protect your controllers from any form of damage. This small device helps prevent overheating, overcurrent, short circuit, and overvoltage. Plus, the design of this charging dock has been tailored to match the style of the PS5 console with its white and black combination. In addition to these features, it also boasts an ergonomic design and seamless compatibility with USB C cables.
New World PS5 Dust Cover
The New World PS5 Dust Cover protects your console from dust, minor scratches, UV, liquids, and even pet hair! Featuring precision cuts, you can easily access the cable ports without removing the cover. It has been made of nylon and a soft interior lining to provide optimal protection to your console against scratches. Moreover, since its nylon is hand washable, you can easily maintain it without any hassle. As it is nearly 10% elastic, the entire console can be covered with the New World PS5 Dust Cover. However, while gaming, it is recommended to remove the cover from the console to prevent overheating.
NiTHO PS5 Controller Skin
The NiTHO PS5 Controller Skin is made of silicone and boasts multiple thumb grips. This helps protect your controller from sweat and wear and tear! Since it has an analogue stick precision kit, this skin would also assist in improving your aim. With an ergonomic design, this skin improves the handling of your controller. It boasts a camo design and would also enhance the aesthetics of your gaming setup. It weighs only 80 grams and is exceptionally easy to install. In addition to these specifications, the NiTHO PS5 Controller Skin also has a sturdy build.