Microsoft sent out a message on the Xbox app stating that the price of Game Pass Ultimate will drop from Rs 999 plus tax to Rs 699 plus tax. For those who are unaware, Game Pass Ultimate combines Game Pass for the Xbox along with Xbox Live Gold and also gives subscribers access to Game Pass on the PC. The cherry on the cake is the fact that all Microsoft exclusives will be available to Game Pass subscribers at launch. So when Gears 5 launched, Game Pass subscribers got access to it on the launch date.
Existing subscribers got news of the drop in price via a message on the Xbox app. With Xbox Game Pass, players get access to more than 100 games making the point of entry affordable for those looking to get into gaming without dropping a lot of money on games.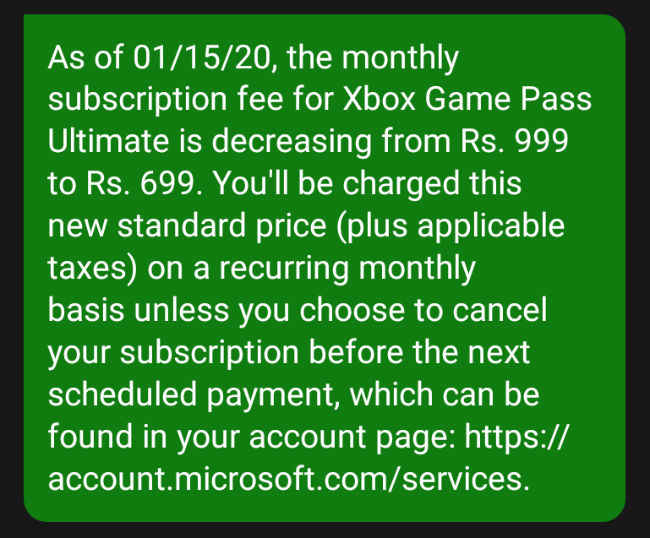 Microsoft is also venturing into cloud gaming with Project xCloud. At XO19 held in London earlier this year, Microsoft announced that Project xCloud would reach Indian shores as a preview in 2020. With Project xCloud, gamers will be able to stream their Xbox games from the internet to their smartphone or tablet. Along with expanding to new regions, xCloud will be available to Windows 10 PC's in 2020 as well.
Adding more features to xCloud, Microsoft has said that they are planning to integrate Project xCloud with Xbox Game Pass in 2020. This will give players access to their Game Pass library via the cloud streaming service.
With all the good news, there are some questions that need answering, the most important of which is a concrete launch date and pricing.
Meanwhile, as 2019 closes out, we've listed 15 of the best games launched on the Xbox One, PC and PS4. You can check out the list here.