Update: Vijay Sales, Reliance Digital, Croma, Games the Shop, Flipkart have since confirmed that the Sony PlayStation 5 will be available on their online platforms.
May is turning out to be a pretty good year for gamers looking to buy the Sony PlayStation 5 (review). It seems like the new console will be up for another round of pre-booking this month. According to a banner posted by a Sony Authorised dealer, the PS5 will e up for pre-booking from May 27, 12 PM onwards.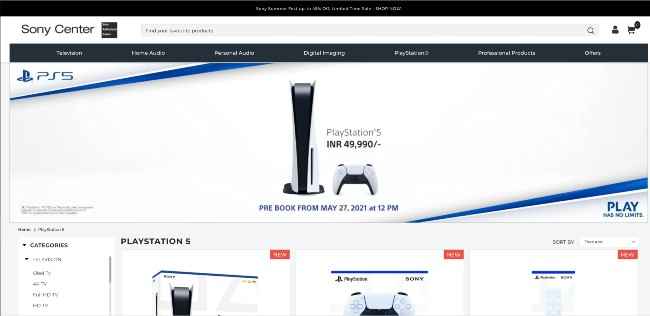 It should be noted that the banner is posted by the same dealer who unveiled the May 17 pre-booking date, so it stands to reason that this information is legitimate as well. It should also be noted that shortly after the dealer posted the banner, other notable online retailers such as Vijay Sales, GamesTheShop, PrePaidGamerCard, Flipkart advertised the same on their platforms.
While the console will now be up for pre-booking twice in the span of 10 days, it doesn't look like the shortage of stock is going to go away anytime soon. While speaking to investors, Sony CFO, Hiroki Totoki confirmed that the company facing a challenge keeping up with the strong demand. He noted that in addition to the global semiconductor shortage, there were "other factors" contributing to the scarcity. Totoki did not elaborate any further on these "other factors", but one can assume those to be the global shipping crisis that is happening due to the ongoing pandemic.
With everyone stuck at home, many people have turned to gaming as a way to pass the time. However, companies are struggling to keep up with demand. Sony isn't the only company facing this. Microsoft has also been struggling to keep up with demand. On the PC gaming front, AMD and Nvidia are also struggling to keep pace with the demand for their new GPUs. Needless to say, while this might be a great time for gaming in terms of hardware, getting your hands on said hardware is another matter entirely.