Update: The Sony PlayStation 5 console will be available for pre-booking on Vijay Sales, GamesTheShop, and PrePaidGamerCard.
Good news for PlayStation 5 fans! It seems like the elusive console might be available for pre-order next week. A user in a WhatsApp group informed us about a Sony Authorised dealer that posted a banner on their website. The banner claims that the Sony PlayStation 5 will be available for pre-order from May 17, 12PM onwards. While we can see the disc edition banner there is a screenshot of the digital edition as well making the rounds on social media going up for preorder on the same date - May 17, 12PM. Do note that the disc edition is priced at Rs 49,990 and the digital edition is priced at Rs 39,990.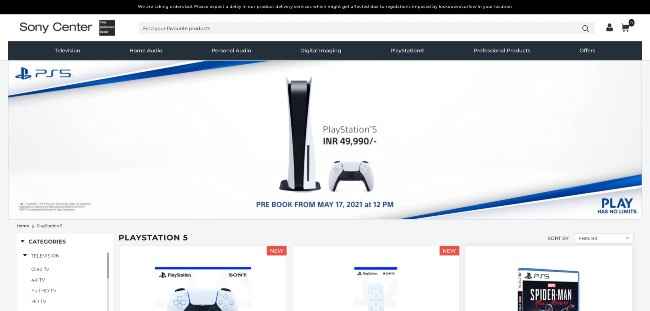 To recall, the sale of the PlayStation 5 is staggered, to say the least. Not only did the console arrive late, but its sale dates could be best summarized as first-come, first-served. Very recently, the console went on sale on Reliance Digital, but it went out of stock within a few minutes. It also seems like the issue of low stocks isn't doing to go away anytime soon.
According to Sony, the shortage of console units isn't going to end unless the demand declines. With demand for the consoles at a fever-pitch, that isn't going to change anytime soon. While speaking to investors, Sony CFO, Hiroki Totoki confirmed that it was challenging to keep up with the strong demand. He noted that in addition to the global semiconductor shortage, there are "other factors" contributing to the scarcity. Totoki didn't dive deep into the details about these other factors that are in play, but we are assuming one of them may be the global shipping crisis right now due to the pandemic.
Of course, Sony isn't the only one struggling to meet the demands of gamers. Even Microsoft is having trouble keeping enough stocks of the Xbox Series X and the Series S. The lack of units isn;t just affecting console gamers, AMD and Nvidia are also having issues keeping up with demand. With everyone stuck at home during the pandemic, it seems like everyone turned to gaming to pass the time
Till then you can check out our reviews of the PlayStation 5 and Xbox Series X.