Easter festivities are taking over the popular online battle royale title PUBG Mobile. Avid players of the game might have noticed Easter eggs spread across the map in-game and the game developers have now revealed what's their use and why should one collect them. First off, there are two types of Easter eggs in the game. The first one can be redeemed only once and can be found in the Spring Draw menu. Can't find it? That's because it is hidden behind the grass in the lower right corner of the screen. You can see where it is from the screenshot embedded below.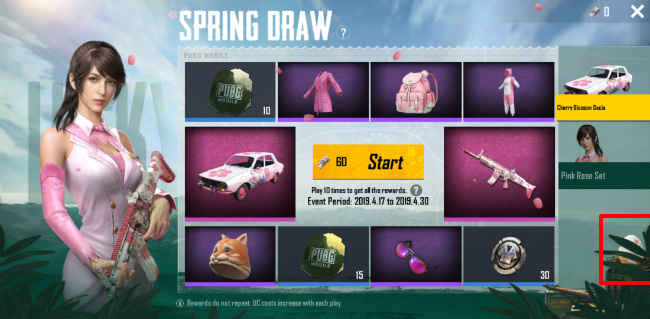 Breaking open this first Easter egg, players will have a chance to get apparels that their avatar can don while playing the game. Now, coming to the second type of Easter eggs, these are the coloured eggs one will find in different locations while playing the game. Collecting five of these eggs will enable the players to redeem another crate, which can be found under the Events tab. One will also receive battle points and prizes for redeeming the in-game Easter eggs. The addition of Easter eggs to the game comes soon after it was updated to version 0.12.0.
The version 0.12.0 update adds a number of new features to PUBG Mobile like new and updated modes, new weapons, and more. A new Darkest Night mode is now available in the game, under a new EvoZone section where additional new modes are slated to soon be introduced. While playing under the new mode, one needs to survive the zombie horde attack till dawn. All the teams that survive will win the match. The Survive till dawn event has also been updated and now features new zombies and some new weapons like the RPG-7 that is available openly on the map. You can read more about what's new with the update here.