PUBG Mobile has announced the Indian semi-final rankings of teams participating in the PUBG Mobile Club Open 2019 (PCMO 2019) tournament. The competition was announced in May this year with a total prize pool of $2.5 million (Rs 17.3 crores approx). A list of 16 teams has now been announced by PUBG Mobile that have qualified from each region to compete in regional finals. In addition, the PMCO Spring Split India Finals will be held at the Thyagaraj Sports Complex in New Delhi on June 14-15. Teams that win at this event will get a chance to represent India in the PMCO Global Spring Split Finals in Berlin, Germany.
As per the latest PMCO 2019 India semi-final rankings, Team Brawlers overtook Team Insidious for the number one spot with 382 total points, while the latter stood second with 331 points. Hydra bagged the third spot with 326 points and was followed by Teams Soul and Orb, which scored 271 and 259 points each. To recall, Team Soul barely made it into the top 16 teams last time when PMCO India semi-finals week 1 standings were announced, however, the team has upped its pace and grabbed the fourth spot. Other well-known PUBG Mobile teams like RIP Official, Pain Retribution and others have also made it to the top 16 teams. Those who are interested in catching the regional finals can watch the broadcast live on the PUBG Mobile Esports YouTube channel starting 1 p.m. on June 14 and 15.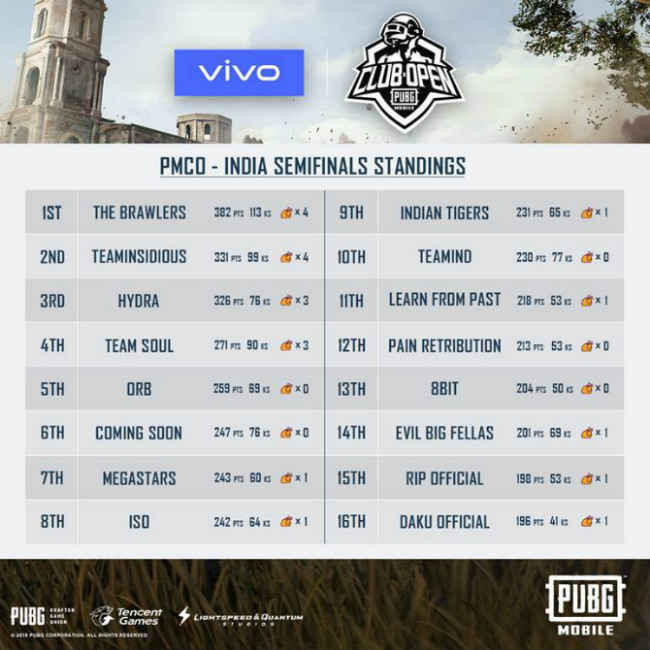 PUBG Mobile quickly rose up the ranks to become one of the most popular online battle royale games. It has over 100 million monthly active users and to add new players and retain the interest of existing ones, it is gearing up to introduce new elements to the gameplay like a new Team Deathmatch mode and Godzilla-themed events. The Team Deathmatch option is expected to roll out for players with version 0.13.0 of the game. The option is available on the Beta version and you can read more about it here.