We're less than a month away from the release of the PS5 and the Xbox Series X/S and as we've said a million times before, the hype is literally unreal. It's the same in India as well. Fans of both consoles have been waiting for them to drop. Microsoft essentially dropped the mic and have confirmed that both the Xbox Series X and the Series S will launch on November 10 in India, keeping in line with the global release date. PlayStation, on the other hand, have been playing coy with the Indian release date of the PS5. Sure, Sony had a few issues to iron out with the whole trademark controversy and according to a report on Detectivegaming.com, seem to have solved that problem for now, but we still haven't got a confirmation of when it'll be hitting Indian shores as yet!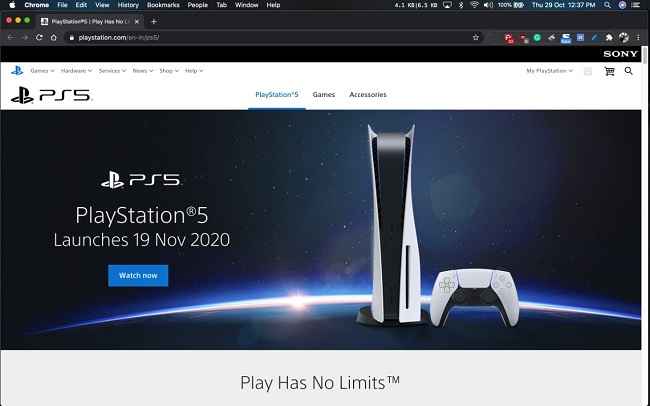 Sony did update the Indian PS5 webpage with the November 19th launch date but have now taken down it down with just a plain PlayStation 5 logo replacing the launch date. As you can see from the screenshot above, Sony did goof up and post the launch date as 19 November but took it down soon after. We're not sure when the PS5 will actually launch in India, but we're hoping that it'll be available at least this year and not in 2021.
Sony has already announced the price of the PS5 in India with the disc version being priced at Rs 49,999 and the Digital Edition coming in at Rs 39,999. You can read more about that here. If you want to know how much more we in India have to shell out for the PS5, here's a quick and helpful comparison of how much the PS5 costs in other countries.