Google has announced that their game streaming service, Stadia, will launch in November in Belgium, Finland, Canada, Denmark, France, Germany, Ireland, Italy, Netherlands, Norway, Spain, Sweden, United Kingdom, and the USA. As far as internet requirement is concerned, Google has said that a 10Mbps connection is enough to run the game at 720p 60fps. For 1080p gaming at 60fps with 5.1 sound, it recommends a speed of 20Mbps. For 4K gaming at 60fps with 5.1 sound, Google recommends a speed of 35Mbps. To check if your internet speeds will work with Stadia, Google has launched a speed test website. The website to check the speed is https://projectstream.google.com/speedtest. However, you cannot access this website in India without using a VPN. At our office we have a 50Mbps connection and using the speed test website via a VPN, we got download speeds of 0.72 Mbps which is way below the minimum requirement. Safe to say that you won't be able to run Stadia games using a VPN.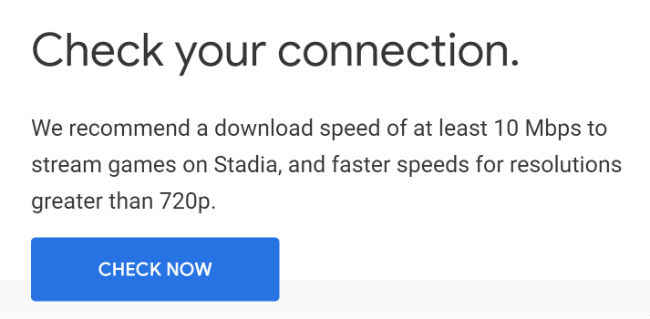 Ahead of E3 2019, Google announced that Stadia will be available in two versions - Stadia Base and Stadia Pro. Stadia Base is free while Stadia Pro is $9.99 per month. However, Stadia Base will be available in 2020 only. To get access to Stadia Pro, gamers will have to invest in the $129 Founders Edition bundle. The bundle is up for pre-order in the launch countries for Stadia. It includes a limited-edition Night Blue Stadia controller, a Chromecast Ultra, three-month subscription to Stadia Pro, and a buddy pass that you can gift a friend or family member (three months) and access to Destiny 2: The Collection.
As far as the games library is concerned, Stadia will launch with 31 games as a part of its service. The games include Dragon Ball Xenoverse 2, Doom Eternal, Doom (2016), Rage 2, The Elder Scrolls Online, Wolfenstein: Youngblood, Destiny 2, Get Packed, Grid, Metro Exodus, Thumper, Farming Simulator 19, Baldur's Gate III, Power Rangers: Battle for the Grid, Football Manager, Samurai Shodown, Final Fantasy XV, Tomb Raider: Definitive Edition, Rise of the Tomb Raider, Shadow of the Tomb Raider, NBA 2K, Borderlands 3, Gylt, Mortal Kombat 11, Darksiders Genesis, Assassin's Creed: Odyssey, Just Dance, Tom Clancy's Ghost Recon: Breakpoint, Tom Clancy's The Division 2, Trials Rising, and The Crew.
You can check out Google's pre E3 stadia announcement here as well as our in-depth look at the service here.