At the helm of E3 2019, Google has announced pricing and availability details of its game streaming service - Stadia. Google unveiled Stadia in March and if you want a deep dive into the offerings of the service, you can check it out here. Today we tackle information like pricing, availability, games, internet speed required and more.
When will Stadia launch?
Google has said that Stadia will launch in November in Belgium, Finland, Canada, Denmark, France, Germany, Ireland, Italy, Netherlands, Norway, Spain, Sweden, United Kingdom, and the USA. Sadly, India is not a part of the list and there is no information when the service will come to the country.
How much will Stadia cost?
Before we get into pricing, know that there will be two versions of the cloud gaming service you can opt for - Stadia Base and Stadia Pro. Stadia Base is free while Stadia Pro is $9.99 per month. But remember, Stadia Base will be available in 2020 only. To get access to Stadia Pro gamers will have to invest in the $129 Founders Edition bundle. The bundle is up for pre-order in the launch countries for Stadia. It includes a limited-edition Night Blue Stadia controller, a Chromecast Ultra, three-month subscription to Stadia Pro, and a buddy pass that you can gift a friend or family member (three months) and access to Destiny 2: The Collection.
What's the difference between Stadia base and Stadia Pro? Is the $9.99 pack a subscription service for games?
To begin with, Stadia Base will limit the games to 1080p, 60fps and stereo sound. Stadia Pro will give gamers access to 4K HDR gaming at 60fps with 5.1 surround sound.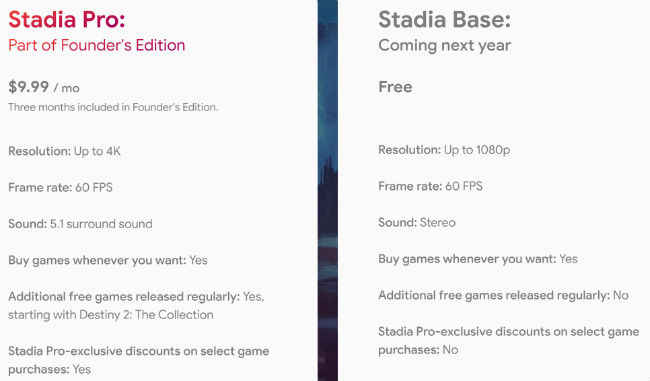 Let's break down the difference. Stadia Pro gives you 4K gaming with 5.1 surround sound and you can buy a game whenever you want. You will get regular free games like one does with their PlayStation Plus or Xbox Gold subscription. The first game you will get is Destiny 2 and there is no information on the number of games one can get every month. In addition to the game, Pro users will also get exclusive discounts on games, just like we have seen on Microsoft's and PlayStations service. Stadia Pro is NOT a Netflix like streaming service where one payment gives you access to a library of games. Microsoft and Sony both have this Netflix like catalogue service called Xbox Game Pass and PlayStation Now respectively.
With Stadia Basic, one will get gaming at 1080p, 60fps with stereo sound and the ability to buy a game whenever they want. No special discounts, and no monthly games.
What's the internet speed I need to run Stadia?
Google, during its presentation, said that a 10Mbps connection is enough to run the game at 720p 60fps. For 1080p gaming at 60fps with 5.1 sound, it recommends a speed of 20Mbps. For 4K gaming at 60fps with 5.1 sound, Google recommends a speed of 35Mbps. There is no information on bandwidth consumption during gaming.

What games will be available on Google Stadia at launch?
31 games will be available at launch. These include Dragon Ball Xenoverse 2, Doom Eternal, Doom (2016), Rage 2, The Elder Scrolls Online, Wolfenstein: Youngblood, Destiny 2, Get Packed, Grid, Metro Exodus, Thumper, Farming Simulator 19, Baldur's Gate III, Power Rangers: Battle for the Grid, Football Manager, Samurai Shodown, Final Fantasy XV, Tomb Raider: Definitive Edition, Rise of the Tomb Raider, Shadow of the Tomb Raider, NBA 2K, Borderlands 3, Gylt, Mortal Kombat 11, Darksiders Genesis, Assassin's Creed: Odyssey, Just Dance, Tom Clancy's Ghost Recon: Breakpoint, Tom Clancy's The Division 2, Trials Rising, and The Crew.
Will I need a Stadia controller to play the games?
No. You will be able to use any popular controller with the service such as a keyboard and mouse, console controller and more.
How much does a standard Stadia controller cost?
The Stadia controller is priced at $69. It will be available in Just Black, Clearly White, and Wasabi.
What devices will Stadia run on?
Stadia can run on your TV, but you will need a Chromecast Ultra to do so. There is no information on a Stadia app for smart TVs yet. For any other device, like a laptop, desktop or tablet, all you need is the Chrome browser and an internet connection. On smartphones, however, Google has said Stadia will be available on the Pixel 3, 3 XL, 3a and 3a XL to start with. It will launch on other devices as well.