Call of Duty: Mobile's Season 13 update is now rolling out to all devices. Called the Winter War, the new update adds a bunch of new additions that brings a wintery theme to the whole proceedings. Besides the major additions like new maps and weapons, there are also a bunch of tiny changes aimed at being more in touch with the festive season. This includes a new main lobby as well as lobby music. There is also a new menu for the in-game store menu.
The most prominent of the bunch is the new Nuketown Russia map that has been introduced into the mix. First seen in Call of Duty: Black Ops 4, the new map is pretty much the same as classic Nuketown, but with a Russian twist. The map is now set on a Nuclear facility with Russian-style buildings and train cars in the middle. There's also a fresh coat of snow over the whole map as well. However, this particular map isn't available right now and will be playable later. What will be available is the new Holiday Raid map that sees the Raid map get a festive makeover with snow, presents, snowmen, and lights. Holiday Raid will be available in Prop Hunt mode, which also makes a return to the game.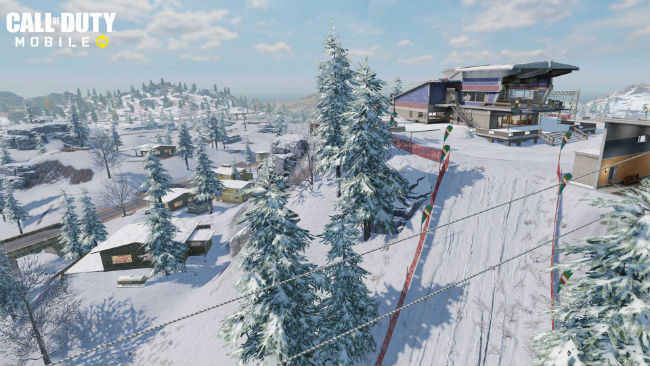 Battle Royale's Ski Town location also gets a fresh coat of snow. The location will now feature moving ski lifts as well as a new vehicle, a rocket-powered snowboard. Unlike any other vehicle in Battle Royale, it can be stowed in a backpack to be used anywhere.
Besides this, the game is also tipped to get a new game mode called Grind. This mode is like a combination of Kill Confirmed and Hardpoint where players will have to collect fallen dog tags, but then take them to a collection point. However, this mode will only be available later. For now, players can check out Cookie Confirmed, which is the same as Kill Confirmed, but with cookies instead of dog tags.