Call of Duty: Mobile has finally released the SKS weapon and the Desperado class for players. The two new additions were announced when the Season 1 New Order update was released. The SKS is a marksman rifle and will join the Kilo Bolt-Action rifle in that particular class. The Desperado Class aims to give fallen players a fighting chance in Battle Royale mode.
Call of Duty: Mobile - SKS Marksman Rifle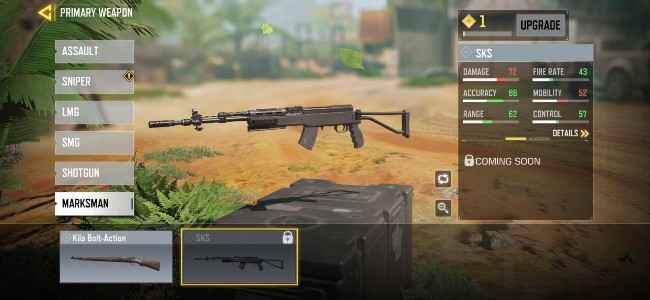 As mentioned earlier, the SKS joins the Kilo Bolt-Action Rifle in the Marksman Rifle category. As a member of that category, the SKS should offer excellent lethality at longer range as compared to assault rifles. But with a faster rate of fire as compared to sniper rifles. In comparison with the Kilo Bolt Action, the SKS offers a faster fire rate than its competitor, but at the cost of damage dealt. So be sure to make each shot count.
The SKS marksman rifle is available for free to everyone who completes the BR Buff Seasonal Challenge. Players can also try and win the Legendary SKS - Particle Splitter weapon by participating in the Pestilence Draw.
Call of Duty: Mobile - Desperado Class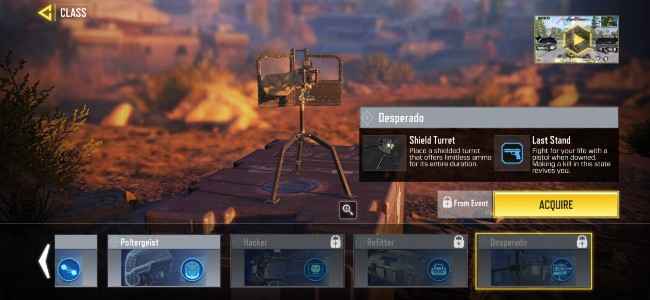 The new Desperado Class in Battle Royale can be a very interesting choice for players as its abilities make it an excellent defensive class. The active ability deploys a Shield Turret with unlimited ammunition for its duration. This can defend teammates while reviving them, or for blocking objectives. The passive ability is called Last Stand. This lets players fight back with a pistol after they are downed. If they manage to kill an enemy in this state, they will be revived.
Completing the Desperado Featured Challenge unlocks the class. Once unlocked, players will be able to select the class before a Battle Royale match begins. Do note that Activision usually offers classes for sale in the free Credit store. So, players who miss out on unlocking the class might be able to purchase it in a few months.