Call of Duty: Mobile is rolling out its new Season 10 update for players. Called, The Hunt, the new update introduces a bunch of new features such as new characters, new modes, new maps and lots more. As always, there is also a new Battle Pass for players to grind through.
New Weapon
Call of Duty: Mobile is adding a whole new weapon called the Echo shotgun. The weapon offers a fully automatic rate of fire, just like the Striker shotgun. However, it is said to offer a greater range and a much faster reload time. The weapon will be unlocked when the player reaches Tier 21 in the battle pass, regardless of whether the player is on a paid or free pass.
New Operator Skill
Players also get access to a brand new Operator Skill called the Equalizer. When activated, players will be equipped with two SMGs with integrated suppressors. The new skill should be lethal in close range situations. The new Operator Skill will be unlocked when the player reaches Tier 14 in the battle pass. It should also be noted that the skill is a requirement to complete a seasonal challenge.
New Maps
The classic Terminal map from Call of Duty: Modern Warfare 2 has made its way to Call of Duty: Mobile. The map is based on the infamous No Russian mission from the game and offers players a mix of different situations and varieties of combat, which should suit almost all play styles.
There is also the Pine map that will be exclusive to Gunfight and 1v1 matches. This tiny map features a forest theme and will be available to players from September 25 onwards.
New Modes
Call of Duty: Mobile also gets a new game mode called Headquarters. The new mode tasks players with capturing locations on the map to earn points for their team. However, once the headquarters is captured, players from that team will not respawn till their team loses the headquarters. Also, once a headquarters is captured, it can not be recaptured by the other team, it can only be destroyed. Once destroyed, it spawns in a new location.
There is also a new Hardcore Mode that available for players. This mode is aimed at players who want a greater challenge. This mode features a reduced HUD, and health. Further, friendly fire is active when playing this mode, so it is possible to kill and be killed by your teammates. However, after two teamkills by a player, any further team damage is reflected back to the player.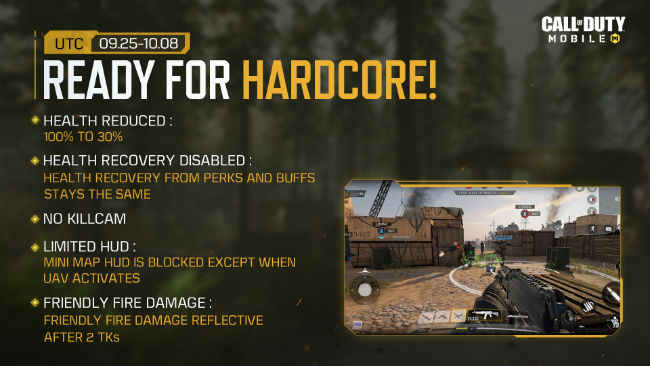 New battle royale class
Battle royale mode gets a new class called the Hacker. This class comes with two abilities, namely Ice Pick and Hard Wired. Ice Pick blocks out the minimap of nearby players and makes it difficult for enemies to use their abilities. Hard Wired blocks the enemy's ability to negatively affect the player's minimap. The new class will be available via an event called Technogeek that will be available at the tail-end of the season.