OnePlus TV is confirmed to launch first in India in September. OnePlus CEO, Pete Lau, has also teased the upcoming OnePlus TV in an image and now confirmed that it will run on Android TV OS. The OnePlus TV would come with a 55-inch OLED panel.
Update 1: OnePlus' CEO Pete Lau has revealed that the upcoming OnePlus TV will run on Android TV and it will receive software updates for at least three years. Lau says ṭhat the choice is a first step towards establishing a OnePlus IoT ecosystem. While the executive has not revealed anything more about the upcoming OnePlus device, we now know that the TV will offer features like access to Google Assistant and the Play Store.
A OnePlus TV is in the works and the company has already confirmed that it will be launched in September and that India will be the first country where it will be made available. The upcoming device will be sold via Amazon in the country, which doesn't come as a surprise since OnePlus has been selling its products through Amazon ever since it entered India. Now, the company's founder and CEO, Pete Lau, has shared some images of the first OnePlus TV that came off fresh from the production line. As you can see in the tweet below, the images showcase Lau packing the TV in its box and the second image gives us a glimpse at the TV's panel.
First glimpse of the OnePlus TV
OnePlus has confirmed that the OnePlus TV would feature a 55-inch QLED display. However, the second image from Lau's tweet seems to let on more than what meets the eye. Some of our readers might have noticed the assembly line lights are being diffused by the TV's panel, which hints at a matte display. This could be a notable feature of the TV since it will make it easier to view content on the device even in a fairly lit room. However, we are unsure of how the company will deal with the reduced vibrancy and contrast since matte displays suffer from this issue.
OnePlus TV expected specifications and features
There have been multiple reports and rumours about the upcoming OnePlus TV. A previous report suggested that the device would be announced in four different sizes: 43-inch, 55-inch, 65-inch, and 75-inch size variants. As mentioned previously, the 55-inch model will sport a QLED display panel. There's also a rumour that one of the OnePlus TV models could come equipped with a 4K HDR panel on at least one of its variants. Previously, OnePlus CEO Pete Lau said that the company will "develop its own image processing chipsets" so that their TVs quality 'sets the benchmark' at Sony's image quality.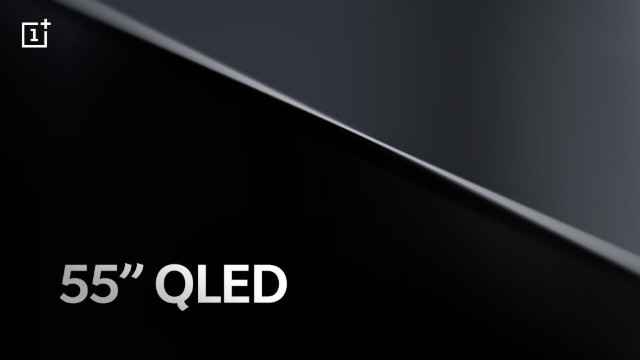 OnePlus wrote a detailed post when it officially acknowledged the OnePlus TV and it also mentioned "image quality and audio experience." While there's not much to go on here, there's a chance that the upcoming TV by the company could feature some of the latest standards like HDR10+, Dolby Vision, and Dolby Atmos. While OnePlus' upcoming TV is expected to be a smart device with the company's custom UI, Google has reportedly certified a new OnePlus device named "Dosa." Google has reportedly certified a device called "Oneplus_Dosa_IN" that is expected to run an improved UI on top of Android TV.
Voice control, Bluetooth remote and camera
There's also a possibility that the OnePlus TV might come with voice control and interaction, which means it could be equipped with far-field microphones. Some of the Chinese TV makers are now equipping their offerings with a camera and the OnePlus TV is also expected to come with it. However, Lau previously expressed privacy concerns over integrating a camera on the device's TV. We also previously came across a report that claimed OnePlus has certified a Bluetooth Remote. While there was no image, the OnePlus Remote is said to work on Bluetooth 4.2. The Bluetooth enabled OnePlus TV remote control could feature a dedicated button for accessing an AI assistant like the Google Assistant. Moreover, OnePlus TV could also act as a smart hub for other appliances, apart from being capable of regular smart TV features.
OnePlus TV expected price
OnePlus is rumoured to be targeting the premium TV segment and has referred to the device as a flagship killer. The device is likely to compete with the likes of Samsung and Sony. Lau said, "Because of the strategic partnership with Amazon, our price may be slightly cheaper than their [Sony and Samsung] products, but it won't be half the price." This means we can't be sure of the OnePlus TV being announced starting at a price similar to the Mi TVs, which is around Rs 12,000.
OnePlus TV launch date and availability
The OnePlus TV has been confirmed to launch in India this September. While there's no official date yet, it is expected to launch on September 26. On its official forum, the company announced, "And now, I have a very exciting announcement to share with you – the OnePlus TV is set to launch in September, and it will be available in India first."
The post goes on to say, "Over the past 6 years, we have achieved great success in India in large part because of our passionate and supportive community. Even after all these years, we're excited to explore exciting new opportunities hand-in-hand with you. OnePlus TV is such an important product for all of us, and we can't wait to see it in living rooms all over India." As mentioned earlier, OnePlus TV will be made available through Amazon.in.