Apple HomePod mini smart speaker has officially launched alongside the iPhone 12 series
Apple HomePod mini smart speaker has officially launched alongside the iPhone 12 series. The HomePod mini is quite compact at 3.3-inch tall and is packed with smarts to deliver a great audio quality inside your home. The HomePod mini follows the HomePod smart speaker that made its debut back in 2017 and aims to offer exceptional audio listening experience with tons of smart features baked into it.
"HomePod mini is the ultimate smart speaker for anyone with an Apple device. It works effortlessly with iPhone to hand off the music, answer calls, or deliver personalized listening suggestions, elevates the sound from Apple TV, plays music from a Mac, and so much more. There's a lot of Apple innovation packed into such a small speaker, all at an affordable price," said Bob Borchers, Apple's vice president of Worldwide Product Marketing.
Apple HomePod mini pricing and availability
Apple HomePod mini is priced at Rs 9,900 in India and goes up on pre-orders starting November 6 with the first sale scheduled for November 16.
Apple HomePod mini features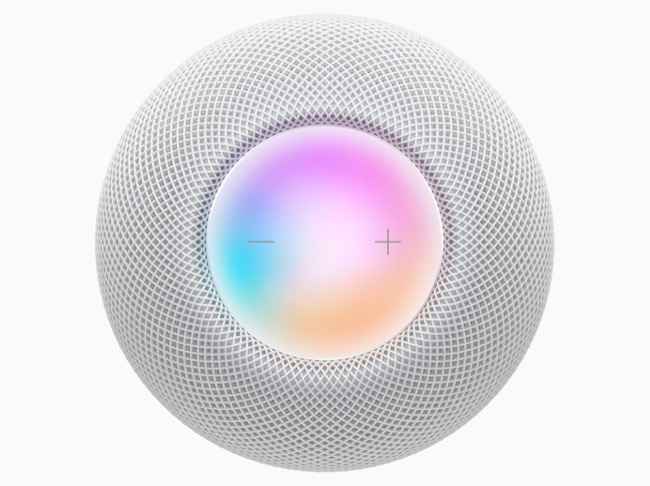 The HomePod mini features the same mesh design as we have come to see on the bigger HomePod but it's spherical and is available in two colours-- Space Gray and White to choose from. There's a touch surface on the top that lets you interact with Siri or adjust volume and control music playback.
The HomePod mini is powered by the Apple S5 chip that powers the audio prowess of the speaker by using computational audio for a 360-degree audio experience. For this, Apple uses custom design acoustics that directs the flow of sound towards the bottom and with three microphones, the speaker can listen to the "Hey Siri" prompt from almost anywhere in your home. Additionally, there's a microphone inside that improves voice detection even when playing music.
Apple says that the HomePod mini supports Apple Music, Podcasts, iHeartRadio, radio.com and TuneIn with support for Amazon Music and Pandora coming in later months. Notably, Spotify is missing from the list of supports music streaming apps for now. Moreover, you can pair multiple HomePod mini speakers across your home or can experience a stereo surround sound by placing two pairs side-by-side.
There's a new Intercom feature that lets people in the same home interact with each other. Anyone can record a message and it will be played across all speakers, iPhone, iPad, Apple Watch, CarPlay and AirPods.
HomePod mini also works as a smart home hub and allows users to voice-control their smart home products and can simply ask Siri to turn down the lights, lock doors and more. Tons of Siri shortcuts can be created on an iPhone or iPad along with pre-loaded ambient sounds that will assist users in focusing, relaxing and even falling asleep.