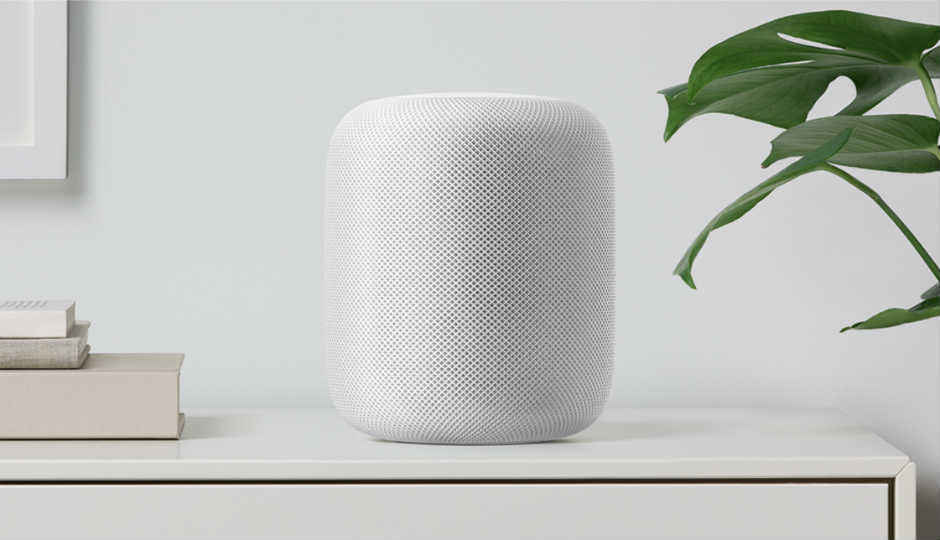 HIGHLIGHTS
Apple HomePod is powered by custom-designed A8 chip and offer deeper integration with other iOS devices
Apple has finally announced its own smart speaker known as HomePod at Worldwide Developer Conference in San Jose, California. Apple claims its new home music player will revolutionise wireless music like iPod did for the music industry decades ago.
Apple HomePod features a barrel-like design with seven beam-forming tweeters and an additional four-inch upward facing subwoofer. At the heart of the speaker is a custom-designed A8 chipset. The speaker is capable of sensing its position and tuning the audio accordingly using automatic room-sensing technology. It also features a six-microphone array with advanced echo cancellation that allows Siri to understand people even from distance.
The HomePod is compatible with iPhone 5s and above and can be set up by simply holding the iPhone next to the speaker. You will also be able to connect a pair of HomePods in a single room for improved audio experience. HomePod also acts as a hub for AirPlay 2 wireless streaming and can be connected with all AirPlay 2 compatible products.
Apple HomePod is designed to work with an Apple Music subscription and provides personal music preferences and helps users discover new music. With Siri, HomePod is essentially a home assistant capable of sending messages, delivering news, weather, sports and traffic updates. It also compatible with HomeKit and can be used to control smart home devices. When Siri is engaged, the speaker shows Siri waveform on top and has integrated touch controls.
Apple HomePod, initially referred to as Siri speaker, is not a revolutionary product but it arrives at a time when rivals Amazon and Google have established a significant presence in the connected speaker market. But Apple is trying to differentiate with tighter integration with other iOS devices and improved focus on privacy settings. With HomePod, Apple says the information won't be sent to its servers until 'Hey Siri' is locally recognised.
Apple HomePod is priced at $349 dollars and will be available in space grey and white colour options. The smart speaker will initially be available in Australia, the UK and the US starting December and will gradually make its way to other markets.