So, you've just switched from an Android phone over to an iPhone, but are stumped as to how you can transfer your WhatsApp chat history over? Well, it looks like WhatsApp could be developing a feature that allows users to do just that. First reported by WaBetaInfo, it was first spotted on the WhatsApp 22.2.74 beta version for iOS but has not been officially announced as yet. It also looks like the feature is still in its early stages as even beta testers do not have access to it. As of right now, users can move their chat history over from iOS to Samsung Devices.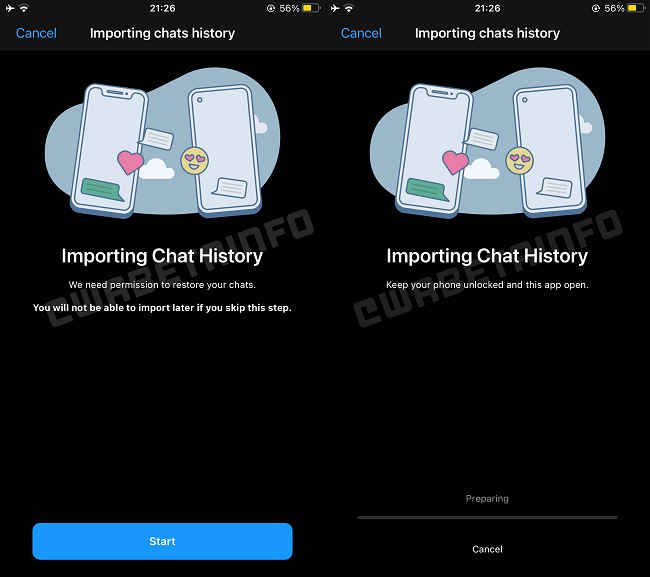 The new update looks like it's going to allow users to migrate their chat histories from Android. In the WaBetaInfo image above, you can see that the feature will ask you for permission before starting. And, that's about the only real concrete info we have on the feature. There has been no official announcement as of now but we could see more about it in the near future as it does have the capability to be a useful tool.
WhatsApp chat history migration from iOS to Android
In fact, we earlier reported that WhatsApp released a feature that allowed users to preview a voice message. While the new WhatsApp preview feature lets you preview your voice recording, it doesn't mean you can pause a recording in between to resume it later. That said, a beta version of WhatsApp was spotted with an option to pause an audio recording in progress so it's likely this feature is being worked on. The preview feature only enables you to listen to the clip so that users can check what they are about to send to their contact and if it is not appropriate or like they originally intended, they can discard it and record a new voice clip.
Also Read: WhatsApp could introduce new drawing tools for images and videos