Budget fitness trackers usually aim to offer a holistic fitness experience. Devices like the Xiaomi Mi Band 3 offer a bunch of features that should offer reasonable fitness tracking across a range of workout. The Honor Band 4 Running Edition aims to buck the trend by offering a device that focuses on a single exercise. As the name would suggest, the wearable is specially geared towards runners. But does it work? Let's find out.
Build and design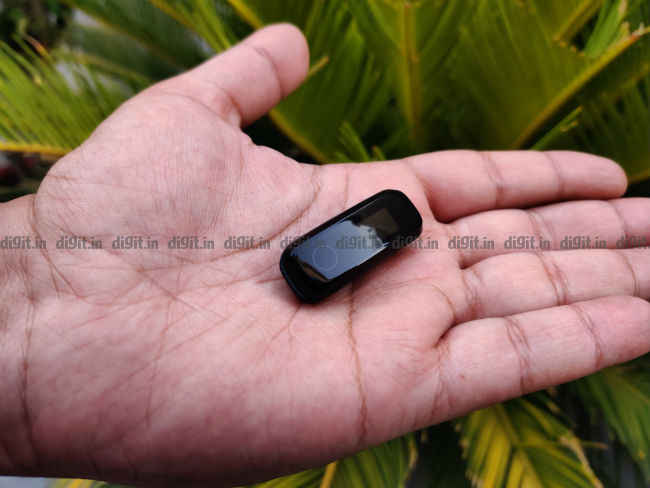 As with many fitness trackers, the Honor Band 4 Running Edition comes with a small, detachable central module. This module features a single button, which is used to cycle through the various features. The strap is made from silicon and features a tradition buckle. The strap features a dual tone design, and the grey/green strap looks pretty good if you ask me. The entire thing is quite small and light too. So I didn't have any trouble sleeping while wearing it. Of course, the rear of the module is completely bare due to the lack of an optical heart rate tracker, a feature that was becoming more and more common amongst budget trackers.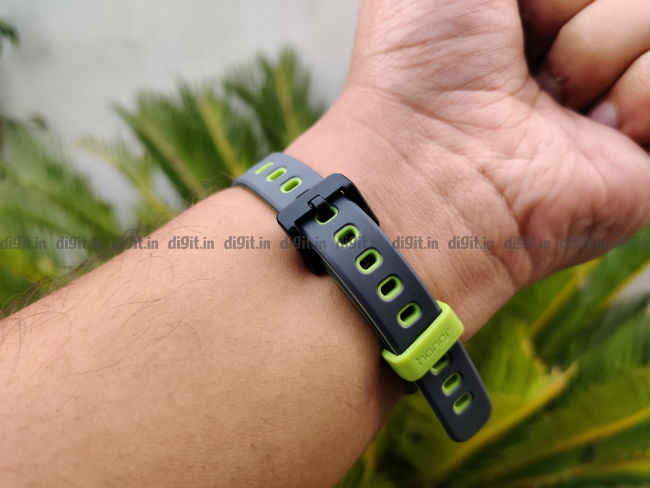 Of course, the most notable addition with the Honor Band 4 Running Edition is the shoe attachment. This threads around your shoelaces and lets you attach the central module to your shoe. This adds a negligible amount of weight and I had no trouble tying my shoelaces. The first thing you need to know about attaching the module to the shoe is that you need to align the metal prongs on the attachment with the module. When done correctly, the module will vibrate slightly to let you know that it has been attached correctly.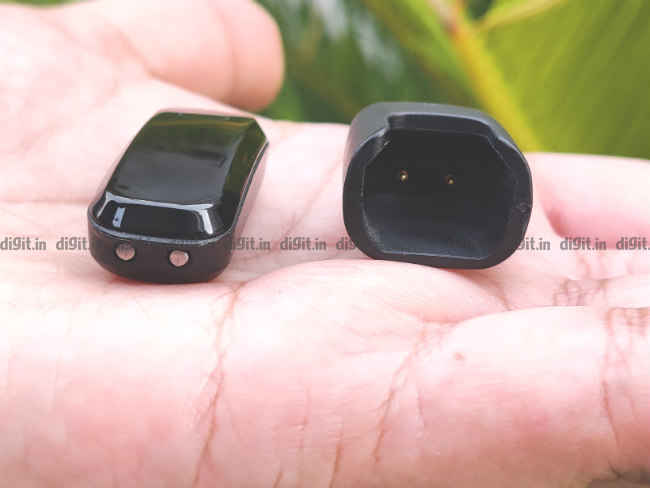 It should also be noted that the Honor Band 4 Running Edition is water resistant up to 50 meters depth, so it can handle rain and puddles with no problems whatsoever. I took it swimming with me and it handled water like a champ. Unfortunately, it was unable to give me any metrics regarding my swim. A bit of a missed opportunity if you ask me. However, it does come in handy when you're wearing it on your foot, and you accidentally step on a puddle.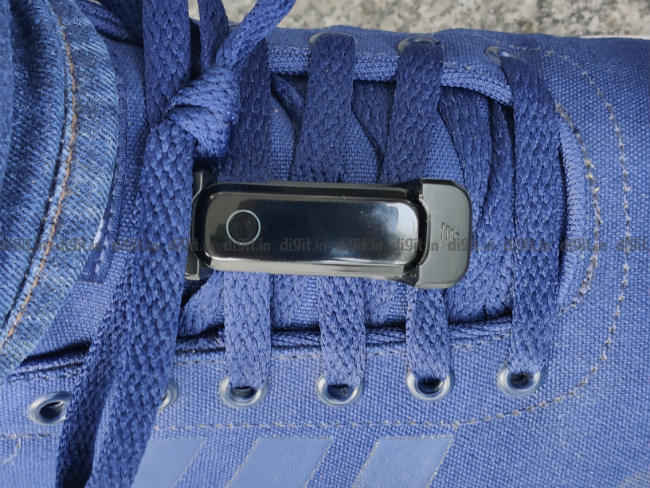 App and fitness
The Honor Band 4 Running Edition pairs with your smartphone using the Huawei Health app. The app is pretty straightforward and the home screen gives you quick access to information in the form of cards. This includes steps taken, calories burned, and sleep statistics. There is also a place for weight and heart rate. However, these will obviously be filled out with other devices, which can track these metrics.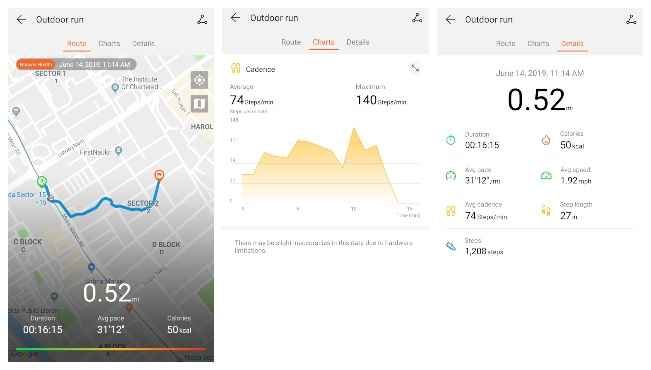 The step counter seemed to be reasonably accurate and my average steps seemed to match the daily average I have seen when using other devices. Tapping the card gives access to more information. This includes the steps taken divided into days, weeks, months or years. It will also tell you how much of those steps were running, walking or climbing. Of course, the Honor Band 4 Running Edition does not track elevation. You also get average steps taken on a weekly, monthly, and yearly basis. It should be noted that the device uses your phone's GPS to track you. However, it is not accurate and is more of a rough approximation if you ask me. As far as sleep tracking, the device is capable of tracking deep and sleep as well as the length of sleep. Pretty standard stuff that one should expect at this price range. The device is quite light and comfortable to wear while sleeping.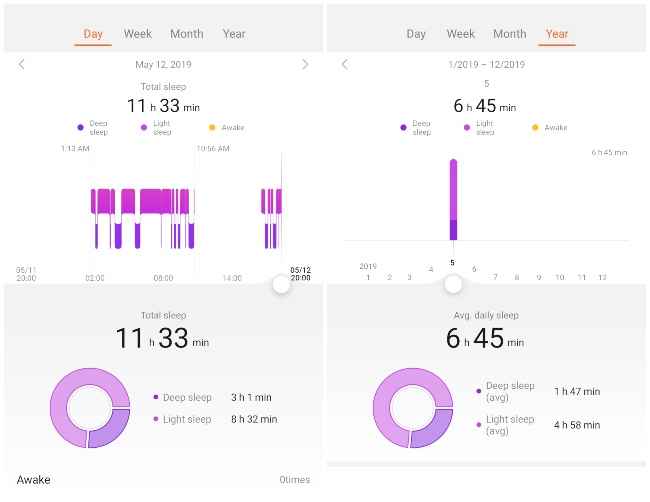 When attached to your shoe, the wearable is supposed to track metrics such as foot strike pattern and impact, swing angle, average range, step length, cadence and ground contact time. These are very important metrics as they might help you improve your running style and reduce any chances of injury. Unfortunately though, getting this information was a bit of a hit or miss for me. Initially, the device simply refused to show me the information. An OTA update aimed to rectify the issue was later released during the course of my review. However, I still didn't find it reliable enough. It only managed to track once during the entire time I had the device with me. But when it did, I was privy to a host of very interesting information about the way I run on the Health app. This included average ground contact time, average landing impact force, average swing angle and more.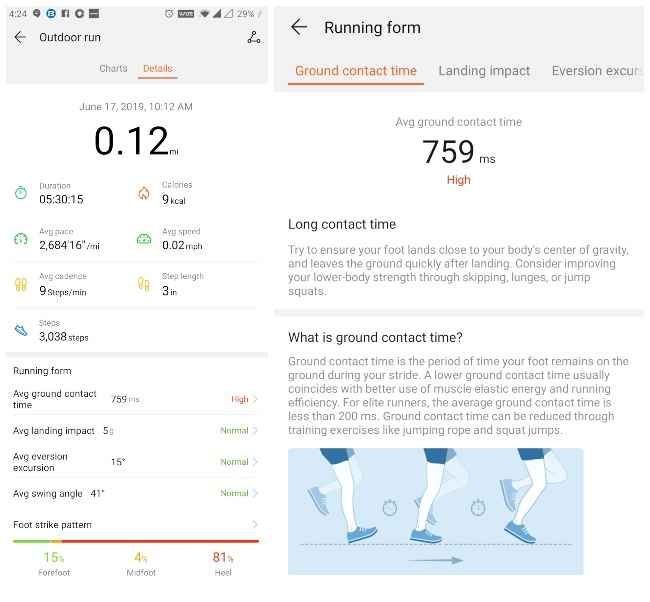 Besides giving me statistics, the app also gave me info on what the particular stat was and how I could improve it. For example, the wearable noted that my average ground impact time was towards the higher side. The app not only told me how I could improve my form but also suggested exercises to improve it. That is genuinely helpful and I can see amateur runners using that information to improve their running stance and style.
Battery
The Honor Band 4 Running Edition is said to offer a battery life of 21 days and in my experience, it's quite capable of reaching that milestone. This is most likely due to the fact that it has a tiny display and no optical heart rate tracker or GPS to drain battery life. Regardless, it offers a very good battery life, and I hardly charged it during my usage.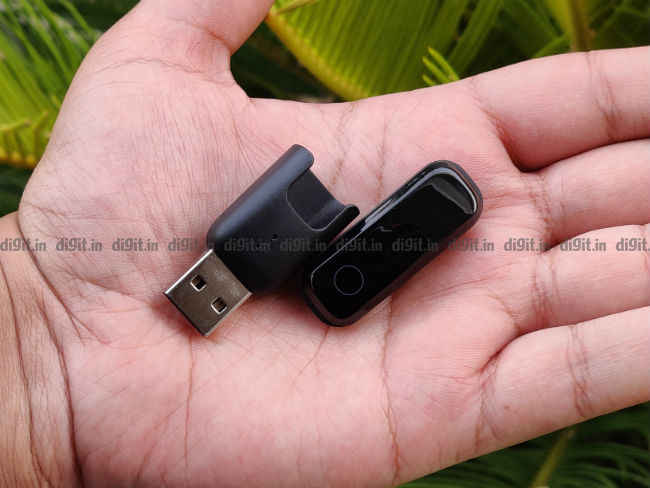 Charging the module is pretty straightforward. The device comes with a tiny attachment that you slide the central module into. This then attaches to a USB slot for charging. However, the attachment is quite small, and you might lose it around the house if you're not careful.
Display and UI
The Honor Band 4 Running Edition comes with a tiny monochrome display. The display works fine in most indoor conditions, but outdoor visibility is poor. This is a problem when you are running outdoors, which is a pretty big issue problem considering that the band is aimed at runners.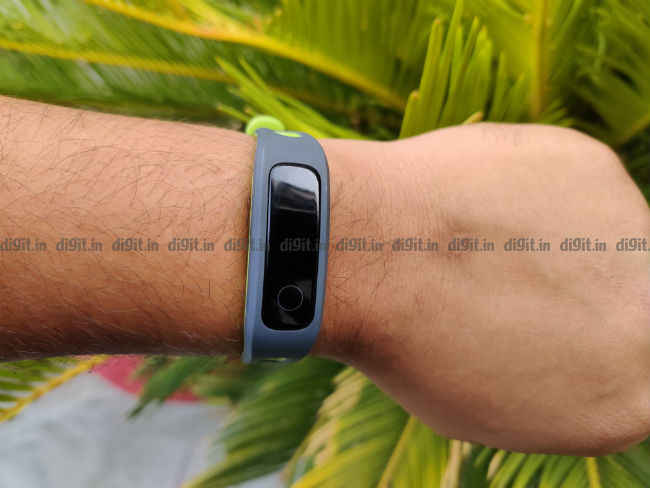 When it's attached to your wrist, the Honor Band 4 Running Edition shows the time, steps taken, distance, calories, and so forth. But there is no option to start an exercise directly from the wearable itself, and you'll be relying on the Health app in order to do so. However, attaching the device to your shoe changes things a bit. Now, the device will only show you the option to start a run. This can be done by pressing and holding the button for a few seconds. Once the run is over, you have to turn it off by pressing and holding the button for a few seconds.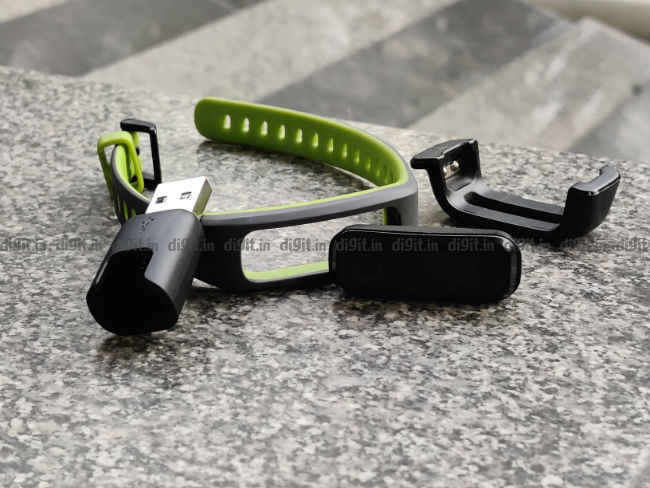 Verdict
The Honor Band 4 Running Edition is priced at Rs 1,999, but you can pick it up for less than that. This definitely makes it a very affordable option for those looking to dive into the world of fitness trackers. The impressive battery life only adds to its desirability. The foot tracking feature showers you with a whole host of information. and can be very important for runners in improving their stance.
As far as downsides go, the fact that it doesn't have a heart rate tracker is a bit of a bummer if you ask me, but it does make a little sense considering that the device is meant to be connected to your shoe for most of the time. Another problem is the fact that the foot tracking feature didn't work all the time. There is nothing more annoying than going through a run, only to find that the device did not track metrics.
So, is the Honor Band 4 Running Edition worth it? If you're looking for a standard fitness band that you will be your primary device for tellling time time and tracking workouts, then this particular wearable is not for you. In such a case, you're better off with the Xiaomi Mi Band 3 (review) based on your price range. However, if you are a hardcore amateur runner, then you may consider the Honor Band 4 Running Edition as a secondary tracker that you wear on your shoe, while wearing another tracker on your wrist (provided you can afford both of course).