There was a time when fitness trackers were the rage. Everyone wanted a slice of the pie, making companies like Nike and Adidas jump into the game and make their own devices that tracked certain aspects of our active lifestyles. A few years later, the entire segment stands in shambles. Nike laid off their entire fitness band division while Adidas discontinued their offering. Jawbone also eventually went bankrupt, leaving users of their UP series of trackers in the dark. The only company to have come out relatively unscathed is Fitbit, which too had to innovate if it needed to stay in the game. With strong competition from the Apple watch and other smartwatches like the Samsung Gear, Fitbit needed a product that could take on the modern-day smartwatch. Enter the Fitbit Ionic.
Specifications and Features
The Fitbit Ionic features an optical heart rate monitor using Fitbit's PurePulse technology to provide constant heart-rate monitoring. There's also 3-axis gyroscope and accelerometer to measure all movement related tasks such as walking, running etc. The Ionic also water-resistant up to 50 meters so you can take it for a swim. The 1.42-inch display has a resolution of 348x250 pixels, sufficient enough to make the watch's user interface visually pleasing.
Hardware isn't really where the Fitbit Ionic's strengths lie, it is in how it uses them. The Ionic can track your runs, your cycle rides, your laps at the pool and even your weight sessions at the gym. Moreover, the Ionic is also capable of giving a very close approximation of your Vo2 Max levels which should help you maximize your workout potential. After that, the Fitbit is also going to track your sleep but not just whether you're asleep or not, but also provide a detailed statistic on your sleep stages.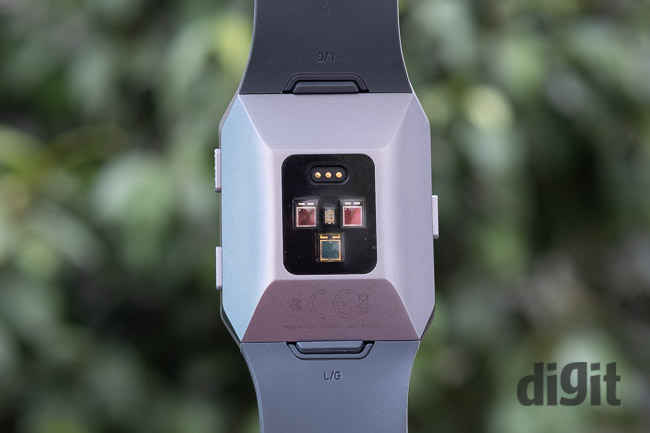 Fitbit OS 2.0
All this is done by a watch running on Fitbit's own OS, Fitbit OS 2.0. when paired with your smartphone, you'll be able to get your notifications on the watch, but you can't interact with them. My review unit was paired with an iPhone 8, and I could only receive and dismiss notifications. Apparently, after the update to Fitbit OS 2.0, Android users get a quick reply function. You can install apps on the watch which uses part of the 2GB of internal storage, but there are very few options right now that are compatible with Fitbit OS 2.0. You do have the regular and popular fitness apps, but no social media here. You can store music files on here and playback your favourite workout tunes through Bluetooth earphones.
Quite frankly, the OS is incredibly functional and doesn't really hinder the operation of the watch. It would have been nice to be able to respond to messages, which would be a real asset to the prospects of owning the Ionic.
Build and Design
One of the most likeable things about the Ionic is that it ships with straps of two sizes in the box. The straps are super easy to replace; just push a button and they come out of the housing. The watch block itself is built out of very premium materials, mostly metal that encases the glass display. The watch face surface is very smooth to the touch and does not gather fingerprints easily. In fact, it is also very difficult to scratch. In the ten days, I've been using the Ionic, I've banged it against metal doors, glass doors, dropped it face down on the floor, had my dog run off with it, and yet, the glass screen still looks like brand new. The straps are also very smartly designed. There is a locking pin at the end of the strap which you push into the pin cutouts on the strap. This locks the two straps together, eliminating the traditional ring that you would normally slide a watch strap under. It's simple, but genius. The buttons on the Fitbit are also well constructed, with each of them having a textured finish so you can distinguish them from the rest of the body. Overall, the Ionic doesn't feel like a cheap fitness tracker, but more like a premium wrist accessory.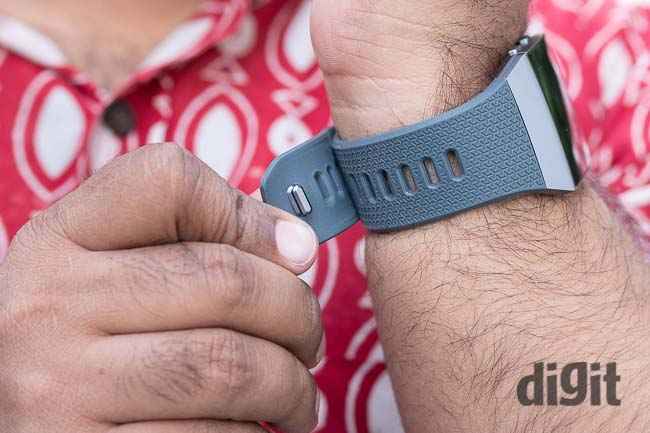 Fitness Tracking
The Fitbit can track a long list of workout scenarios which now includes weightlifting. I personally don't hit the gym, but I do cycle and go for the occasional run with my dog. For my cycling rides, I also strapped my Garmin chest heart rate monitor to take readings while the Fitbit Ionic was being used as my primary tracking tool. In a short 25-minute ride, I discovered that the Fitbit showed my heart-rate consistently on the lower side. While the Garmin chest strap recorded my heart-rate at an average of 128BPM, the Ionic calculated it to be about 103 beats per minute. Interestingly, the Fitbit was able to accurately record the ride distance and track which I was able to corroborate with my Garmin Edge 520 bike computer.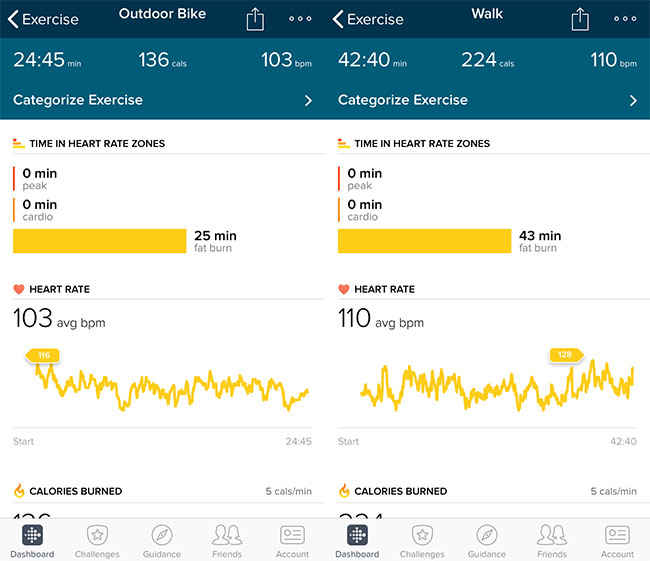 If you're not going to use the Fitbit for workouts, its utility will only be slightly diminished, but not irrelevant. While setting up the watch, Fitbit asked me what kind of daily exercise goal I would like to set. Based on that, the watch gave me regular reminders to get up and move, prompting me with how many steps were left for me to achieve in that hour. Water consumption is an equally important part of a healthy lifestyle and it would have been great if the watch gave feedback to drink water timely as well, but sadly it doesn't. Also, the Ionic can automatically detect the workout you're engaging in, but in order to be able to do so, you need to keep doing whatever it is you're doing for a minimum of 15 minutes. If your workout/run/bike ride will be shorter than that (is it even a workout then?) you will need to manually start the counter on the watch.
Now let's talk about the third aspect of fitness; sleep. One of the primary purposes of sleeping is for the body and mind to heal and repair itself. There are fourth stages of sleep that constitute one sleep cycle, and each must occur in a certain amount for it to constitute as "healthy sleep." This, the Fitbit is able to record and deliver as Fitbit has been working hard on algorithms to help detect sleep apnea. While the Fitbit Ionic won't tell you if you have sleep apnea or not but what it will give you a very useful account of the quality of your sleep. I was, for example, able to discover that I was not getting enough time in the deep sleep state, the collective data which is now helping my doctor and I reach a diagnosis. Earlier, we didn't even know there was a problem except the fact that I was waking up more tired than I was when I went to bed. The only downside is that if at any point in your sleep, the Ionic isn't able to record your heart rate accurately, it will go back to recording simple sleep data. Due to this, the sleep data I have been able to gather is very fragmented. Fitbit really needs to improve the Ionic's capability to consistently deliver deep sleep data.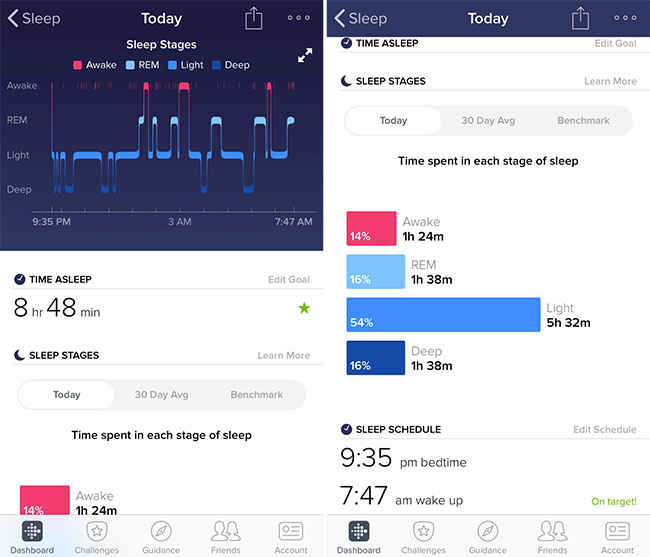 Fitbit Coach
Now, this is something that I know I have come to love. Fitbit Coach is a set of workout programs that you can run on the watch itself and they will guide you as you go along. There are timed exercises in each of the three segments that are programmed into the Ionic. This is especially helpful if you have odd working hours and can't go to the gym. It also works for people (like me) who are too lazy to go to the gym. Just start the workout on the Ionic and follow along for 10 minutes to get a simple session of cardio in. You can, of course, repeat the set a few times over to get more of a workout, but that is your discretion. The Fitbit Coach app also offers a Premium membership that opens up a lot more workouts based on your current body type and the goal you set for yourself. The membership can be purchased for Rs. 489 paid monthly or Rs. 2499 paid annually.
Battery Life
This is probably the simplest section of this review to write. Fitbit says that you can get up to 5 days of battery life from the Ionic. I was able to get 4 full days of use (before the watch died), with all-day sync enabled. Once all-day was disabled, I could squeeze 5 whole days of use out of the watch. Needless to say, even if you're getting four days of battery life out of the Ionic, it is still twice more than what other smartwatches offer. In my books, that's a total win.
In Conclusion
The Fitbit Ionic is an expensive fitness tracker that is only partly smart. You can't respond to messages on it like you can with an Apple Watch, but the Ionic does offer a whole lot of functionality. Right from deep sleep data to being able track virtually any kind of workouts with great accuracy. The heart rate readings can be a little off sometimes, but that is extremely common for any device that uses the optical method of recording heartbeats. It is fairly accurate when recording workout metrics in terms of distance run or travelled on a bicycle. Is it worth the Rs 22,800 price tag? There are reasons to say yes, given its good looks, rugged build and the plethora of tracking options. the addition of Fitbit Coach is great for people who don't want to leave their homes to work out and if you're a gym rat, you will find use for the Ionic's ability to track weights based workouts. The accuracy may be every so slightly off for the heart-rate, but it isn't a deal breaker, given that all fitness trackers relying on optical sensors suffer from this limitation. What is a little upsetting is the inability to respond to messages from the Ionic itself, given that Fitbit is trying to sell this as a smartwatch. Hopefully, Fitbit can bring this functionality in entirety through another software update, bu till then, the "smart" aspect of the Ionic will remain severely limited. However, as a fitness tracker, this is a watch that can go to the gym, as well as formal dinners. The advantage of the Ionic over the Apple Watch or any Android/Tizen based smartwatch is that the Ionic is genuinely platform agnostic, meaning anyone can get the best this watch has to offer, regardless of the ecosystem they belong to.