The Apple Watch, now in its third iteration has rapidly been becoming a staple on the iPhone owner's wrist. Within just three years, the Apple Watch has become the highest selling smartwatch, giving stiff competition to the simpler fitness trackers out there. With every iteration of the Apple Watch, the company has continued to add new, impressive features such as water resistance, but with Series 3, Apple has provided something even more desirable, a true untethered experience. Apple has for long been developing and promoting the use of e-SIM, with the Apple Watch Series 3 being the first product from Cupertino to bring this new SIM technology to the global market. But the real question on many peoples' mind is, whether the cellular edition of the Apple Watch Series 3 is worth the price tag or not. After using the watch for two weeks, including on an international trip, we may have an answer for you.
Build and Design
The Apple Watch Series 3 that we reviewed has a Space Gray shell and came with a matching sports band. The watch face measures 42mm and is ideal for most wrists. The band itself is made of silicone rubber and feels nice, but not all that premium. Thankfully, the Series 3 Apple Watch continues to use the same strap locking mechanism, meaning that if you've any Apple Watch straps (even from the 1st gen) lying around, they are going to work with the latest smartwatch from Apple. I quickly swapped the silicone band out for a nylon based one. The Apple Watch Series 3 itself looks almost identical to every Apple Watch before it, save for the Digital Crown. Apple has given the Cellular Edition of the Apple Watch Series 3 a red Digital Crown, so as to distinguish it from all the others. It is very likely that moving forward, the Red Crown will become synonymous with Apple Watches that offer LTE connectivity while the crown matching the shell will be for the GPS version. The other distinguishing feature of the Apple Watch Series 3 Cellular from the GPS-only counterpart is the use of ceramic instead of a composite material for the back. In case you're wondering, the LTE version is what ships with the ceramic back.
Apple continues to use Ion-X Glass to reinforce the display and I have to say, this thing is tough. I've banged the Apple Watch against glass doors numerous times, something that happened even during my use of the Fitbit Ionic (review here) and for the most part, the display remained unscathed. The only scratch on the side of the display came from me hitting the watch hard against a wall as I fell to the floor. I know I'm not the only clumsy one who bangs into things as he walks around, so if you find yourself relating to my carelessness, you'd be glad to know that the Apple Watch Series 3 can withstand some serious abuse.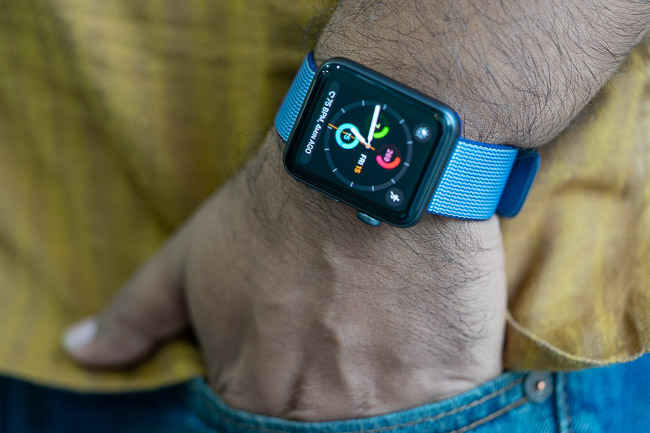 I want to take a minute to circle back to the straps for a minute. Apple has continued using the same connector mechanism since the original Apple Watch, significantly expanding on the number of straps that can be used with the Apple Watch. What's even better is that if you are unable to find a very specific strap for your Apple Watch, there are ways you can use non-Apple Watch straps with your newest smartwatch. All you must do is ensure that the strap has a lug width of 22mm, another feature that Apple has retained not only since the first Apple Watch but is also a "standard" in the regular wrist-watch world. There are plenty of tutorials online on how you can use a standard strap with your Apple Watch, so I'm not going to get into it here. You literally have over a million possibilities when it comes to customizing the strap setup on your Apple Watch, all thanks to the company sticking to existing standards.
Setting up the Apple Watch and Cellular Connectivity
Apple has always been about simplicity, and while many may want to debate that claim, when it comes ot the Apple Watch, things indeed are really simple. You need to first pair the watch with your iPhone, which is done through the Watch app. The watch in pairing mode generates a unique coded image which the app scans to pair the watch. After that, just follow the on-screen instructions to get the watch up and running. Once the watch is paired, the Watch's e-SIM has to be activated to latch onto the cellular service offered to the SIM card in your smartphone. For this, all you have to do is go into the Watch app on your iPhone and scroll down to the Mobile Data button. Here, the app will take you to your carrier's sign-up page, where you will again follow the on-screen instructions to pair your Apple Watch Series 3 Cellular with your carrier's cellular plan. Once paired, your Apple Watch Series 3 Cellular will be able to use all the services of your existing SIM card.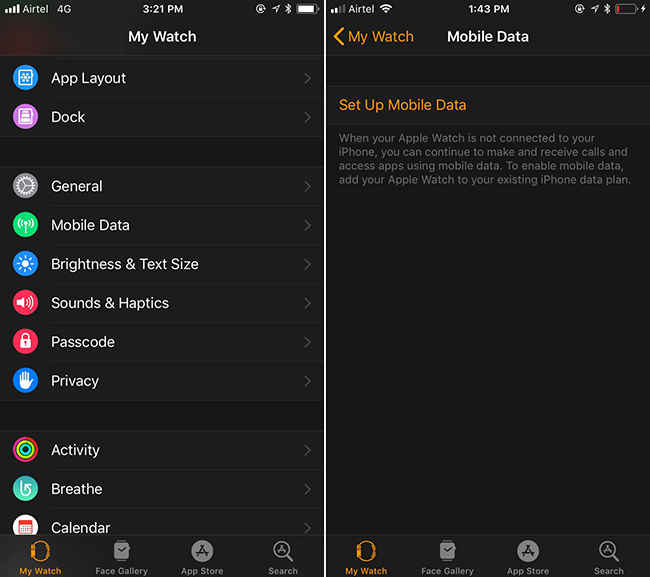 In my case, I'm on Airtel and getting the watch onto the network is very easy. However, where I ran into major problems was when I unpaired the watch from the data plan and tried re-pairing it. Now, the watch just would not pair to my Airtel plan. After speaking to Airtel's customer support, it turned out that when the watch was unpaired, a service request was generated. Trying to pair the watch again generates a second service request, which will not be completed till the first one is cleared, a process that takes up to 24 hours. I could not confirm this on Jio as I do not own a Jio SIM. This issue is from Airtel's end and not a flaw with the Apple Watch.
Overall, the ease of setting the watch up for both normal and cellular services is rather easy.
Performance: What the Apple Watch Series 3 Cellular Does Well
Apple Watch Series 3 Cellular is in every functional way the same as its GPS counterpart. The only exception here is that thanks to an e-SIM, the watch can do a few things that its non-cellular counterpart cannot, and in some ways, this is a very important distinction. The cellular connectivity on the watch means that it no longer need to carry the phone with you for many things. Let me walk you through what works and what doesn't with this new smartwatch from Apple.
For all of you who lead a very active lifestyle, the Apple Watch Series 3 will be a boon! I cycle quite a bit and have always found it very cumbersome to carry a phone with me on my rides. Even though my cycling jersey has a nice elastic pocket that can securely carry a phone, the possibility of crashing the cycle and consequently shattering my iPhone keeps playing on my head. Most of us take our phones with us not necessarily to track our runs or swims, but also to ensure we are connected by means of phone calls and messages. Now with cellular connectivity, you can actually leave your expensive iPhone at home. The Apple Watch Series 3 Cellular will receive all calls and messages so that you're not disconnected from your world. You can either use Siri to make calls and send messages, or you could do it manually using the Crown and touch input. As a cyclist, I know that if I were to be in a crash, damage to the watch could be prevented, but not if I was riding with a phone in my pocket, or worse, mounted to the bar. If you're going for a swim, you no longer have to periodically keep checking if your phone is where you left it. You don't even need to bother securing it in a locker at your pool facility because the Apple Watch Series 3 is not only waterproof but does all the important things your iPhone should.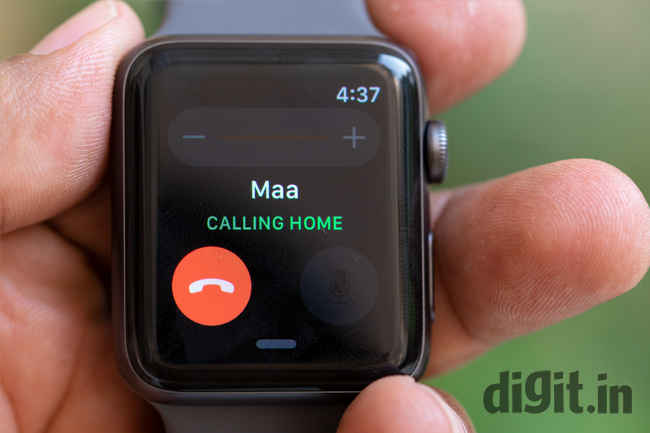 Some of us carry the iPhone with us to our workout (running, cycling, gym etc) so that we can listen to music while engaging in our fitness regime. Well, the Apple Watch Series 3 Cellular offers 16GB of onboard storage but can also be paired with any Bluetooth earphone/headphones. If you feel that 16GB isn't enough storage, you can always just utilize your subscription to Apple Music (get one if you haven't already) and just stream music thanks to the data connectivity offered by the watch. All this is of course besides the effective workout tracking offered by the watch, whether it's your runs or bike rides or even laps across the pool. You can either use the built-in workout app or just install your favourite fitness tracking app such as Strava or MyFitness Pal. There are plenty of fitness tracking apps that are compatible with the Apple Watch.
Moving past fitness and activities, the convenience of having a cellular enabled smartwatch will not be lost on you. In the time I have been using the Apple Watch, there have been several instances where my iPhone's battery had died. I was still able to make and receive work calls, some of whom were of an urgent nature. My iMessage worked perfectly fine as did SMS. What was slightly problematic was responding to messages with a custom response, which requires…patience and is definitely not something I would recommend doing while driving. Speaking of driving, I even have the Apple Watch paired to my car's Bluetooth system so that if my iPhone is dead, I can still listen to music while being stuck in the horrible Delhi peak hour traffic.
Caveats of the Apple Watch Series 3 Cellular
I have to say, it is surprising how almost instantaneously the Apple Watch has blended into my daily wear, replacing the FitBit Ionic rather quickly. However, the Apple Watch Series 3 isn't perfect. There are some features that I benefit from on other smartwatches and fitness trackers that I found to be missing on the Apple Watch Series 3 Cellular.
The most used feature which I found missing on the Apple Watch Series 3 running WatchOS 4 still does not natively track sleep. If you want sleep tracking, you're going to have to turn to third-party apps, most of whom require you to manually start and stop the sleep tracking process. In comparison, the Fitbit Ionic (Review) is natively capable of auto tracking sleep along with offering insight into sleep stages. Sleep tracking is an equally important aspect of any fitness device given that sleep is very essential to proper function of the human body and mind.
The other common feature missing from the Apple Watch Series 3 is auto-start for workouts. Typically, most fitness trackers and even Android Wear smartwatches are able to auto-detect when you have started a work-out and record it accordingly. The Apple Watch Series 3 Cellular does not have this ability right now but will get in in the upcoming WatchOS 5 update, expected to roll out later this year.
Lastly, those of you who end up travelling abroad frequently would be disappointed to know that the e-SIM in the Apple Watch is not a "global" SIM. Due to the minuscule nature of the e-SIM, putting hardware required for global support isn't feasible. Therefore, depending on which region you buy the Apple Watch in, it will support LTE and Cellular functionality on select carriers, in select countries. You can read the compatibility lists on Apple's Support Page. However, there is still one problem. The Apple Watch Series 3 Cellular does not support roaming either. For example, I recently travelled to Taiwan for Computex and taken up the international roaming package for my Airtel SIM. Once in Taiwan, the network switched to Chunghwa Telecom, a carrier whose services are compatible with my particular Apple Watch. However, I was not able to use LTE or cellular services on the watch. However, if you were to buy a local SIM card, then the functionality should return. It is understandable that the e-SIM is restricted to certain regions for now, but what is not clear is why Apple has disabled roaming on the Apple Watch. In any case, the watch is completely usable in every which way as long as your phone is nearby and has cellular and data connectivity.
Battery Life
The Apple Watch Series 3 Cellular will give you varied results on the battery life, depending on how you use it. However, even with the most conservative usage, I was only able to squeeze out three days of battery life out of this wrist-worn device. With normal usage which entailed tracking a 30-45 minute long bike ride, the watch's cellular radio turned off 90 percent of the time, I was still getting about 2/2.5 days of use. On one particular day, I had to go half a day without my iPhone, which meant I was streaming music from the Watch to my car and earphones, along with having made calls for about an hour, the watch then lasted me a day and a half. When it comes to smartwatches, having to charge them once every two days or so is just the norm, so the Apple Watch's behaviour isn't so far out of the norm. I do have to say though, the Fitbit Ionic's 5-day battery life definitely sets the bar for all other smartwatch manufacturers.
Bottomline
The Apple Watch Series 3 Cellular takes an already much-loved smartwatch and gives it an ability that truly adds a lot of value to the device; cellular connectivity. Its hard to put a price tag on the peace of mind that you get when you know that even if your iPhone was to die, you won't be completely disconnected from the world. The Apple Watch does have some shortcomings such as a lack of native sleep tracking, but hopefully with their acquisition of Beddit, its something we will see get fixed in the very near future. For now, what we do know is that WatchOS 5 is going to make the Apple Watch an even better companion for your iPhone, especially if your focus is on fitness. If you're wondering whether to buy the Apple Watch Series 3 Cellular for the price asking price of Rs 39,080, then consider this. It offers all the conveniences of a smartwatch, along with the basic tenets of a phone, without costing as much as another iPhone. The Apple Watch Series 3 Cellular edition may not be a "must-have" item, but if you are considering buying an Apple Watch, don't consider any other variant but this one.