Watch: The beautiful northern lights of Jupiter, caught by Hubble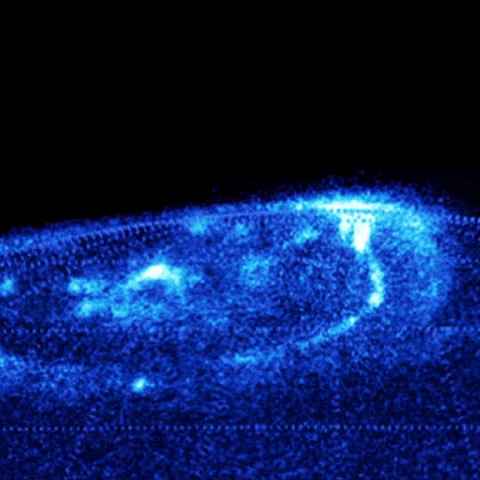 HIGHLIGHTS

For perspective, the area of lights is larger than Planet Earth.
The space is a beautiful frontier, much of which remains to be explored. As endless as the quest may seem, we have made much progress since Neil Armstrong's famed giant leap for mankind. We've reached as far as Pluto's frosty fringe, found traces of a possible long-lost giant member of our solar system bordering on an irregular, elliptical orbit, and even heard the faint whispers of giant black holes on a collision course from over a billion light years away.
A lot, though, still remains a mystery. Of some, one of the nearer mysteries involve Jupiter - the affable, gaseous giant ruling the centre of our solar system. Prodigal space observing telescope, Hubble, has recently laid eyes on Jupiter again, and this time, spotted the beautiful, enigmatic sight that has mesmerised us since Voyager first spotted them in 1979. The northern lights, which we have come to call 'aurora' in Earth, is a forever-ongoing show in Jupiter, meaning that it is not as rare as some of the celestial observations that we make. What makes this observation important, though, is the opportunity to study it more closely, alongside analysing solar winds and related radiations that affect the swirling northern lights of Jupiter.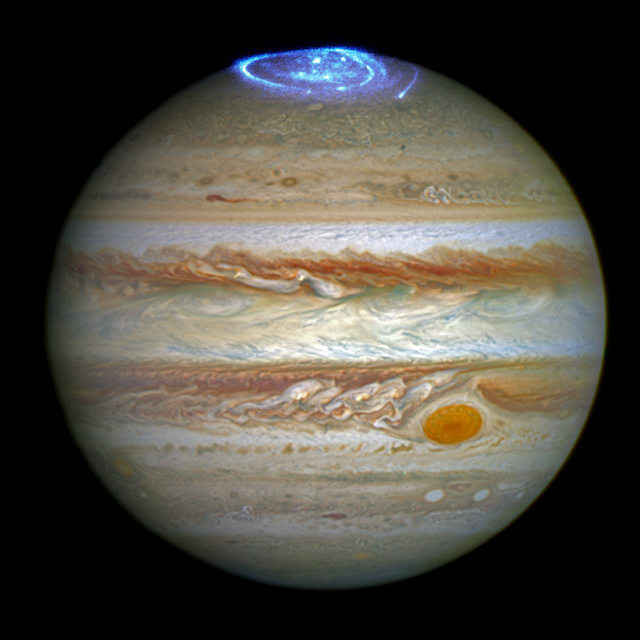 The magnificent northern lights on Jupiter
On July 4, NASA-ESA's spacecraft Juno will reach Jupiter on a year-and-half long mission to study the planet's magnetic field, its interaction with the solar winds (which happens to be one of the causing factors of the lights) and even trace the origin of the aurora. Understandably, there is a considerable amount of romanticism involved with Juno's arrival at Jupiter, and Hubble's coincidentally timely spotting of the auroras. "It almost seems as if Jupiter is throwing a firework party for the imminent arrival of Juno," states Prof. Jonathan Nichols, head of a project studying solar winds and the aurora in our solar system, at University of Leicester.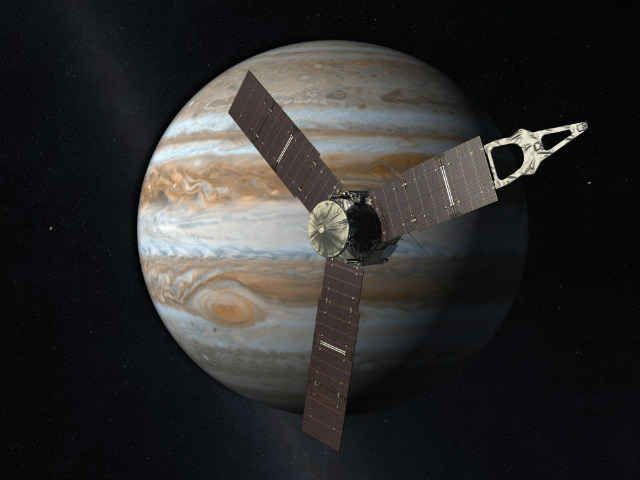 Juno is scheduled to reach Jupiter on July 4
The Sun is an incredibly turbulent body, despite being one of the smaller stars in the galaxy. The turbulence and activity leads to a fine, powerful breeze of charged ions to be released across the solar system. While the force of the solar wind may be casual in galactic terms, it is powerful enough to affect the steadily depleting film of atmosphere that Pluto is left with. Aurora, aptly named after the Roman goddess of dawn, is a mesmerising spectacle of lights that spread across the sky, as the charged ions of the solar wind reacts with planetary forces and atmospheres, thereby causing a violently beautiful display of fireworks.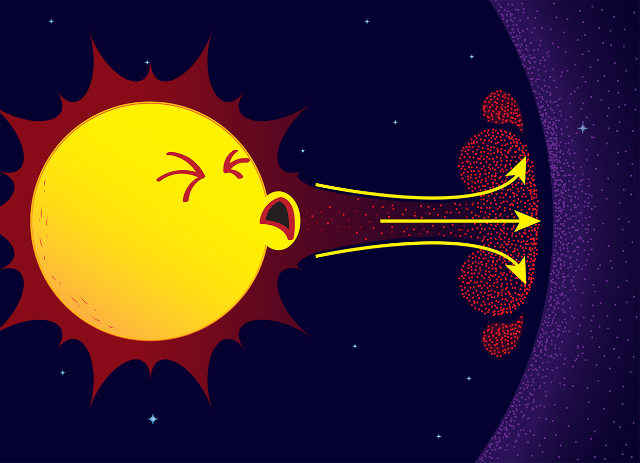 Solar winds: They ain't this gentle
Jupiter's aurora covers an incredibly large area, which is larger than the area of our own planet. In comparison to the Earth's aurora borealis, when a solar storm occurs, Jupiter's northern lights become one hundred times more energetic, and shines with eight times the brightness as it usually does. Think of this as a larger, violently radioactive and shining Earth. The lights emit ultraviolet and X rays, and also glow green, purple and red based on ionic interactions. The massively powerful magnetic field of Jupiter (only about 20,000 times that of Earth) even attracts ions spewed out by Jupiter's volcanic satellite, Io, which impact the lights too.
The next few months will be a great phase to follow, and Juno is expected to relay crucial data back to us, which can greatly impact the study of solar winds and the mesmerising polar planetary lights. Check out the incredible composite video of Jupiter's northern lights compiled by NASA, herein below: