The Hubble Space Telescope has spotted the most distant galaxy anyone has ever seen yet. Named GN-z11, the galaxy is seen as it was 13.4 billion years ago, and was formed just 400 million years after the Big Bang. Before the discovery of GN-z11, the furthest galaxy viewed was 13.2 billion light years away. To take the image, the Hubble Space Telescope was pushed to the limits of its capabilities.
To measure large distances, astronomers make use of a phenomenon called 'redshift'. Due to the expansion of the universe, every single distant object appears to be moving away as its light is stretched to longer, redder wavelengths to reach earth. The greater the redshift, the further away a galaxy is. To determine the colour of GN-z11, NASA used the Hubble Space Telescope and the Spitzer Space Telescope. The earlier record holder has a redshift of 8.68, while GN-z11 has a redshift of almost 11.1.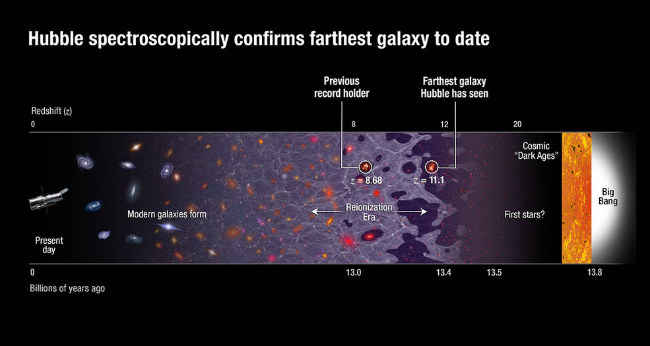 The combinations of images from Hubble and Spitzer shows that the galaxy is about 25 times smaller than the Milky Way galaxy and only has about one percent of our galaxy's mass in stars. However, the galaxy is forming stars at a rate that is 20 times greater than what the Milky Way does today. This made the distant galaxy bright enough to be observed by astronomers. To understand how far the GN-z11 exactly is, check out the video below.
Other Popular Deals
Samsung A7 2016 Edition Golden

Rs. 18990 *

Buy Now

Realme 1 (Diamond Black, 4GB...

Rs. 10490

Buy Now

Redmi 6 Pro (Black, 3GB RAM,...

Rs. 8999

Buy Now
*Includes Cashback
​