PC Gaming used to be, at one point, an indulgence of the affluent. However, over the years, the prices of components have continued to plummet, allowing manufacturers to offer gaming hardware at incredibly low-price points than ever before. For Rs. 60,000, you can get yourself a superb daily driver of a laptop, which will also double up as a pretty decent gaming machine. For a sum of Rs 60,000, you may not get the most beastly machines, nor would you get the highest frame rates, but you can expect to pull off 60fps in full HD as long as you're willing to play around with the graphic settings a little. Based on that, here are some gaming laptops under Rs 60,000 for your consideration.
HP Pavilion Gaming
HP's previous variant of the Omen and Pavilion gaming series are now available at a much lower price, given that their 2020 upgrades are out. The last year is what variant of the Pavilion Gaming 15 we recommend. The laptop is powered by the AMD Ryzen 5 3550H processor paired with an Nvidia GeForce GTX 1650 GPU. The machine also has 8GB of RAM on board which is upgradeable. Storage is handled by a 1TB hard drive, which is great if you have a large library of games. The Full HD IPS display offers a refresh rate of 60Hz and the hardware combination allows you to push most games to the 60fps mark at 1080p resolution. What truly sets the Pavilion Gaming from HP apart is its unique design and the purple backlighting for the keyboard. Click here to buy.
Acer Aspire 7
Sticking to the AMD flavour but taking things up a notch is the Acer Aspire 7, powered by an AMD Ryzen 7 3750H quad-core CPU. Accompanying Team Red's processor is the Nvidia GeFore GTX 1650 GPU with 4GB of VRAM. Acer throws in a generously sized 512GB SSD into the mix to make up for only 8GB of RAM, but the good news is, there's an extra SODIMM slot on the machine so you can upgrade the 8GB of RAM to 16GB, if needed. The fullHD display offers a generous 1920x1080 resolution, plenty for all kinds of gaming and movie watching needs. One strong reason to consider the Acer Aspire 7 would be the fact that Acer bundles a 1-year international warranty with this laptop, meaning you could be anywhere in the world and as long as there's an official Acer service centre around you'll be taken care of. Click here to buy.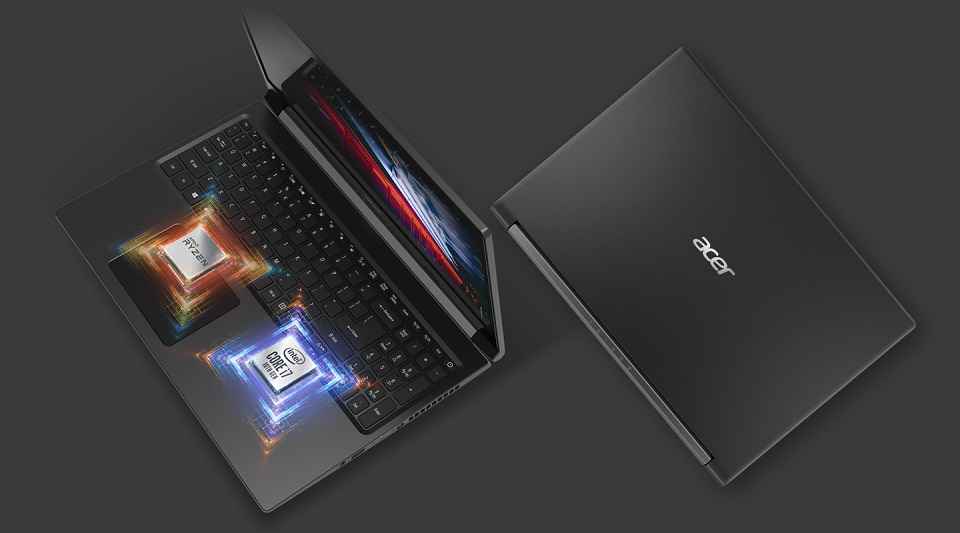 Acer Nitro 5
The Acer Nitro 5 is a wildly popular gaming laptop, and no list can ever be complete without it. The Acer Nitro 5 offers the combined power of a 9th generation Intel Core i5-9300F, an Nvidia GeForce GTX 1050 GPU, 8GB of memory and a 1TB HDD to store all your movies and games. Setting the Nitro 5 apart is the fact that it's a 17-inch gaming laptop, instead of the usual 15/15.6-inch one. The keyboard on offer is a red-backlit keyboard. Acer was one of the first companies to offer gaming laptops in this price range, and now even though there's plenty of competition, Acer (Review) still maintains an edge thanks to the larger screen size.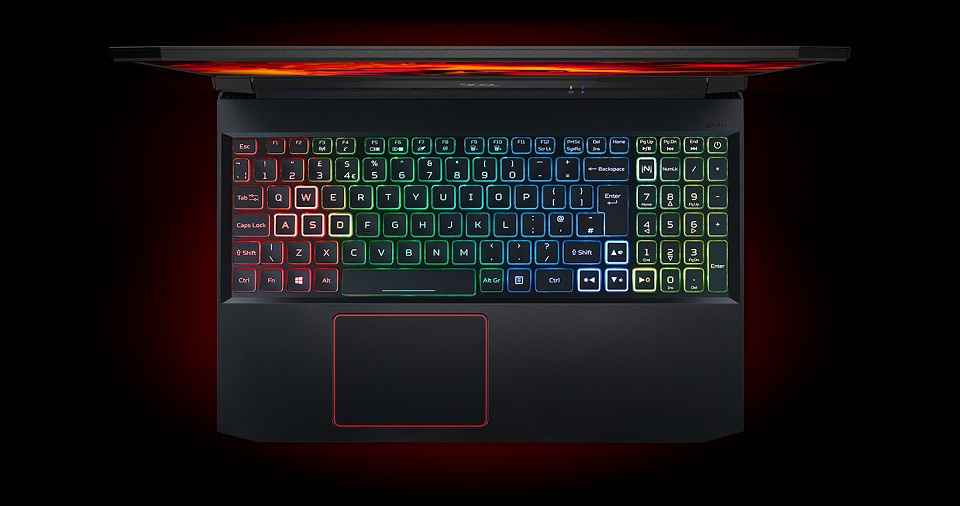 The top-of-the-line Mi NoteBook 14 Horizon Edition (Review) is surprisingly good at handling light gaming! It's powered by an Intel Core i7-10710U processor, 8GB of RAM, an ultra-fast 512BGB NVMe drive and the Nvidia GeForce MX 350 discrete graphics. The MX series may not be considered ultra-powerful when it comes to gaming, but in our review, we found it to be surprisingly good at handling most of the popular titles at modest graphic settings. Coming in a few rupees just shy of Rs 60,000, the Mi NoteBook 14 Horizon Edition does make for a great choice of an entry-level gaming laptop, especially if you're considering something that's relatively thin and light. Click here to buy.
Asus TUF FX 505
The Asus TUF Gaming FX505 (Review) is powered by an AMD Ryzen 5 3550H and an Nvidia GeForce GTX 1650 GPU, meaning the machine has the chops to make it a legit gaming machine. It offers enough juice to run all your demanding games right out of the box and yet, offers you plenty of room for upgrades. You can upgrade the storage and the RAM with relative ease if you're willing to go down the DIY route. The MIL.STD-810G rating is definitely a boon to have since it makes the laptop more resistant to damage from small drops. Perhaps the most alluring thing about the Asus TUF Gaming FX505DT is the fact that it also packs a 120Hz refresh rate display with it. Click here to buy.