The United States President-Elect Donald Trump has been far from a quaint figure, and much of his opinions have been rather harsh and outrageous. As if to address these very thoughts, Trump addressed the world leaders of technology on Wednesday, December 14, telling the likes Elon Musk, Satya Nadella, Larry Page and more to "keep going with the incredible innovation", and that he and his administration is there to "help (them) do well."
As Trump prepares to take his seat and assume governance, the world of technology has been largely against the basis and principles that Donald Trump has spoken of during his Presidential campaigns. Notably, Trump has been against a number of aspects and elements in technology, threatening to slap an antitrust scrutiny against Jeff Bezos' Amazon for the Washington Post's coverage of the elections (Bezos' Nash Holdings LLC owns The Washington Post), and calling for a boycott of Apple products as the company refused to build a backdoor into accessing the iPhone of the accused in the San Bernardino shooting case.
The leaders of technology, meanwhile, have been wary of the impact that Donald Trump may have on technology and innovation, in the long run. Trump's open stance on racial discrimination, talks of anti-immigrant policies and unclear views on consumer privacy and digital security have been read as a threat to the freedom of expression and mixing of individuals from all over the world in technology. Unsurprisingly, major tech giants chose to support Hillary Clinton during the Presidential campaigns.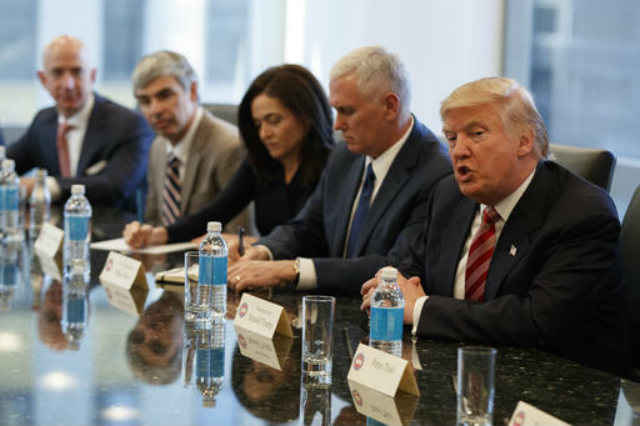 (L-R) Jeff Bezos, Larry Page, Sheryl Sandberg, Mike Pence, Donald J. Trump
The biggest names of technology have been concerned with Donald Trump's views on immigrants and the unabashed, unrestricted racism put forth by his supporters, which is seen as a major deterrent for bright minds from all over the world who can code, innovate, build and present the best of technology. Most of technology's greatest minds and entrepreneurs have even gone as far as calling him a "disaster for innovation", based majorly on his skewered nationalism. While his anti-immigrant stance has led to fear of foreign employees being deported, the President-elect's insistence of focusing on bringing outsourced technological industries back to the USA has been looked upon as interference into the freedom and collaboration that persists within the technology industry.
Trump, meanwhile, has been equally critical of the ones he met yesterday. The President-elect, however, spoke words of assurance to the attending CEOs, Directors and Chairmen - Tim Cook of Apple, Eric Schmidt of Google, Larry Page of Alphabet, Jeff Bezos of Amazon, Elon Musk of Tesla, Satya Nadella of Microsoft, Sheryl Sandberg of Facebook, Chuck Robbins of Cisco, Safra Catz of Oracle and Ginni Rometty of IBM. He said, "We want you to keep going with the incredible innovation. Anything we can do to help this go on, we will be there for you. You'll call my people, you'll call me. We have no formal chain of command around here."
While some have expressed optimism to what appears to be Donald Trump's early attempt at truce with the leaders of technology, many others have shied away from much appreciation. To many, this reads as an early call for collaboration and peace, seeing that a majority of the industries and jobs in the United States are held by this very industry, and Trump is reading into the signs by laying foundation ground in support of technology. It, however, is too early to take a call, and echoing the sentiments of many, ex-Googler Chris Sacca told the Associated Press that we should only be optimistic when "Trump has given public assurances he won't encourage censorship, will stop exploiting fake news, will promote net neutrality, denounce hate crimes and embrace science."
While we remain seated in our desks with sincere hopes of a supportive administration, it remains to be seen how Donald Trump takes up his own principles in line with his present promises, in the long run.
Story, Image Credit: The Associated Press