The best vaporisers and steamers in India offer relief from cold and cough and is especially recommended for people suffering from COVID-19. A vaporiser or steamer heat water to produce steam that upon inhaling provides temporary relief in breathing and during cold and congestion as well. Steam inhalation clears the nasal passage to ease breathing during inflammation of the nasal passage that may cause difficulty in breathing. Here are the best vaporisers and steamers that you can buy in India.
Also Read: Best pulse oximeters to buy in India
HealthSense Nano-Cure FS 550
The HealthSense Nano-Cure FS 550 steamer has a 100ml water tank and is capable of producing mist in just 50 seconds. This vaporiser releases superfine nano vapours and the steam also passes through a UV lamp to ensure hygiene. There is a 15-minute mist mode as well which releases mists at an interval. This steam inhaler also comes with 10 cotton pads that can be used with essential oils and more.
Newnnik V108 vaporiser and steamer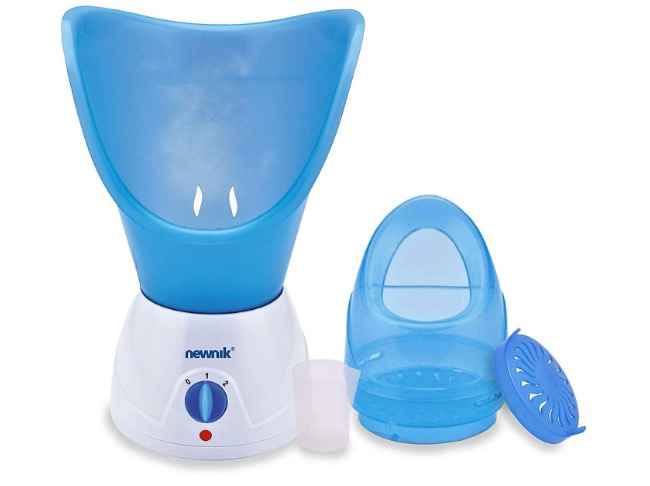 The Newnnik V108 vaporiser and steamer offer two modes of heating control and the water gets heated in a metal container. This steamer comes with a separate nasal mask that allows you to inhale the vapours through the nose and mouth. There is an aroma tray as well which can be used with essential oil.
Meditive steamer and warm mist vaporiser
The Meditive steamer offers warm steam therapy and starts generating mist in 15 seconds. This vaporises has an auto cut-off feature which switches it off when water finishes in the tank. It has a 55ml water capacity which lasts for around 15 minutes of use. It does not have a separate tray to add oils or medicines.
Dr Trust Steamer and Vaporiser 901
Dr Trust steamer and vaporiser offers 50ml water capacity and has two modes of producing steam. There is an aroma tray as well which can be used with the necessary oils with a cotton pad. It can run for 15-17 minutes till the water is finished in the tank and comes with a facial mask as well.
Mievida Steam Inhaler Vaporiser
The Mievida steam inhaler and vaporiser offers gentle and controlled steam dissipation. The steamer uses a metal heating pan and comes with a dedicated nose inhaler attachment. It has got dual temperature controls and also has a fragrance box that can be used with essential oils via cotton pads.
Amazon 1 | Amazon 2 | Amazon 3
Nova 3-in-1 NFS 200 steamer
The Nova 3 in 1 NFS 200 steamer helps relieve cold, nasal congestion and more. However, it is not recommended to be used with RO water or with any salts, oil or medicines.