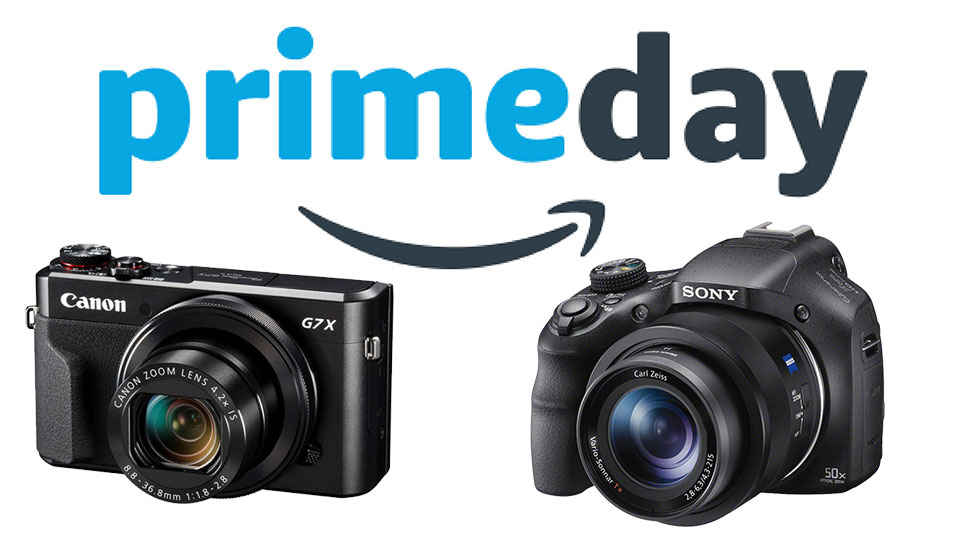 HIGHLIGHTS
Amazon Prime Day deals are now live

We've sorted the best and worst camera deals here
As Amazon Prime Day 2019 kicks off, it may be a little overwhelming to go through each category and find the perfect cost saver for you. This is why we sifted through everything in their camera section to bring you the best camera deals. Do note that when we say "camera" deals, we're including all DSLR, mirrorless, point and shoot categories into one. Also, keep in mind that the deals we've sorted for you are those where the price of the device is lower than what it is on a normal day on Amazon. With that said, let's get going.
Best Deals
Fujifilm X-T100 with 15-45mm f/3.5-5.6 Lens (Buy it here)
The Fuji X-T100 is a mirrorless camera that Fuji fashion around their X-T1 series of cameras and features an APS-C CMOS sensor. The lens paired with this is the kit 15-45mm f/3.5-5.6 with OIS. Fuji is known to create some of the sharpest lenses out there and while we haven't tested out this new kit lens, we have tested its predecessor and it is one sharp lens. This kit usually retails for about Rs 40,000, but is discounted to Rs 34,990 during the Amazon Prime Day deals.
Sony Alpha 5100 with SEL 16-50mm f/3.5-5.6 lens (Buy it here)
If your budget tops out at Rs 30,000 and you're looking for a good camera to take on your travels, then look no further than the Sony Alpha 5100. Build on Sony's APS-C EXMOR R sensor, the A5100 is incredibly compact and feature packed. Currently priced at Rs 28,990, the camera comes with the Sony 16-35mm f/3.5-5.6 lens which is also optically stabilised. The camera even features NFC and Wi-Fi connectivity options so that you can transfer your files from the camera onto your smartphone for immediate sharing with the world. Don't miss out this great deal on Amazon Prime Day.
Canon PowerShot G7x MarkII (Buy it here)
The Canon G7x MarkII features a 1-inch BSI CMOS sensor with a 24-100mm f/1.8-2.8lens. What this means is that a larger-than-normal sensor when paired with a lens that has such a large aperture, you're looking at a camera that would help you take better photos than your average smartphone or even other point and shoot cameras for that matter. You get the ability to record 4K video as well, and of course, everything is stable thanks to the optical image stabilization built into the lens. Canon has managed to fit all of this into a camera body that is just 1.6 inches thick and weighs 319 grams when loaded up with a battery and a memory card. With an MRP of Rs 43865, the camera normally sells for Rs 39999 on Amazon, the Canon PowerShot G7x MarkII has received a price drop of Rs 3000 for Amazon Prime Day 2019 sale. This brings the cost down to Rs 36990.
Sony Cybershot DSC-HX400V (Buy it here)
Sony has really been doing some amazing things with camera sensors in the mobile space, but a lot of that innovation has trickled down from the bigger sensors they produce for larger cameras. One such camera is the Sony Cybershot DSC-HX400V, which we shall refer to simply as the HX400V. This camera isn't pocketable, but the 20.4-megapixel EXMOR R sensor is accompanied by a 24-1200 mm f/2.8-6.3 lens. Unlike other cameras which use lens-based image stabilization, Sony uses sensor-shift stabilization, and while we can debate the pros and cons of each, the result is still a stable frame when you're zoomed in on the moon at 1200mm. Amazon is offering the Sony Cybershot DSC-HX400V along with a free carry bag for a price of Rs 23999, Rs 4581 less than the usual selling price of Rs 29990 for this kit.
Canon EOS M100 with EF-M 15-45 is STM and EF-M 55-200 IS STM Lens (Buy it here)
The Canon EOS M100 launched globally towards the end of 2017, but even now, the camera can hold its own. Featuring a 24-megapixel APS-C sensor (larger than the G7x MarkII) the EOS M100 just like a very compact point and shoot camera, without a lens. The kit listed here includes two basic lenses, an EF-M 15-45mm f/3.5-5.6 and a 55-200mm zoom lens, both of which are optically stabilized. This is great kit for anyone who is looking for a nice travel camera that offers better image quality than a regular smartphone, or for someone who is just looking to experiment with photography, without breaking the bank. Typialy priced at Rs 39,999, the Canon EOS M100 with the two kit lenses is selling at Rs 36990 during Amazon Prime Day 2019 sale, with enough of a discount to buy one or two hgh-capacity memory cards and still have some cash left over.
Canon EOS 1500D Digital SLR Camera (Black) with EF S18-55 Lens/Camera Case (Buy it here)
If mirrorless cameras don't feel right to you, and it's a DSLR you'd prefer for taking photos, then the Canon EOS 1500D is a decent starting point. One advantage of investin in Canon's DSLR ecosystem over their EOS M lineup is the plethora of lenses you will have access to. Between Canon's own EF and EF-S lenses and those made by third parties, your choices will be practically limitless, across various budgets. For now, however, the Canon EOS 1500D with the EF-S 18-55mm f/3.5-5.6 lens is going at a discounted price of Rs 21990 during the Amazon Prime Day sale.
Canon EOS 5D Mark IV with EF 24-105mm L Kit lens (Buy it here)
Currently one of the most favoured full-frame DSLRs from Canon, the 5D Mark IV is on a pretty decent discount on Amazon Prime day as part of the Prime Day deals. The camera features a 30 megapixel full-frame sensor and comes with a number of impressive features. For starters, the 61-AF points are all cross type, meaning better focus tracking in ow light and even complex lighting conditions. The camera is bundled with Canons other very popular product, the EF 24-105mm L IS II USM lens. This bundle usually carries a retail price of Rs 246995 on Amazon, but during the Amazon Prime Day sales, this bundle is selling for Rs 229990. That's a discount of Rs 17,000, enough for buying a few spare batteries and a few high-speed SD cards, or just a really nice Manfrotto tripod.
Worst Deals
Every year, there are some products listed as a "deal" on Amazon Prime Day, which is actually priced higher than normal. You could actually buy the below-listed products cheaper on a normal day. Here are some such products.
Canon EOS 80D with EF24-105 mm f/4L is II USM Lens (See it here)
While the Canon EOS 80D with the kit 24-105mm lens is a great tool for photographers, the problem here is that Amazon is selling it for Rs 169990, while the camera on a normal day retails for about Rs 15,3999. That's a price difference of more than Rs 15,000. Definitely not a 'deal'.
Canon EOS 7D Mark II with 18-135mm is USM Lens (See it here)
The Canon EOS &D MarkII is fashioned to be an APS-C version of Canon's flagship 1D-series cameras and is definitely an amazing APS-C camera to buy from Canon's stable. If you've been planning on picking one up, don't get fooled by the price of the kit on Amazon during the Amazon Prime Day Deals. During the 2 day sale, Amazon has priced the Canon EOS 7D Mark II with 18-135mm is USM Lens kit option for Rs 116999 while the camera normally sells on the platform for Rs 113999. That's a Rs 3000 price hike during the 'sale days'
DJI Osmo Action Camera (See it here)
DJI has been a plethora of great products that have challenged and surpassed products by bigger, and more established companies. Now, taking on the GoPro is the company's Osmo Action camera, which has generally received favourable reviews online. If you've been looking to pick one up, steer away from the Amazon Prime Day deal of the camera as it is priced much higher than normal. During the Amazon Prime Day Deals, the DJI Osmo Action Camera is priced at Rs 30990, while the camera normally retails for Rs 27990 on the same platform.
Amazon Prime Day deals continue to change as the day progresses, so there is a possibility that the prices may change over the course of the day, or worse yet, the items go out of stock!