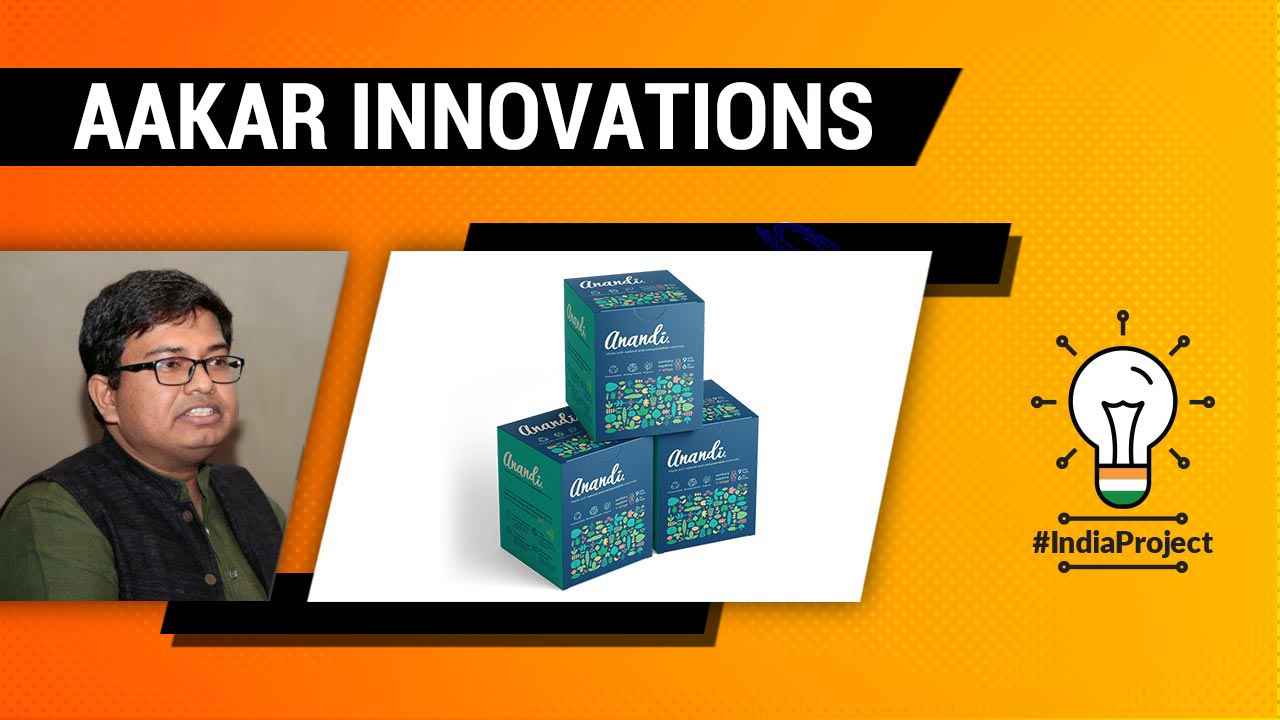 Aakar Innovations is a startup that has been working as a solution provider in the menstrual hygiene sector for the last decade. Aakar's flagship product is 'Anandi', India's first compostable biodegradable, organic sanitary pad certified by ISO-17088 international compostable standard. It is also the first company to develop a commercially-available bio-SAP based pad which is completely safe and made entirely of natural materials. Traditional pads often use the widely available commercial SAP (sodium polyacrylate) which can cause skin irritations, rashes and dryness, among other complications. Tampons containing traditional SAP have even led to fatalities and are currently banned by the FDA in the US for use in tampons. Anandi pads avoid these complications since they are made out of all-natural elements and compostable bioplastic that does not stay in landfills for over 500 years. The Anandi pads, instead, become manure within 90-180 days in composting conditions or within a year in natural conditions. Aakar has even worked with the Bureau of Indian Standards (BIS), as a part of their advisory team, to develop compostable standards for sanitary pads in India. BIS even adopted Aakar's compostable testing standard as the national benchmark for biodegradable and compostable pads.
In addition to developing an all-natural, hygienic sanitary pad, Aakar also gives back to society by providing employment opportunities to women, free sanitary pads to school-going girls in need, and menstrual hygiene education and discourse to women and men in villages. Aakar also works towards enabling women to not only use compostable and hygienic pads but also produce pads in women run mini-factories in villages and distribute these affordable sanitary pads, while simultaneously raising awareness about menstrual hygiene management, thus creating sustainable livelihood opportunities for village women. The startup was part of the Cohort 10 of the Nexus Incubator program. We spoke to Jaydeep Mandal, Founder, Aakar to find out more about the company.
Aakar Innovations: transforming menstrual hygiene with 'Anandi'
Digit: Could you tell us more about Aakar Innovations' fully-compostable sanitary pads, Anandi? Is the production process done completely by women?
Aakar Innovations: Aakar's 'Anandi' pads are fully compostable and biodegradable. Aakar is the first company to develop a commercially available bio-sap based sanitary pad which is biodegradable, compostable and completely safe, made of natural materials. The generally and widely available commercial sap is a chemical known as 'sodium polyacrylate (SAP)' which is harmful because it has the tendency to cause rashes and dryness and other complications. For instance in the past, tampons containing SAP have led to fatalities and it is currently banned under US-FDA for use in tampons but not in sanitary pads and diapers which is why women get infections and skin irritations from pads and babies get nappy rash. Anandi pads unlike other commercial pad in market does not stay in the landfills for 500+years or release harmful, toxic gases in the air we breathe while being incinerated. Each and every material used in Anandi pad are chosen very carefully keeping in mind menstruator health, comfort as well as environment. The used Anandi pads becomes manure within 90 to 180 days in composting conditions or within a year otherwise in nature.
Through Anandi pads, Aakar offers sanitary pad which is made of all natural materials like, compostable bioplastic, bio-sap, bio top layer etc. In fact, Anandi is a safe, hygienic sanitary pad because it contains no harmful chemicals, but also because it consists of organic material. This means the pad is fully biodegradable and compostable and has no adverse environmental impact. Anandi Pad is a truly Indian Pad which gives back to the society by providing employment opportunity to women, free pads to needy school girls and menstrual hygiene education to women & men in villages
Anandi pads are the first and only pads in India to obtain a Government of India certificate under ISO standard 17088, equivalent to the American Standard and European Standard for compostable pads. There are many enterprises attempting to develop new sanitary products some of which are unsafe or not biodegradable even though they claim to be. So at a national policy level, Aakar worked with the Bureau of Indian Standards(BIS) as part of their advisory team to help develop new national standards for sanitary pads in India. One outcome was that BIS decided to adopt Aakar's compostable testing standard as the national benchmark for biodegradable and compostable sanitary pads..
Digit: There are numerous medical issues associated with poor menstrual hygiene. How does Aakar Innovations strive to educate people of menstrual hygiene? Does the company also attempt to educate the male figures in women's families, especially in rural areas?
Aakar Innovations: Aakar is a hybrid social enterprise comprised of Aakar Innovations and Aakar Social Ventures that enables women to produce and distribute affordable, high-quality, fully compostable sanitary napkins within their communities while simultaneously raising awareness and sensitization of menstrual hygiene management.
Aakar Social Ventures works for educating women & girls as well as men & boys through our behavioural change & communication program which not only covers menstrual hygiene but also sexual education, maternal health, life skills etc.(see below diagram). We empower the last mile customers and enable them to make informed choices. Regarding the menstrual products during our program we talk about various products available in the market to manage menstrual period (like cloth to cloth-pads to disposable pads to tampons to menstrual cup) i.e. giving them bucket of choice, To make the right choice, they need to know the scientific, hygienic, authentic, unbiased information about all products, and their pros & cons, i.e. help them making make informed choices, finally they should be able to choose the product they want to use without any kind of barriers as per their convenience and other factors. No-one should impose any product on them with personal/organizational biases. i.e. freedom of choice. We also don't touch upon myths and taboos as they are connected with culture and religion in India. Instead we talk about science behind menstrual hygiene, what happens in 28-35 days menstrual cycle, what is the connection between menstruation and child birth etc. We also involve local school teachers, community leaders, asha, anganwaris to run awareness program and our team do training or trainers program to those educators. We do this, as we know menstruation is a taboo topic across the globe specially among village women & girls and only if the education is given by someone they know, trust and understand their language then only they will open up on this topic, otherwise it won't create any impact on them. Our curriculum is also developed with best practices from WSSCC, UNICEF, WASH United and many other global research organisations working in the sector and it is full of games, plays, activities unlike classroom teaching. We have pat of special curriculums for men & boys too in this topic where we educate them on basics of menstrual hygiene, so that instead of making fun of girls during their period in schools, or not allowing doing many things in household they start supporting them for managing women & girls periods.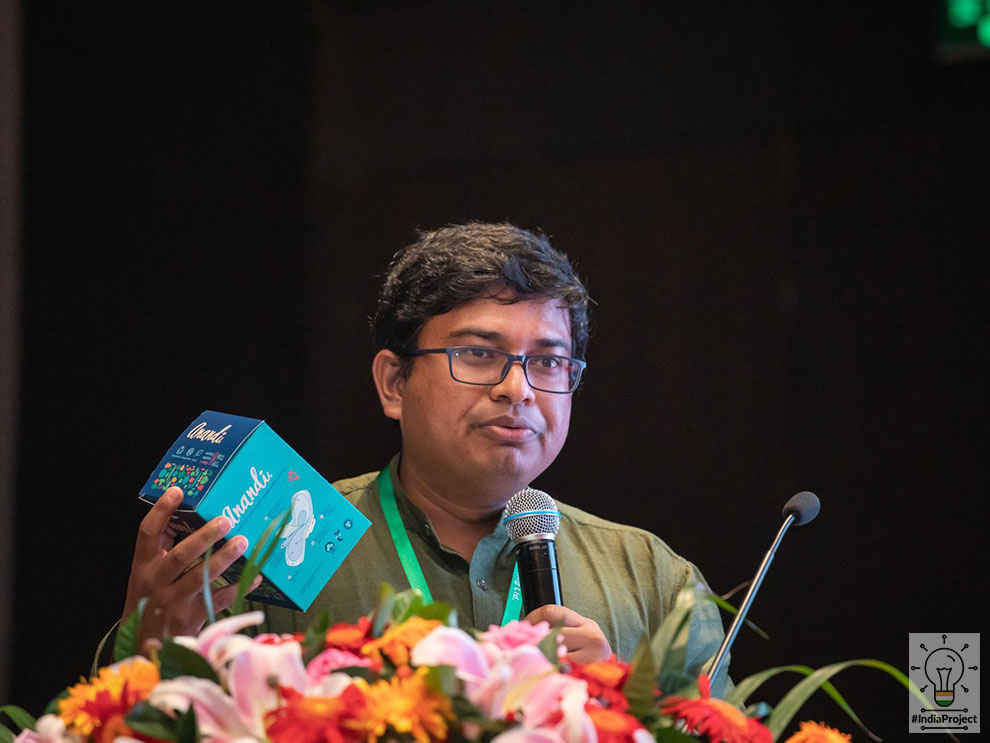 Digit: Could you tell us more about Aakar's mini-factories and the customised machinery within these factories?
Aakar Innovations: Aakar Innovations provides commercially viable solutions for production, distribution, marketing, and sales of affordable and environmentally friendly sanitary pads by local entrepreneurs in areas where these products would otherwise not be available. We have semi-auto machines setup & auto machines setup. Semi-auto set up can make 1500-2000 pads per day(8-9 hours) involving 4-6 workers and one supervisors per shift and auto machine setup can produce 15000-20000 pads per day(8-9 hours) involving 2 machine operators, 5 workers and one supervisor. Our machines can make both fluffy as well as ultrathin pads. The semi-auto machines setup can be run on solar power too. Women entrepreneurs get trained to do the production, they produce Anandi pads hygienically with all compostable materials, they do quality check of each pad and UV sterilize & package it. They do supply these packets to local schools, NGOs, local girls and women, and sells it through women based networks.
Digit: We know about the 'pink tax' women have to face for their menstrual and general products. How does Aakar attempt to make sanitary pads affordable and accessible?
Aakar Innovations: As you are aware currently there is no tax on Sanitary pads in India but all materials are taxed @18% GST which most of manufacturers include in the product cost as getting GST refund is very difficult. So, zero taxed have not helped women & girls to get cheaper sanitary pad.
Aakar currently operates around 50 manufacturing units across India, including Kenya, Tanzania, South Africa, Zimbabwe, Ghana, Cameroon, and Nepal. Aakar's aim is to reach every village in India because 70% of the female population live in rural villages where girls and women do not have access to safe and hygienic menstrual products. Anandi pads manufactured and distributed in village markets are produced locally at village level. This model involves women in the manufacture, marketing and distribution thus uplifting their standard of living through some income generation. we are proud to say Anandi pads by Aakar are by women, of the women, and for women.
Aakar set up village units from grants and funding from donors, corporates, and government. With these funds Aakar supplies villages with the machinery and raw materials, as well as provides training to women on how to make the pads and market them. Aakar's lab regularly tests these pads to ensure they comply with BIS Sanitary pads standard of Govt. of India . If they have any issues, Aakar provides further training to ensure the quality is improved to a satisfactory standard.
Through our business model we ensure to keep the cost low by robust operations, supply chain system, low overheads in the units and direct sales to consumers leaving our many middle men in conventional distribution channels as well as spend almost nothing for marketing the product in villages, instead use women network, word of mouth and factory workers as brand ambassadors. Along with our operations model, our unique machines and continuous research on materials helps to keep the product cost low and affordable.
Digit: What was the driving force behind starting Aakar Innovations?
Aakar Innovations: Forever inquisitive and enthusiastic Jaydeep founder of Aakar, has always been an entrepreneur at heart. What makes him stand out is his passion to bring a change and therefore Aakar was conceived in 2010 as a Social Enterprise.
While in college Jaydeep joined the Honeybee network and worked closely with Prof. Anil Gupta (Founder of Honeybee Network & inspiration behind Aakar) travelling across India identifying and documenting the various innovations and entrepreneurs. While working with Honeybee Network he met Arunachalam Muruganatham in 2010, while still in college completing his MBA, Jaydeep had an opportunity to work first hand on the machine developed by Mr. Muruganantham. The unit was set up in a village of Uttrakhand as college SIFE(Students in FreeEnterprise) project and their team of 10 (which also has SIFE members from Sheffield University-UK) worked relentlessly to make the unit work while engage with the community to understand the issue around menstruation and encourage safe practices. Our first experiment was with Muruganantham's (Pad Man's) machine. Our endeavour failed because the women complained the pads were too thick, and the machines were difficult to operate. We shut down the unit and began exploring other options. I travelled across India to try and understand what others were doing and if they were successful, and met various organisations and individuals including a group of Ivy League students. I also investigated the products from multinational companies and came to the conclusion was that no small machines making sanitary pads which conformed to the basic requirements of a pad: in terms of absorbency, retention, comfort, feel, fit, hygiene and design appearance. I also discovered that the Bureau of Indian Standards have a benchmark for the sanitary pads.
This prompted me to start designing a machine which could produce a sanitary pad with all basic need of a women/girl to manage their period. After almost 1.5 years, Aakar came up with the design of a manual machine which could produce pads according to international standards.
In 2013, at Aakar, I developed a fully compostable sanitary pad. However, the napkin was very thick and it did not used sap. I was intent on using locally available materials which would allow my product to be manufactured in low cost. I experimented with various fibres like banana and bamboo. I needed a material which was not only absorbent and retained liquid, but which was comfortable, soft and would not give rise to infections or rashes. I found that no single material fulfilled all these criteria, but a combination of them did, leading the way to Anandi pads. As we experimented and tested the product initially developed we modified our design. Initially, the sanitary pads were made without wings because we thought this was not a priority for village women. However, we realised that they preferred the wings not just for security and comfort but also because they had been conditioned by multinational brand advertisements on television which made them think pads with wings were more desirable. Accordingly, Aakar changed its design and machine and developed a product with wings.
From initially relying on manual machines and then to semi-automatic machines to make the pads, Aakar now uses an automatic machine for making Anandi pads.
In 2012, Jaydeep had the opportunity to work with Aga Khan Foundation on a menstrual hygiene project in Baghlan Province, Afghanistan for a month. While there, he carried out some research to explore the possibility of setting up a production unit of sanitary pads. He had focus group discussions, and interviews with women where they spoke openly about their challenges around menstruation. He discovered that disposable sanitary pads were not freely available in the market because of the stigma and shame around menstruation, but were sold instead in beauty parlours and other discreet, 'women only' places. The other discovery I made was that women said they had no unobtrusive or hygienic way to dispose of the used pads. They tended to dispose of them with household garbage. They also mentioned that often these bags were ripped open by stray dogs, and one could find a stray soiled pad lying on the street. This was shameful, unhygienic and stressful. His research on girls or women living in villages revealed that they threw used sanitary pads into rubbish heaps or rivers behind their homes. Sometimes they had to walk quite a distance to do this because they did not want their neighbours to know they were menstruating. However, sometimes these used pads found their way back on to the village streets carried by stray animals, which was both humiliating and unhygienic. These discussions made me realise that while access to safe menstrual products was one problem, disposal was yet another and provoked me to think about environmental impact and the possibility of a completely 'green' sanitary pad.
Digit: Could you share some of the biggest takeaways from your association with the Nexus Incubator?
Aakar Innovations: Understanding the point of view of others, consumers is very important when to try to convey a message, or try to sell a product. We may say a lot of things which are right but until everyone else understands the same thing we are trying to convey our efforts are futile. So, conveying information in layman's way is super important while marketing a product & it's the key for a successful campaign.
Nexus Startup Hub is now accepting applications from Indian startups for its Cohort 11 (pre-incubation program), to know more and apply head over to this link. To discover more innovation Indian startups, click here.