Pokemon No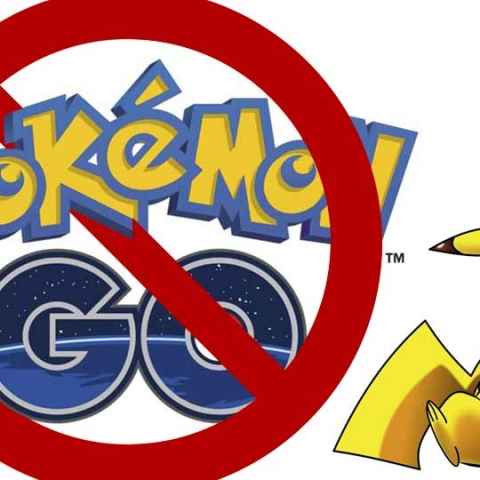 HIGHLIGHTS

People have quit full time jobs to play the game – they're banking on the fact that some lazy gamers will be willing to pay big bucks for a phone and a Pokemon Go account that has a lot of highly evolved Pokémon.
At the time of writing this column, the smash hit, augmented reality and location-based game Pokémon Go has not yet come to India (officially). It has taken the country I live in by storm, so obviously I had to play it as well. Poor me, being paid to install and play popular games…
If you're in the US, Australia or Canada, you've heard of Pokémon Go. Even if you live under a rock, dozens of crazy Pokémon-hunters have probably already trampled all over your precious rock, and even lifted it up to look for Pokémon.
I'll be honest, I've totally missed out on the Pokémon craze of the last 20 years. The only one I knew of before Pokémon GO was Pikachu.
However, if my observations of the people around me are anything to go by, a lot of people playing the game don't seem to be die-hard Pokémon fans either. They seem to love the augmented reality experience of it all a lot more than the actual goal of the game, which is to go to Pokégyms and battle other players using the Pokémon you've collected. And please don't send me angry letters telling me "Pokégym" is not a real word, because Pokémon aren't real things either… so there!
I've seen some people use the game like a tourist map, by showing more interest in visiting the interesting cultural spots shown on the Pokémap (yes, I made that word up too; sue me). Those are the type of people who seem to enjoy the travelling and the AR experience more than anything else. However, there are also another type...
Since no one seems to care about accuracy anymore, quite a few media sources called it "Nintendo's Pokémon Go" (which isn't even true). Obviously, this caused Nintendo's stock prices to soar, because even stock brokers couldn't be bothered with fact checking anything. Then, on 22 July, 2016 Nintendo sent out a press release, and people realised that Nintendo wasn't the one who would be making the big bucks off this game, it was Niantic, the gaming company who owned the game. Obviously, Nintendo shares plummeted again. BIllions of dollars gained and then lost because of a mobile game!
It's not just big companies that are affected. There are new stories of idiocy every day. People have quit full time jobs to play the game – they're banking on the fact that some lazy gamers will be willing to pay big bucks for a phone and a Pokémon Go account that has a lot of highly evolved Pokémon.
Taxi drivers have started advertising special rates for Pokémon Go players, because why not? There are accidents happening, as eager players who are driving are slamming their car brakes when they get an alert that there's a Pokémon nearby. People have walked into traffic, poles, fallen into stuff, got injured, trespassed, got into fights… you name it. Heck, even sending obscene pictures has gotten Pokémon involved – people use the Pokémon character to hide their privates and send suggestive pictures to one another. Poképorn?
You've probably seen the memes, where people make fun of us geeks and gamers, basically saying how we're finally getting some fresh air! It's actually hard to argue with that, because it's probably true for quite a lot of us. However, although it is certainly getting people outside more, whether or not that's good is still up for debate.
Already many tourist sites are calling for Niantic to remove their locations from the list of Pokéstops, because they want people to actually appreciate the landmarks, not come there only to take screenshots of ridiculous looking cartoon devils. I can just imagine people running up and down the gardens of the Taj Mahal flinging virtual balls at cartoons, just ruining the experience for everyone else.
When it eventually comes to India, please remember that our Indian cities are not exactly the safest places in which to be walking around distracted. The first thing that will happen is a lot of phones getting snatched out of the hands of people who are oblivious of their surroundings. Then, accidents galore. Think about it: there are accidents happening on Australian roads – where the entire country's population is about the same as the Mumbai Metropolitan Region. Can you even imagine the chaos on our congested roads with people playing this game on foot, or on bikes and in cars?
You have to decide if you want to put yourself at risk just to play some silly game that only makes some guys in the US rich. Why? Just because you have a fear of missing out on some weird cultural experience?
I'm really hoping that if you haven't already been Pokémoned you will choose to say, "Pokémon No. Hell no!"