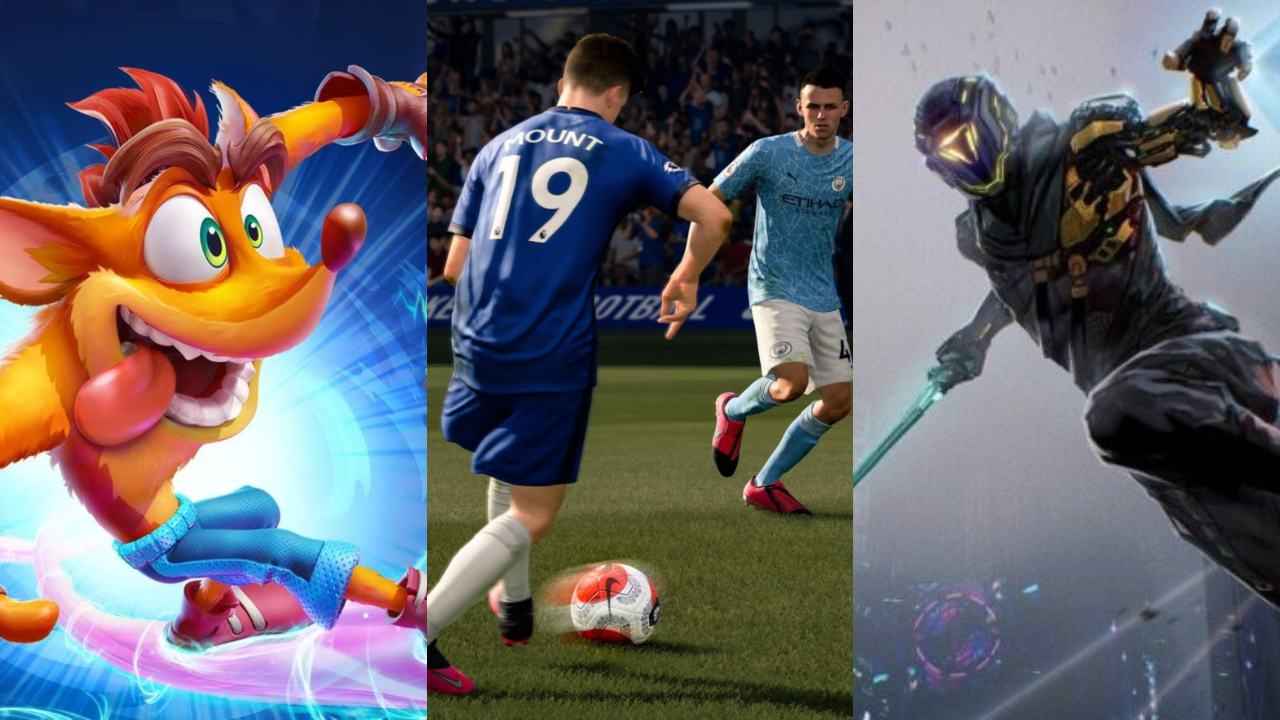 HIGHLIGHTS
October has a diverse range of games launching for the PS4, Xbox One and PC.

We have games like Crash Bandicoot 4: It's About Time and FIFA 21 launching.

Watch Dogs: Legions will launch for the current console generation and players will get a free upgrade if they decide to get a next-gen console.
November is the month when we will see the launch of the PS5 and the Xbox Series X/S, but that doesn't mean there aren't any killer games launching for the current console generation. On the contrary, October and November are packed with some interesting games launching that will keep you hooked for a very long time. We have a diverse range of games releasing in October from sports, to platforming, open-world and even one game set in a Cyberpunk future. There are a lot of games launching in October, but we decided to list 5 games that deserve your attention.
Crash Bandicoot 4: It's About Time
Crash Bandicoot is one of the oldest franchises in modern gaming making its appearance on the PS1. The popular trilogy and cart racing game, Crash Team Racing Nitro-Fueled was remade for the current generation and saw a tremendous response from new and veteran fans of the franchise. It was natural that a new game in the series was in the works but what's great is that it's a sequel to Crash Bandicoot 3 which launched back in 1998. In Crash Bandicoot 4: It's About Time players not only take on the role of Crash Bandicoot but his sister Coco as well. Players will also be able to play as Neo Cortex, Dingodile, and Tawna to name a few more, adding to diversity in gameplay and abilities. Speaking of diversity in gameplay, players will have 4 different Quantum Masks with unique abilities to exploit in the game. From being able to slow down time to invert gravity, phase-shift platforms and more, these masks will bring a whole new dimension to the gameplay. With more than 100 levels to beat and a bunch of interesting modes adding to replayability, including a couch co-op mode where you time trial with your friends, this is one game that will be on your playlist for a long time.
Release Date: 2 October 2020
Platforms: PS4, Xbox One
Star Wars: Squadrons
If you wanted to know what it would feel like to be the pilot in an X-Wing and dogfight the Empire in space, then Star Wars: Squadrons is the game that can make your dream come true. The game has a bunch of modes on offer including a story, 5v5 dogfights, and Fleet Battle. The game has 6 locations where you will take to the stars to fight it out. The locations include Yavin Prime, Esseles, Sissubo, Galitan and more. Throughout the game, you will be a part of either the New Republic or Imperial Empire and pilot iconic ships like X-Wing, Y-Wing, A-Wing Interceptor, and U-Wing Support Craft. On the Imperial side, you will pilot ships including the iconic Tie Fighter, TIE Bomber, Tie Interceptor and Tie Reaper. With a host of crafts, modes, and ships to man, this is one space dogfight game you may want to keep an eye on.
Release date: 2 October 2020
Platforms: PS4, Xbox One, PC
FIFA 21
While we may not be able to go to a stadium to enjoy a sporting event for some time, it doesn't mean we can't bring the sporting event and a virtual stadium into our living rooms. FIFA fans have FIFA 21 to look forward to in October. The game offers a career mode with deep customizations, along with the ability to build your dream squad of players past and present in FIFA 21 Ultimate Team. Moving away from the stadium, the game also lets you show off your skills and style in cages and courts around the world throughout various forms of small-sided football. To keep the experience real, FIFA 21 brings with it 30 official leagues, 700+ teams, and 17,000+ authentic players.
Release Date: 6 October 2020
Platforms: PS4, Xbox One, PC and Nintendo Switch
Ghostrunner
Cyberpunk 2077 isn't the only upcoming game set in a cyberpunk universe. Before we get our hands-on CD Projekt Red's next masterpiece, we have Ghostrunner to look forward to. Fast-paced first-person platforming mixed with some slick hack and slash combat is the best way to describe the gameplay of Ghostrunner. The world has ended and the inhabitants of this destroyed world are fighting to survive. You are one of the last Ghostrunners who must save the day. The game has beautiful futuristic cyberpunk urban and industrial environments to explore along with some interesting and challenging platforming sections. Add to it enemies that are as fast and agile as you and you have one game that will take strategy and reflex to a new level.
Release Date: 27 October 2020
Platforms: PS4, Xbox One, PC and Nintendo Switch
Watch Dogs: Legions
Ubisoft's hacker focused open-world game, Watch Dogs is back with a unique twist this time around. The city in question is London and literally, everyone walking on the streets is a potential recruit for your cause. From the construction worker who can wield a nail gun better than John Wick, to grandma who can fill her purse with rocks to take down foes, everyone has a unique playstyle once recruited, adding a different flavour to the missions. The game also has co-op that will let 4 players work together. If you pick up Watch Dogs: Legions for the PS4 or Xbox One, then know that you will get a free upgrade to the PS5 and Xbox Series X/S version of the game when those consoles release.
Release Date: 29 October 2020
Platforms: PS4, Xbox One, PC, Stadia