Living in most urban areas in India these days brings with itself its unique set of problems. Not only does one have to tackle the menace of rising pollution and never-ending traffic congestion when you're outside, but also have to deal with issues like water and even air pollution when one is back within the confines of their safe space -- home.
To remedy this, Dyson has launched some really interesting products over the past few years. These include its range of premium air purifiers that offer impressive hardware and a rich feature set. The latest in this series is the company's 2021 range of air purifiers is the top-of-the-line Dyson Purifier Hot+Cool (HP07).
Interestingly, this futuristic-looking piece of technology can not only clean the air in your room but as the name suggests can also attempt to regulate the temperature in your room. Yes, you read it right, this air purifier in theory can either cool or heat up your room. But more on that later. First, let's get through the design and set-up of the product.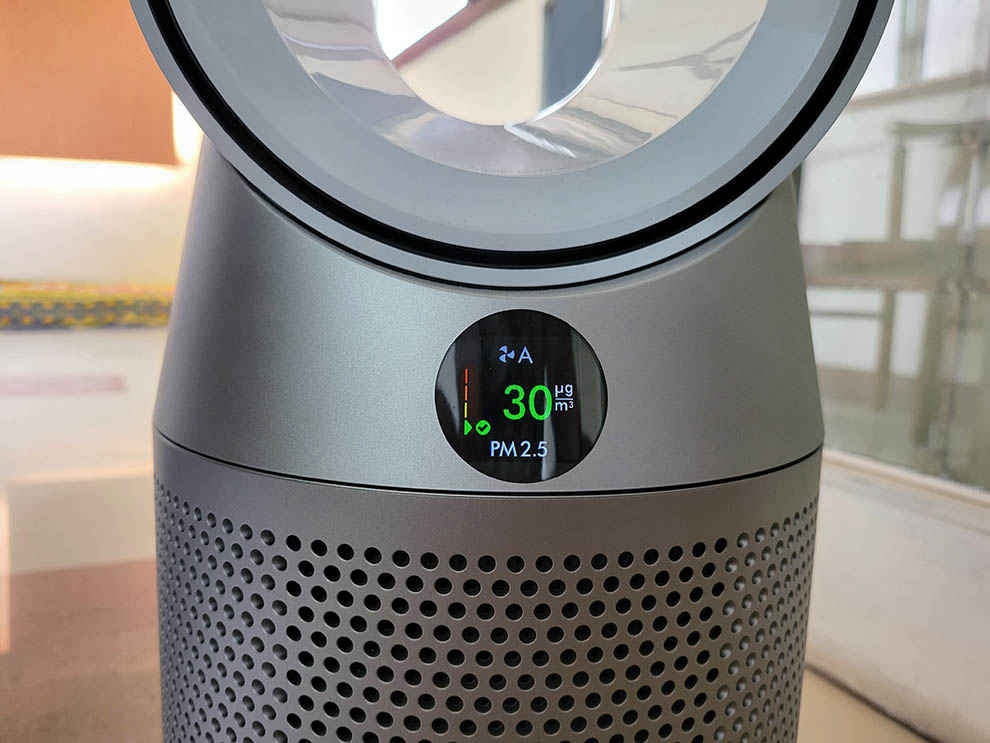 Dyson Hot+Cool Air Purifier (HP07): Design
This particular air purifier, the HP07, is pretty interesting. It is based on its predecessor from last year, with a bladeless fan enclosure on top and the filter enclosure placed below. The bottom half has a mesh-like appearance to it, which again looks quite interesting. As is the case with most things Dyson, overall, these elements come together to make the product look very futuristic, ensuring that it stands out in your room no matter where you place it.
The air purifier is also relatively lightweight and can be moved about freely between different rooms in your home. While there is only a power button on the device, and it is meant to be controlled using either the remote control or through the Dyson Link applications which can be downloaded on your smartphone, we do have a small display on the air purifier which displays all the necessary information, including the current room temperature to the level of PM 2.5 and PM 10 in your room.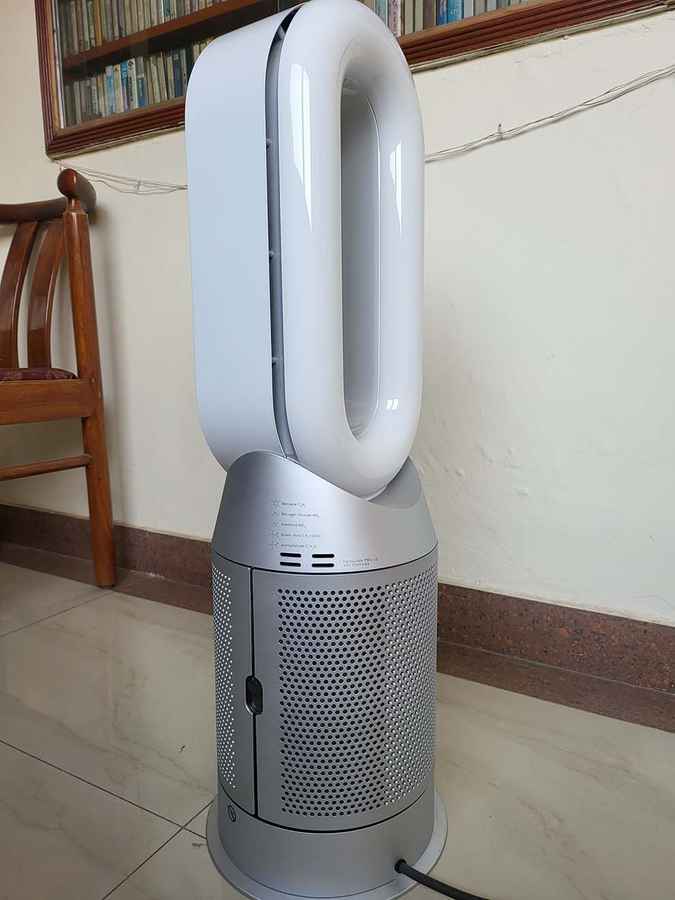 Dyson Hot+Cool Air Purifier (HP07): Performance
Now that we're done talking about the design, let's get to the features and functionality this air purifier from Dyson offers. As we mentioned above, over and above purifying the air in your room, this product also promises to heat or cool your room. However, as we found out during our time with it, it's only one of these functions that it handles well.
So, the air purifier does not make much of a difference if you're trying to cool down your room -- or at least if that's what you're attempting to do in humid conditions in a city like Delhi. Having said that, the feature is not designed to make the device function as an air conditioner, so it'll be unfair to judge the product based on this particular feature. Talking a little more about temperature control, the air purifier does, however, manage to successfully double up as a heater, with the heating function working quite well.
For both these functions, the air purifier relies on its bladeless fan system which can be set to work at a particular pace or programmed to work intelligently according to the needs of the room. Despite not looking so, the fan enclosure is capable of throwing out a good amount of air, the direction of which can also be controlled. Because of its design, the fan operates almost silently, with this particular model, HP07, offering 20% quieter performance compared to the model from last year.
The fan also serves as the base to control the air purification function of the product. For this, Dyson uses the Air Multiplier Technology, which it claims can project purified air to every corner of the room. Dyson's new air purifier offers a filter that meets HEPA H13 standard and can also capture H1N1 virus and 99.95% of particles as small as 0.1 microns such as allergens, bacteria, virus, pollen and mould spores. Dyson claims its engineers took a forensic approach to achieve a fully-sealed machine, "creating high-pressure seals at an additional 24 critical points to prevent dirty air from bypassing the filters and carrying pollutants back into the room."
When it comes to air purification, Dyson is claiming some really impressive achievements. In its marketing material, Dyson claims that the HP07 goes beyond just the basic lab test method called 'Clean Air Delivery Rate' (CADR), where the air quality is measured with only one sensor. Instead, Dyson claims this product is tested for use beyond this Industry-wide CADR test to ensure this Dyson air purifier is capable of purifying air evenly to every corner of the room.
While we could not put all these claims to test, we did have visual confirmation of the air being purified in real-time as the Dyson air purifier does show the current PM 2.5 and PM10 levels on the display. More information about the real-time pollution levels in the room where the purifier is tasked to work can also be accessed using the Dyson Link application. A quick look at either of the two showed pollution levels dropping steadily in the room, with the air purifier taking about half an hour to fill the room with clean, breathable air.
But before we wrap this up, I'll also take a minute to talk a little more about the Dyson Link app, which honestly is a great tool to control the HP07 purifier. As we've mentioned above, this app not only allows you to control the purifier and its various functions, it also acts as the single stop to access all the information you need about the temperature, humidity, and pollution levels in your room. Plus, it does not stop there as the app can also give you information including the remaining filter life of the device.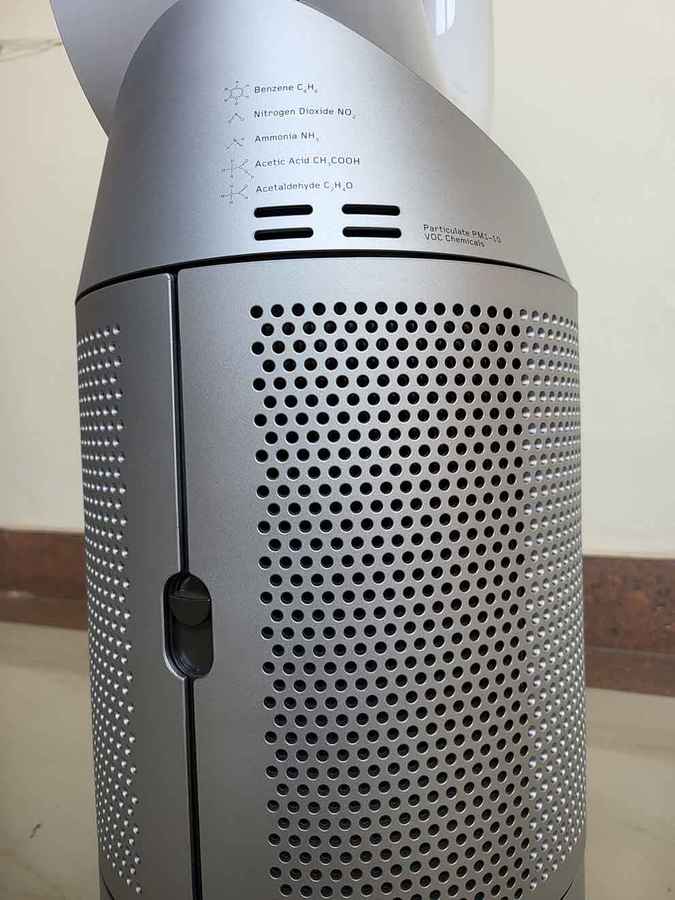 Dyson Hot+Cool Air Purifier (HP07): Should you buy it?
The short answer is yes.
Considering the times we live in, investing in a good air purifier is now becoming a necessity. And with winters descending upon us, the need for clean, breathable air will only become more pressing, especially when one is inside their home. The HP07's HEPA 13 rating and promise of capturing H1N1 virus and 99.95% of particles -- as small as 0.1 microns such as allergens, bacteria, virus, pollen and mould spores -- mark it out as a very good option if you are looking to buy a new air purifier for you. Add to this, its futuristic design and ability to effectively heat a medium-sized room, and you get a very interesting package.
However, the only thing working against this product is its price tag. Retailing at an introductory price of around Rs 50k with an MRP of Rs 66,900, this air purifier does not come cheap. But, then again, can one ever put a price on clean air? So, if you can afford this, do not think twice and buy it, because honestly, the Hot + Cool Air Purifier is worth every penny that Dyson is asking for.